Hamilton & Hare are a luxury Men's underwear brand, they combine quality fine materials with Savile Row tailoring to create comfortable and well fitting underwear that you will be proud to show off! (Cheeky)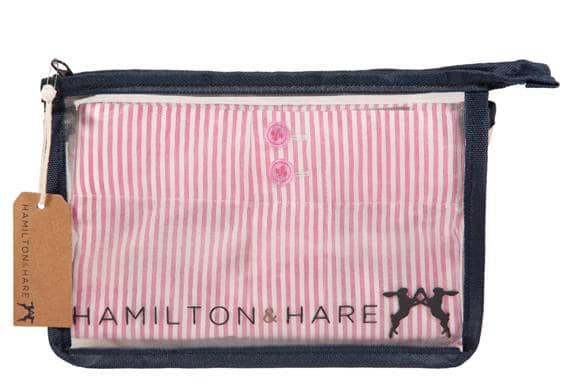 - Can you give us a bit of background on your brand, when you started it and why?
Having spent 4 years working in advertising for M&C Saatchi, I spent a lot of time with guys who cared about their clothes. I saw that men's fashion was a rapidly growing market with lots of exciting new brands and products, but for some reason underwear seemed to have been overlooked. The current offering lacked innovation and quality. It was just about functional replacement rather than any kind of inspiration or excitement. I set out to treat underwear with the same respect as outerwear and design something that people really want to buy, not just because they need it.
- What inspires your work?
The expertise and heritage of Savile Row are a big influence, I worked with a Savile Row veteran, Graham Tuckett, who started as an apprentice at Huntsman when he was just 16. The attention to detail and of course the tailored cut of our boxer shorts are a direct reflection of Savile Row values. London is also a real inspiration, I've lived here all my life and I'm in love with the City's timeless sense of style and seamless blend of old and new. I'm never bored in London, it always manages to surprise me.
- What is the most difficult aspect of running your own label?
For me it's the pace of everything, in some ways I'm five collections ahead of myself in terms of creative direction, but production is another matter.
- Which part of the creative process do you enjoy most, and least?
Fabric sourcing is probably my favourite part of the job, I give everything the 'cheek test' (not the inappropriate kind!) I'm like a five-year-old in a sweet shop at the textile shows. Oh and of course I love the photo shoots; male models and underwear - a very good combination.
- Is music important in your working day, what is on repeat at the moment?
Spotify and I have become seriouly good friends. Currently I'm obsessed by Haim, Tom Odell and Fleetwood Mac – best band ever.
http://www.youtube.com/watch?v=sEwM6ERq0gc
- If you had a chance to do it all again, what advice would you give to a younger you?
Oh God, I like to think of myself too young to answer that question...no such luck. I think I'd probably tell myself to be more like Peter Pan, I think everyone grows up too quickly these days.
- What is your guilty pleasure?
Marzipan and stationary. I have an unhealthy obsession with notebooks, pencils and other useless desk accessories. Recent purchases include some paper clips in the shape of bicycles and a purple T-Rex rubber.
- Where is your favourite city/place?
I really do love London but sadly it doesn't cut it on the sunshine front. So for that, it's got to be the Amalfi Coast, there's a village up in the hills called Ravello that I think is basically heaven in another guise.
- Who inspires you?
Anya Hindmarch, Raf Simons and Boris Johnson – I even named a pair of boxers after him!
- Wolf or Badger?
Can I say Hare?!