Danish born designer Maikel Tawadros graduated Copenhagen Academy of Fashion Design and in 2012, began his own label. His vision includes collections of ready to wear pieces with dark and gloomy asymmetrical elegance combined with Scandinavian minimalism. His signature look of raw silhouettes and elements from nature captures his aesthetic of veering away from the accepted standard. Designed around an object, his pieces achieve an exclusive and eye catching appearance one cannot overlook.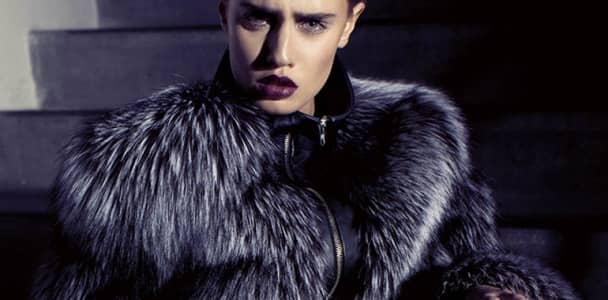 - Can you give us a bit of background on your brand, when you started it and why?
Officially the company was started 1st August 2012 after many years in the fashion industry working for different Scandinavian Brands and living in Paris for 2 years doing sales. I decided to come back and start my own brand in my own name… It was extremely important for me to make my own style, my own silhouette etc - everything in the spirit of Maikel Tawadros.
- What inspires your work?
I have a weakness for everything that emerges from the abnormal and steers away from the accepted standards. I find inspiration in many things such as animal anatomy, architecture, women, love etc.
- What is the most difficult aspect of running your own label?
Being innovative and different but still remaining true to my style & design
- Which part of the creative process do you enjoy most, and least?
Actually I enjoy the whole creative process, everything from sourcing fabrics, to the first drawings on paper, moodboard, making workdrawings for the suppliers, styling, look book etc. All these factors in the creative process are fun, hard and challenging but I love it!

- Is music important in your working day, what is on repeat at the moment?
Ohhh yes, music makes my working day easier, more inspirational, and sometimes makes my mind think different than I normally would. Right now I'm listening to Pet Shop Boys newest album "Electric" – especially the track "Shouting in the evening"
https://www.youtube.com/watch?v=DtaYH1SQM3U
- If you had a chance to do it all again, what advice would you give to a younger you?
You can't plan everything. Trust what you are doing is the right thing. Have faith in yourself. Be humble and please take your time to be thankfull for all small success moments you get
- What is your guilty pleasure?
Cigarettes...
- Where is your favourite city/place?
I have 4 cities I love and always get inspired every time I visit them:
1. Zurich
2. Florence
3. New York
4. Copenhagen – It's my hometown :)
- Who inspires you?
Independent strong women!
- Wolf or Badger?
Hmmm… Both?
I don't know… Maybe Wolf?!