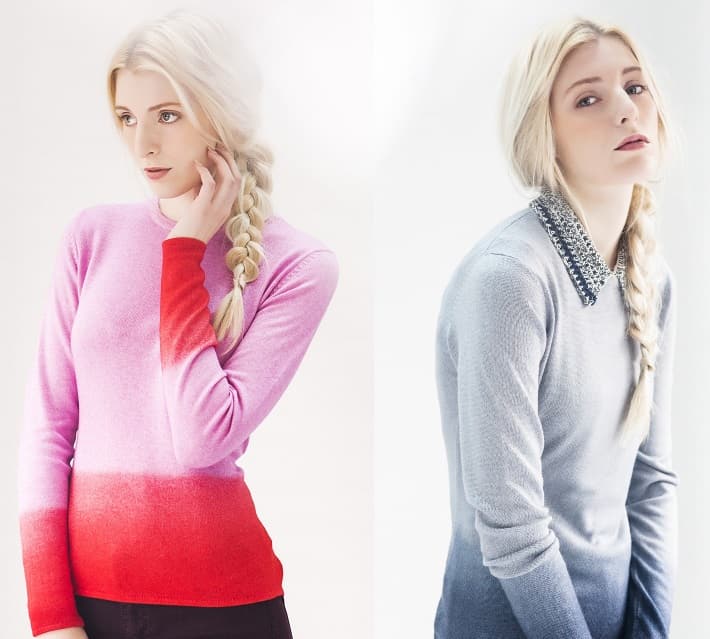 Jessica Schuhle-Lewis is the creative mind behind Orwell & Austen, a hand printed scarf (and now jumper) brand named after two of the designer's favourite authors - George Orwell and Jane Austen. Coincidentally, George Orwell was born in an Indian village very close to Nepal, where Orwell & Austen pieces are made. We asked Schuhle-Lewis a series of quick fire questions in order to learn a little bit more about what makes her tick. Orwell & Austen is available online and in our Notting Hill store.
- What qualifies you for your job?
I've been drawing, painting and designing since I could hold a pencil and I live for fashion, which I hope makes up for my lack of formal design qualifications.
- What has been your biggest mistake?
Training to be a lawyer instead of going to art school is up there, but then I'm an 'everything happens for a reason' type of person and working in the City had its benefits (money) and gave me a thick skin and more determination to succeed.
- Describe your happy place
In the mountains in Switzerland with lots of fresh snow, empty slopes and lots of amazing friends to go skiing with.
- What do you wish you knew 10 years ago?
The winning numbers for the lottery from January 2004 – January 2014.
- What are you most jealous of in others?
The ability to wake up early in the morning bright eyed and bushy tailed. I'm a real night owl and have to hit snooze 10 times before I can even contemplate getting out of bed in the morning.
- What book changed your life?
'Who moved my cheese' – it's a non self help style self help book. It's not my favourite book (impossible to choose a favourite book but '1984' 'Americanah' or 'The Unbearable Lightness of Being' would be up there) but it is a book that changed my perspective on life and how you approach obstacles. It's also the book that was a catalyst to me leaving law and the City and doing something I am passionate about.
- What last made you laugh?
A joke involving a pizza delivery company, a strong northern accent and a liver and pineapple pizza. I'd write it out but it all rests on the pronunciation by northerner of 'deliver' so probably wouldn't translate on page!
- What's your least favourite word?
Nice as it's what people use when they have no strong feeling about something.
- What's your most treasured possession?
There's nothing I couldn't live without, but I would be really sad if anything ever happened to the photo albums from my childhood, especially the one my mum made the year I was born.
- What's next?
For the brand sweaters, for me hopefully more of the same and then who knows!