Zainab Ashadu, the designer behind accessories brand Zashadu formed her brand in a series of little steps, after a sustained and keen interest in handbags since she was eight years old. Zainab finally decided to learn how to create them during a short course in Leather Accessories at the London College of Fashion. She then embarked on a yearlong apprenticeship learning about the business side of running your own handbag label.
The most significant step was the decision, after many months deliberating, to use her own name as the brand name. Zainab felt that if she was ready to put out designs that bore her name, she was ready to face the world.
Zainab dipped her toes into many areas within the creative industry, including working as an Actor, a Fashion Model, a Stylist, a Fashion Buyer, an Art Curator, and all along returning to her roots as a Handbag Designer.
What have been the highest and lowest points on your journey so far?
The highest point happens often; when collectors fall in love with my designs, grown women squeal like little girls, and grown men go all soft and examine the bags from all angles, almost wistfully! Also, when people realise that we hand make all our bags in Lagos, Nigeria; the look on their faces makes me feel very proud indeed. The most challenging thing so far has been having to work very hard without earning a salary for a seemingly indefinite period; thankfully that phase is now over.
What is your greatest fear?
I'm well aware that fears are totally imagined and give them none of my time. However, I often fear sleeping past my alarm when I am scheduled to catch a morning flight, thus I sleep terribly and resort to snarling at every one in my path. Morning flights are clearly very evil.
How would you describe your customer base?
Women who are leaders in their respective fields, aged 27-50ish, often times they are creative minded, appreciate structure, and are drawn to function and beauty.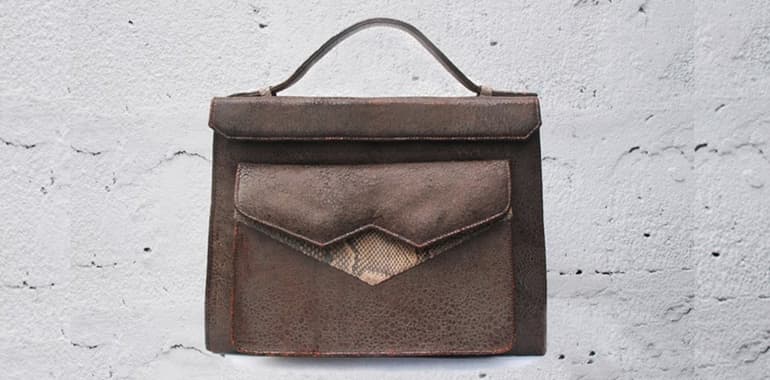 What are the morals you run your brand by?
Authenticity to our ethos of creating beautiful, hand crafted bags that are simple, elegant, contemporary yet timeless. To revive and preserve a dying Northern Nigerian tradition of leatherwork, to work in a way that is sustainable to the environment and community.
Who is your mentor?
Members of my family and inner circle all play their roles in providing never-ending support. I greatly admire the work of Diane Von Furstenberg, the original designs and work ethos of Judith Leiber, and the romanticism of Coco Chanel's story. The designer Duro Olowu is also a good friend whose views I respect and work I admire.
What inspires you?
I find beauty everywhere; it is my own private practice that I indulge in constantly. I'm also inspired by simplicity and elegance, colors and the way light affects colors, art and literature, and the tension that exists between what is considered classy and what is considered trashy.
What building holds the most sentiment for you?
Probably the houses my sisters and I grew up in as children in Lagos, and our family home in Finchley, North London.
What book changed your life?
Suzannah Cahalan's "Brain on Fire".
What is your most treasured possession?
My brain.
What motto do you live your life by?
"Thoughts become reality" and "Life is for living".
How do you keep your body and mind healthy?
I swim, run, laugh, party hard, work hard, watch movies, read voraciously, cry, eat well, keep a journal, allow loved ones to help me when I am weak, accept my vulnerabilities and strengths, and aim for balance in all my endeavours.
Where do you see the brand in five years?
Employing a lot more people than we currently do, and Zashadufying lives across the globe.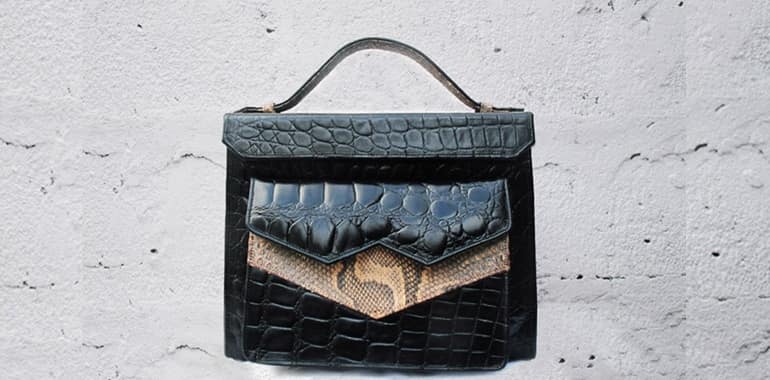 What drew you to Wolf & Badger?
Another handbag designer's beautiful bag, Sofia Al Asfoor's "The Shield" introduced me to the unique Wolf and Badger.
What one thing would make your life better?
More holidays, eight a year would do me splendidly!
Zashadu is a finalist in the 8th Annual Independent Handbag Designer Awards this year in the Most Socially Responsible Category. The winner will be announced on the 18th of June.
Zashadu is available online and in our Notting Hill store. Click here to see the full collection.