Fera is a jewelry brand for the bold and the brave launched by Jo Gordon in 2014. Having originally studied languages, Jo knew that it wasn't the right path to take and after travelling and a stint working in fashion, she realised she was hugely lacking creativity in her life. Jo took the plunge and decided to change career paths, move to a new city and enrol in the School of Jewelry to learn about jewelry making techniques.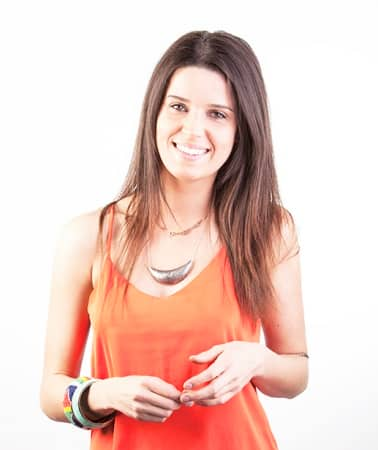 How has your career led you to where you are now?
There were so many things that led me to this point, I began collecting unusual and handmade jewelry years ago after spending a lot of time in South America, I would see makers at flea markets and by the side of the road making and selling jewelry which I was completely fascinated by and wanted to make some of my own. A while later I took an evening class and when I realized the depth and range of possibilities within the jewelry industry, I knew that it had to be my career and I decided to study traditional hand making techniques full time at the School of Jewelry. I had the best time there and knew that I would have the most creative freedom if I launched my own brand… and I am so happy I did!
What have been the highest and lowest points on your journey so far?
Stocking at Wolf and Badger of course! I was also asked to exhibit in New York later on this year, something which is currently in the pipeline… Being selected by the Crafts Council to take part in Hothouse 5 this year was also amazing, it's great to have their backing!
Low points are always a rejection of some kind, of which there have been a few but it's all a part of life!
What is your greatest fear?
Lack of freedom in it's many forms! Living a boring life, and not being able to travel or create… it really feeds my soul.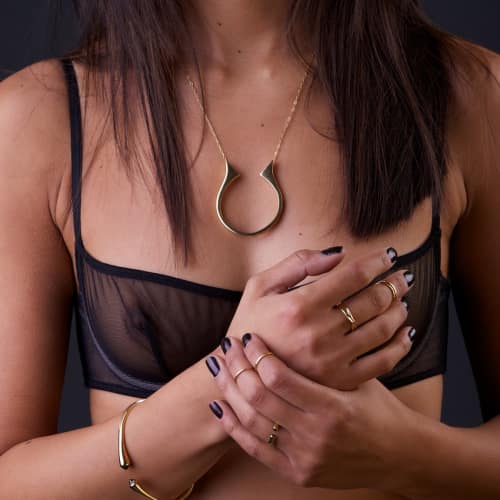 How would you describe your customer base?
I think my customer is quite ballsy… not afraid to make a statement or to choose something a little out of the ordinary. They value something handmade and unique and they love fashion but are not a slave to it.
What are the morals you run your brand by? 
Integrity of design is hugely important, my focus for the brand has always been to create something different from the generic mainstream jewelry you see everywhere.  As an ethical brand it's essential that we are working with recycled silver, Fairtrade gold and ethically sourced stones, as well as our recycled packaging. Everything is handmade in the UK, which means I can ensure the highest level of craftsmanship.
Who is your mentor?
My tutors at college were an amazing support system and I still go back to them for advice and help when I need it. I am also currently being sponsored by the Crafts Council to take part in Hothouse, a scheme to mentor and support emerging designers and craftspeople.
What inspires you?
Travel is a huge inspiration to me, I love to absorb and learn about other cultures and their history, I am always asking questions.  The inspiration for a new design could really come from anywhere, a line or form on a building, a found object, details from a fashion collection. On a personal level I have some amazing, strong and high achieving women in my life who truly inspire me all the time to be the best version of me.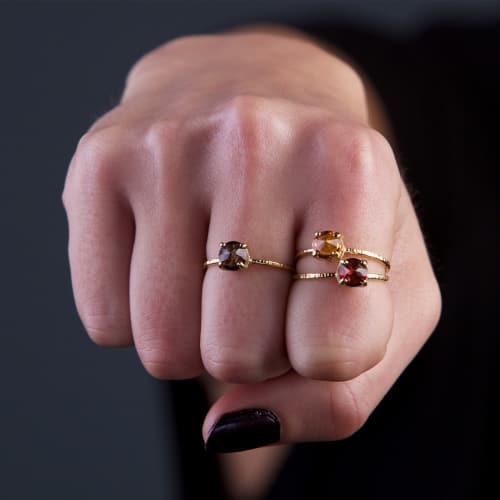 What building holds the most sentiment for you?
My second childhood home in the Cotswolds holds many memories.. I have moved so many times in life but lived there the longest and it's just the most beautiful area. I love going back there to recharge.
What book changed your life?
Jonathan Livingston Seagull.
What is your most treasured possession?
All the old black and white photographs of my family and my jewelry collection, as I have collected it from all the corners of the globe! It holds a lot of memories for me and is irreplaceable!
What motto do you live your life by?
You only live once.. so I try to remember that when things get stressful and I get caught up in the minutiae of life.
How do you keep your body and mind healthy?
I practice yoga 2-3 times a week weeks and run frequently, I eat a low sugar diet and try to eat as much fresh, raw and organic food as possible. I try to get out as much as I can to the countryside… the energy there is so great for recharging the soul.
Where do you see the brand in five years?
It would be amazing to be opening my first boutique… I am passionate about jewelry and love the buzz of finding another designers work that I love, I am slowly collecting pieces from my favourites. So once the brand is fully established on an international level, the next level for me would be to open a very select boutique, stocking other designers work.
What drew you to Wolf & Badger?
Working with Wolf & Badger was always a goal for me as I planned my business, I have always loved the store and the whole unique concept behind it! It's great that you are bringing new and exciting designers to people that they wouldn't come across easily otherwise! The changing designers keep it fresh and interesting…
What one thing would make your life better?
A personal assistant ;) 
Click here to find out more about Fera Jewelry.