In this week's designer profile we speak to Jeanne-Marie Chan, the creative brain behind the brand Hedone Romane.
How would you describe the steps on the journey to the formation of your brand?
I am of creative mind and soul.  It has been a longstanding dream to create; but my education and upbringing did not care for much creativity.  My affinity with jewelry dates back to when I got my first pair of ruby stud earrings from my parents as a toddler.  I love my classics and with age, I wanted more creative jewelry without forgoing the quality.  HEDONE ROMANE is a reawakening of this desire.
It began the winter of 2006 in Paris.  I coined the name - Hedone Romane – from 'hedonism', the doctrine that esteemed pleasure as the highest good; and 'romanticism', the artistic and literary movement that exalted strong emotions and the imagination. We started in fine jewelry; then in 2008, bespoke jewelry; and in 2010 diversified into fashion jewelry.  Today, we are available internationally.
Some think I must be mad. In hindsight, all of the pieces of the puzzle fit to bring me to where I am today.   Investment banking equipped me with knowledge on debt and equity financing.  My MBA from ESSEC specialized in Luxury Brand Management brought me from Manila to Paris. With LVMH, being responsible for the international business development and marketing strategy of De Beers, Chaumet, Dior, Fred, Tag Heuer, Ebel and Zenith gave me the overview of the luxury watch & jewelry industry.   Whilst my time with Van Cleef & Arpels handling the international marketing team for jewelry put me in contact with the design team, product development, workshops, stone departments.
What have been the highest and lowest points on your journey so far?
My highest point is a combination of several highs.  These milestones range from showcasing our travelling collections in select points-of-sales in Europe which started with Le Bon Marche, Selfridges, and Artcurial for our fine jewelry; to now with Luisa Via Roma, More Is Love and of course Wolf & Badger for our fashion jewelry.  We've had press coverage which included Elle, Lash, Soon, Financial Times, West East, etc.
My personal favorite, "Touch Me Not" ring, was featured in a book, "Jewelry Design from Fashion to Fine Jewelry" by Elizabeth Galton, which brought me much pride and joy, as somehow I am part of the history of jewelry.  So much heart and soul goes into it!  The journey has not been all roses but rather a Sisyphean cycle when passion alone overcame insurmountable challenges.  The constraints of a small business and the struggles of having 'to compromise or not to compromise' can be frustrating especially for one who seeks perfection and the absolute.  I suppose it's all part of the yellow brick road and so far, the highs far outweigh the lows.  Every single sale - whether 300 euros or 30 000 euros - is a milestone in itself for having made someone happy.  Every thank you I get from clients makes the journey fulfilling and reinforces my resolve.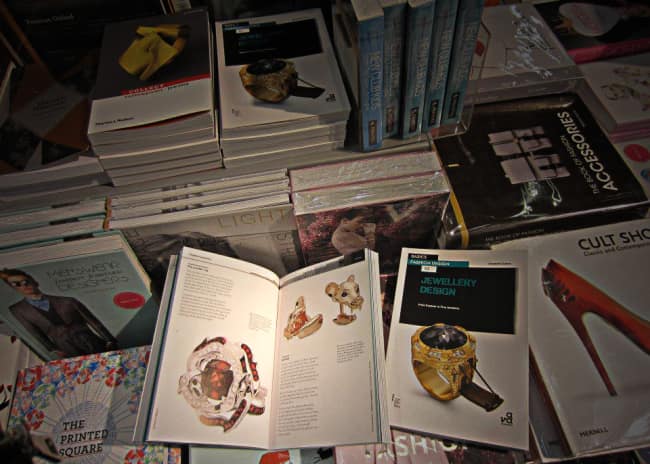 How would you describe your customer base?
Connoisseurs.  Hedone Romane is an acquired taste for people drawn to a universe that is hedonistic and romantic. Women who love the brand are not first time jewelry buyers.  They are sophisticated, well-travelled, cosmopolitan women with exquisite taste who wear both fine jewelry and fashion jewelry with ease.  We get customers with various backgrounds from corporate achievers, to housewives, socialites, and aristocrats.  Men included.  They recognize and appreciate the handmade quality and the French craftsmanship which goes into our jewelry.   
What are the morals you run your brand by?
Hedone Romane is a luxury French niche brand and we uphold the aesthetics and the ethics expected of one.  Our jewelry are either unique pieces, limited series, or bespoke.  We put a great level of attention to details and the quality of our jewelry.  Our stones are sourced from reputable dealers internationally and our jewelry produced by highly-skilled ateliers and artisans in France, experienced in the luxury industry. 
Who is your mentor?
I'd love to meet visionary designers such as JAR, Solange Azagury-Partridge, and Brunello Cuccinelli and listen to their bravuras.  But I'm rather prudent when it comes to taking advise.  When you listen too much to the opinion of others, you forget your own.  Everyone has his or her destiny and the years have taught me that my #1 mentor is my intuition.
What inspires you?
You have to have lived to create. As a designer, I believe as do romanticists that "romantic originality" comes from creating from nothingness and that to be a derivative is a sin. To give life to inanimate objects, inspiration is a process which must begin inside. Hence, my creations for Hedone Romane are most powerful when they start with an overture of intense emotions and when overflowing passion drives my imagination. Paradoxes and contradictions excite me. Red wine and opera frees my soul.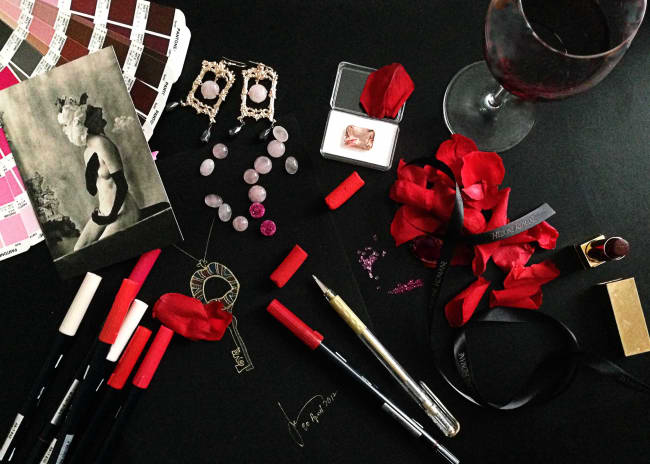 In the tribute collection to French decadence, L'Antichambre de La Comtesse, modern stones contrast with opulent details from the glorious times of Louis XIV, XV, and XVI.
What building holds the most sentiment for you?
It's more a street than a building and that would be - Avenue Montaigne. Paris is a dream to most; it's my reality, my love affair. Avenue Montaigne is home to many luxury houses. It is where I've had my first job in jewelry, where HEDONE ROMANE was conceived, where I work sleepless nights to make dreams come true. On one end is my picturesque view of the River Seine and the Eiffel Tower at sunrise or sundown. It's a constant reminder of how far I've come and where I'm heading. On the other end is my watering hole and art haven - Hôtel Marcel Dassault, which houses exhibitions, an art library and a quaint café. If life be generous, perhaps one day I will have that little jewelry box of a store.
What book changed your life?
"Letters to A Young Poet" by Rainer Maria Rilke. I've marked paragraphs and paragraphs of this book. It's all red! To quote: "Go into yourself and test the deeps in which your life takes rise; at its source you will find the answer to the question whether you must create. Accept it, just as it sounds, without inquiring into it. Perhaps it will turn out that you are called to be an artist. Then take that destiny upon yourself and bear it, its burden and its greatness."
What is your most treasured possession?
My jewelry – those which have been given to me and those which I've created. I'm a romantic and a sentimental fool.  Jewelry are mementos and keepsakes.  The older I get, the heavier the gold, the bigger and the more precious the stones must be!
What motto do you live your life by?
"Your only duty is to save your dream" – Amadeo Modigliani
What drew you to Wolf & Badger?
The London vibe and the well-curated selection. For Hedone Romane, I wanted a concept store that resembles a modern-day 'cabinet de curiosités' for the aesthetically astute.  Early this year, I had the privilege of attending one of the Wolf & Badger's events where I met several other designers with identical dreams and yet divergent creative universes.  Each one carried a product beautifully crafted and priced for its rarity.  I had a blast, and thought why not.
What one thing would make your life better?
An 8-carat, pigeon's blood red, antique cut ruby by Hedone Romane!