Liz Louise Breider graduated from the styling Academy Artemis in Amsterdam in 2009 and went on to work as a fashion designer for many different brands, including My Brand, Picture Perfect, and ID&T. This background provided her with enough experience and knowledge in both the commercial and indie fashion scene to create her own label "LOUISE".
What is LOUISE all about?
LOUISE is focused towards a younger customer, aged 20-35. I think there is something quite boyish about it, but it's feminine at the same time. I aim for a reinvented classicism and a contrast between different inspirations. I am a big fan of lurex materials, but I only like to use it combined with an opposing type of fabric, such as raw linen or cotton. In the case of LOUISE, it is this combination and juxtaposition that produces unique quality and is the essence of the label.
How has the brand evolved?
I grew up always knowing that I wanted to be a designer, but I did not know it would lead to starting my own label until about one year ago. My last job was for ID&T, I stopped working there more or less two years ago. Something inside me knew it was time to start something up for myself. I went to Spain for two months to figure out what to do next; it was there that I realised my desire to start my own label. I started designing my first collection and before I knew it, I was on a plane to Istanbul making it happen.
What inspired the Autumn/Winter '15 collection?
With fit and quality in focus, the thin, but boyish silhouette is a trademark of LOUISE Autumn/Winter '15. The cut is edgy but simple. This collection is influenced by the contrast of fabrics and western elements, I use the finest fabrics for simple everyday wear. I wanted to give the former bohemian girl a somewhat mannish makeover with an outing of oversized and slouchy blouses and jackets. The LOUISE woman kept a feminine touch in the form of lurex materials in blouses and dresses combined with unexpected chequered cotton fabrics and leather elements.
What is the best thing about running your own company?
I'm doing everything with my heart and soul! Working in an industry I enjoy and am passionate about, helps me to handle it when I face downtimes. Owning my own business allows me to be creative, which gives me a feeling of great satisfaction, a feeling that I missed the last few years when I was working for someone else. I don't have a design team or use photographers to shoot my lookbook; everything is really coming from me and I think that's what I like the most.
How do you begin the design process?
Inspiration can come from anywhere and anything. It is what's around me. It can be a song, or even what natural light can do to everything. I just take pieces of things that I like and add them to my inspiration board. From here I start to create a story out of what I see and I try to understand what it means.
How does it feel seeing your collection come together?
This is one of the best feelings in the world. It is very easy to draw my creations on paper, but bringing them into reality is the hardest part of the process. Especially as a young designer, I'm not yet in the position to work with the people or the ateliers that I eventually hope to work with.
What is your favourite piece from the collection?
My favourite piece of the collection is by far the western inspired blouse with the lurex back, named 'Ade'. This item gives the most accurate image of the collection.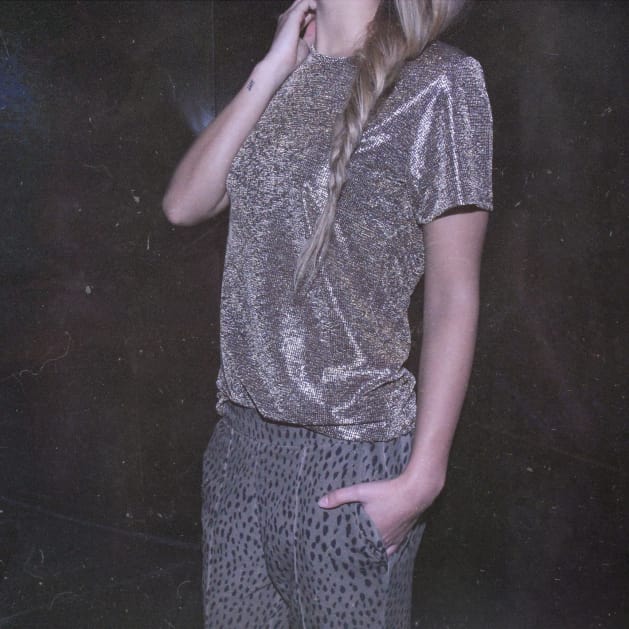 You live in Amsterdam, how has the city's creative scene influenced your work?
Amsterdam is a very creative and entrepreneurial city. I always have Amsterdam in mind when I am in my creative process. The people are very easy going and they all have their own personal take on style, which is very inspiring.
What is the hardest part of your job?
The hardest part of my job is the feeling of self doubt in not being creative enough. It's a feeling of insecurity that is vicious and sometimes hard to shake.
Who do you stalk on Instagram?
I use Instagram a lot, I would say that is definitely my favourite form of social media in terms of posting new content and getting inspired. I'm a big fan of these Amsterdam girls: @nikkimarinus, @zoshazofia, @felicefleur and @florianfch. They are all muses for LOUISE and that's the main reason for wanting to capture these women. Beside these girls I am in love with the instagram of @4thandbleeker, @sahara_ray, @giizeleoliveira, @purienne_
How would you describe your style?
My style is very bohemian and ethnic inspired. I love to wear color and prints, but I also love to wear a very minimalistic outfit. Style is an expression, it all has to do with my state of mind and actually it is very diverse.
How would you describe the LOUISE woman?
The LOUISE girl is fun, bohemian and effortlessly cool. She has her own style and is not too trend focused. She loves to wear vintage and combine this with new classical inspired items. She wants to look good, but she does not want to spend too much time on it.
What are you most looking forward to about Autumn/Winter?
I'm really curious to hear everyone's reactions. I have shown it digitally or on paper, but no one has seen the collection in real life. This is the reason why I want to design and it's the most important thing to me.
What's next for LOUISE?
It is a story that will be written from season to season. I am always thinking outside of the box. I want to create a lifestyle. I would not be surprised in the future to add a music album to the collection or to exhibit some photography of LOUISE. I will never stop evolving.