Mark Taylor was travelling through Thailand and Bali with a charity to visit a boy who he sponsors through the Anglo Thai Foundation, when he decided to start his own brand. He met his Bangkok team there who he still works closely with on producing his collections today. Being an avid believer that everything happens for a reason, Mark returned to returned to London and started working on Mark Thomas Taylor. 
Prior to this he designed for Abercrombie & Fitch, as well as working on their UK trend team guiding heads of design and buying as to what trends were happening in the UK and what was applicable to the brand.  He then went on to work at Henri Lloyd where he helped rebrand both the mainline range and the younger brand HL Jeans Co.  Having always worked with lifestyle brands, this gave him the push to start his own.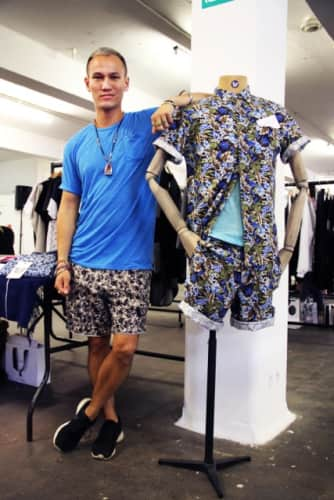 What inspired your collection?
My collections have been inspired through all the places I've lived in and travelled to and of course street style in London.  I wanted this AW14 Collection to be more monochromatic so I went for a darker pallet with a focus on texture and subtle pattern. I really wanted to make a range that the MTT guy could wear from day into a night out.
Where do you source your materials?
From varying places. I hand pick all of the fabrics myself and all my shirting is from Japan. I also work with some great Thai mills to support production in Thailand as well.
What have been the highest and lowest points on your journey so far?
I started the brand 2 years ago, it's been a rollercoaster ride as nothing really prepares you for all the multitude of things you have to learn, but everything has been positive. Every time I finish a collection I feel like it's a triumph. I wouldn't say I've had any low points (touch wood) but I think there have been times where I've had to problem solve and navigate through areas that I didn't train in dealing with like accountancy and shipping tax. All the things I previously got to hand over to other people in my previous roles, but thankfully I know how to handle them now which is great for not only the brand but personal growth.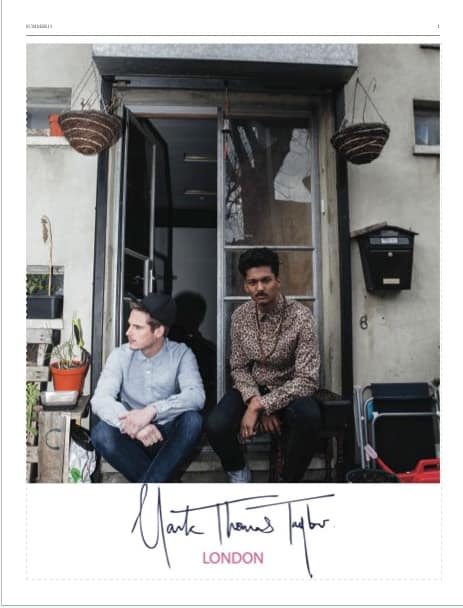 How would you describe your customer base?
I'd like to think of my customer base as guys who are a bit of a fashion underdog, they're not obsessed with it but want to look cool. He probably doesn't follow every trend and has his favourite denim shirt but buys key pieces each season.  A lot of the pieces in my collections are seasonless, I designed the range with the "perfect tee" the "perfect Chambray shirt" in mind so always have key pieces that are there Spring Summer or Autumn Winter.
Who is the best person you've seen wearing your designs?
Ojay from the Zebra Katz, I always love seeing celebrities in the brand,it reminds me that we're on the right track.
What is your biggest fear?
Boredom. Thankfully Mark Thomas Taylor has kept me on my toes from day 1!
What morals do you run your brand by?
I'm a Buddhist, I started my brand with the intention of starting a company where everyone is treated with respect and is happy. I live by this every day and treat everyone I work with with compassion, manners, respect and professionalism. As cliché as it sounds, life really is too short to be unhappy so I hope that as we grow the team everyone on board will have the same ethos.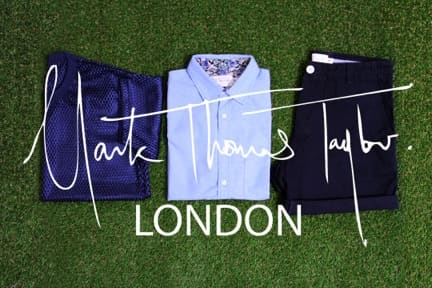 What is your most treasured possession?
A ring I wear every day from my late Grandad and my late Grandmas Batik sarong.
What motto do you live your life by?
"If I get what I intended, good. If I don't get it, good"
Everything happens for a reason and for the right reasons so don't get bent out of shape when things don't meet your intended expectations.
What drew you to Wolf & Badger?
I love the stores and feel that the brands there have really been curated. The store experience is wonderful both on Dover St and Notting Hill and I think Mark Thomas Taylor speaks to the young fashion conscious customer that shops there.
Where do you see Mark Thomas Taylor in five years time?
With our own store, expanding further internationally into Asia, US and Europe and potentially launching a womens line too. The brand has grown organically and I want it to continue to do so.