Luxury footwear brand, Sofia Capri, was born out of a chance encounter during a brief sojourn on the isle of Capri, which Silvana and Rossella visited together several summers ago. At the time they were colleagues working out of each other's pockets in Vivienne Westwood's Paris (Silvana) and Milan (Rossella) offices. Setting up and creating a brand together was a natural progression from this initial working relationship and after their first Capri adventure together, things simply fell into place.
Since launching the brand in April 2014 with the opening of our online boutique www.sofiacapri.com, Sofia Capri has attracted the attention of key international press including VOGUE Italia, ELLE Singapore, Condè Nast Traveler and The Sydney Morning Herald. They have also expanded their international presence through unique concept stores in Japan, Australia, Spain and Greece which stock Sofia Capri sandals.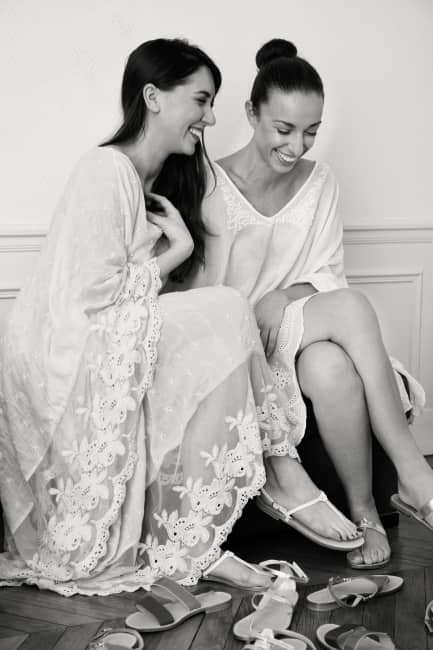 Have you always been interested in fashion?
Rossella – Yes.  Since my early teens, I have always been fascinated by the elegance of classic icons such as Grace Kelly and the fashion photographs of Richard Avedon, who so effortless portrayed timeless style.
Silvana – I've always been attracted to fashion. When I was a teenager, I would be hypnotized by the runway shows on Fashion TV and always dreamt of being part of this word. In addition to that, I was fascinated by  the story of Coco Chanel and the impact she has had in this industry. There is a before and after Gabrielle. And this is extraordinary! So I always knew I'd evolve into the fashion industry at some point. 
What have been the highest and lowest points on your journey so far?
Rossella – For me one of our highest points was being selected by VOGUE Italia's Editor in Chief Franca Sozzani as one of the emerging brands to watch for 2015. As for a low point – well, I always believe that a positive opportunity arises out of all difficulties so I find it difficult to identify this point.
Silvana -  For me the highest point in our career was our first feature in ELLE Singapore, which described Sofia Capri as "perfection"! The lowest point was not being able to attend the opening day of our first ephemeral boutique in Australia.
What was the inspiration behind your latest collection?
For Summer 2015, Sofia Capri has delved into the iridescent tones which paint the sky at sunset. The collection is characterized by vivid hues and splashes of glittering metallics which transform the simple beach sandal into elegant accessories for evenings perfumed with the scent of the Mediterranean.
Do you ever struggle to stay inspired?      
The isle of Capri is so rich in colors, textures and shapes – whether it be the dazzling handpainted ceramic tiles which adorn both private and public spaces or the intense blues of the Mediterranean that surrounds it – that inspiration is never far from reach.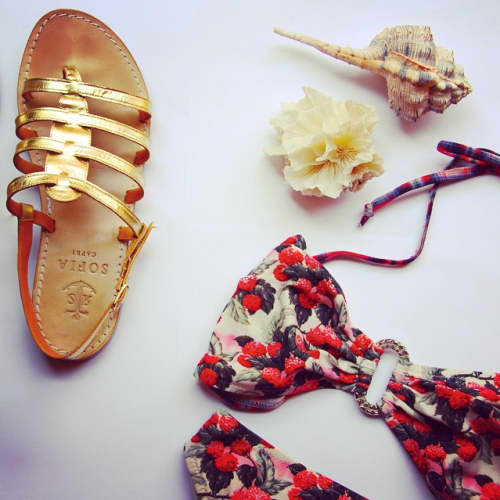 Where is your go-to meeting spot?
Capri, of course.
How would you describe your customer base?
Our customer base is approximately 60% female and 40% male, all with a distinct taste in unique niche brands with a heritage. Our largest markets are the United States, Australia, Japan and Greece.
 Is there anyone you would love to see wearing your designs?
Rossella - Donna Karan and Queen Rania of Jordan – strong, elegant women which set shining examples to other young women across the world.
Silvana – The women I would love see wear our designs are unfortunately no longer in this world. Marie-Antoinette (the first fashion icon of history), Audrey Hepburn, Maria Callas.
What are the morals you run your brand by?
Part of the reason we founded Sofia Capri was to protect and promote a unique artisanal craft which is reflective of the true 'Made in Italy' that is famous the world over. Each single one of our sandals is created by a family that was born, has lived and carried on the sandal-making trade for three generations. All of our sandals are custom-made to order and everything from the craft itself to the raw materials and leathers used are sourced entirely in Italy.
Do you have a mentor?
No, although having both come out of Vivienne Westwood and stepped into this new experience together with a valuable baggage of experience, we could say that Dame Vivienne Westwood has played a large part in the creation of Sofia Capri.
What apps keep you sane?
Spotify and Uber.
If you could only wear one piece from your collection, what would it be and why?
Our Via Caterola in champagne gold – a versatile sandal which can take you from the beach to a soirèe and look fabulous paired with practically everything. It is no wonder that it is one of our hottest best-sellers.
What's the biggest style mistake you've ever made?
Selecting a hologram serpent skin leather for one of our classic designs – it definitely didn't turn out the way we had hoped it would! 
Is there another designer whose work you particularly admire?
Rossella: Mansur Gavriel, Issey Miyake
Silvana: Jil Sander, Martin Margiela, and the Olsen sisters - their brand is amazing. The latest collections from Dolce and Gabbana are stunning, they are imbued with the scent of Italian art.
What's the best piece of advice you've ever been given?
Buy less, choose well – Dame Vivienne Westwood.
What drew you to Wolf & Badger?
It's unique retail concept which is focussed upon innovative, unique emerging designers from across the UK and the world which are displayed in two of London trendiest neighbourhoods.
Where do you see the brand in 5 years?
By then we hope to have brought a piece of Capri to the world and be stocked in unique concept stores across all continents, whilst still remaining true to our Made in Italy value. Each single sandal will still be made artisanally on the isle of Capri using only the finest Italian leathers and materials.