Whistle & Bango was founded by three South-West London girls with an entrepreneurial spirit and an adoration for London. It began as Ania's brain child, who approached Rosie and Ashley with the idea.  They fell in love with the concept and began thinking of a name that was memorable and relevant. Whistle & Bango was created as a fun and lighthearted but bold name.  A 'Bango' is a rare breed of fish - elegant and independent just like the ladies who wear the bangles. After selecting the first five postcodes and deciding to offer to percentage of every sale to charity together, Ania sourced the suppliers, Rosie wrote the copy, and Ashley got the bangles onto key celebrities and spread the word in the PR world - Whistle & Bango was created. 
What were you all doing before Whistle & Bango was formed?
Ashley - After graduation I become a Business Development Manager working in different marketing and advertising agencies, helping them to gain new clients and create long term business plans. Next I embarked on a Graduate Scheme for global brand Abercrombie & Fitch, worked my way up to Store Experience Manager and then to General Manager of Recruitment & Training. Next I became the General Manager of Itsu, as I wanted to work for impressive entrepreneur Juilian Metcalfe. Next I took a career turn and became a TV presenter, model, blogger and YouTuber after a stint on hit reality TV show Made in Chelsea. 
Ania - After a brief stint working at Jack Wills Head Office, I flew out to Singapore to start my career as a commodities broker. I have since relocated back to London with the same job and have been doing it for some time now. I am grateful for the financial and business minded person broking has formed me into, and will not forget the crucial retail lessons I learnt in my time at Jack Wills HQ.
Rosie - With a business management degree under my belt, my career began in luxury clothing retail which sent me touring the UK with my dedicated team. My passion for marketing threw me into William Grant & Sons where I assisted building a selection of their alcohol brands which was brilliant fun to say the least! After twelve months in the real world learning the business and marketing balance, I set my sites on London. I became part of the marketing team at Pod two years ago (the healthy fast food chain) where I now sit as Marketing Manager.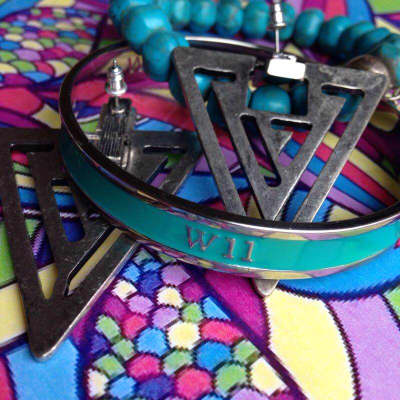 What have been the highest and lowest points on your journey so far? 
Ashley - For me the highlight was selling our very first bangle, that's when it started to feel real. The lowest point was having to find a new supplier as it set back our development. 
Ania - I agree with Ashley. Patience is overrated and the supplier issue was a nuisance. Thankfully we had a back up plan. Always have a back up plan.
Rosie - The highest- seeing all your ideas and passion coming together in one beautiful product which people really do love! The low - not being able to give the business everything you want - you'd need to be a millionaire to do that.  
What is your greatest fear? 
Ashley - I tend not to fear anything, which perhaps makes me a little reckless as I like to aim high and take risks - luckily I have Ania and Rosie to be sensible. 
Ania - Time. There is not enough of it and that's quite a scary thought. 
Rosie - A big brand storming in and taking our concept - that would be gutting.  
How would you describe your customer base? 
ALL - Our customer base is incredible. We have a really loyal following. They also cover a large age range, from school girls, to ladies in their 40's. We have a lot of men buying our bangles as gifts for their girlfriends too.
What are the morals you run your brand by? 
ALL - Never compromise on quality, never skimp on pricing, always consider the customer, and always give back.
Who is your mentor? 
Ashley - We take advice from lots of different people - our customers have a big say in our business, I have some very successful entrepreneur friends that I speak to, and definitely each other. 
Rosie - Everyone I have ever worked with whether good or bad -I have learnt something from everyone.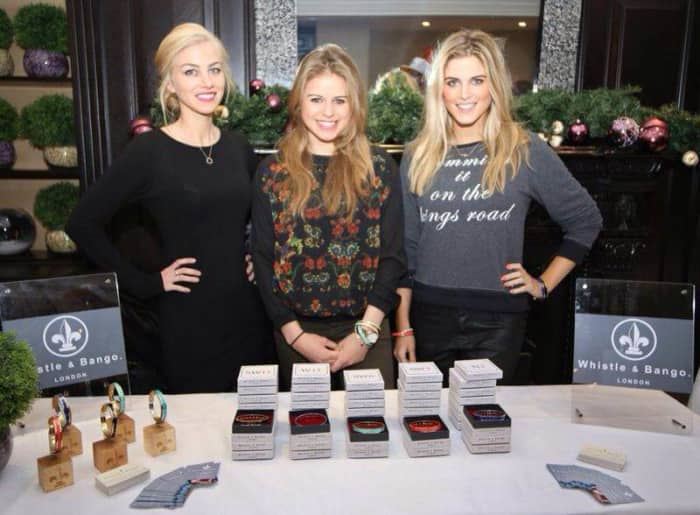 What inspires you? 
Ashley - Im always inspired by people's reactions to our brand, they're very excited about it and it makes me excited for the future. London our great capital is definitely our biggest inspiration. We also look at lifestyle and jewelry brands who have done amazingly; Jack Wills and Larson & Jennings in particular. 
Ania - London is of course our main inspiration behind the range. In this day and age, Instagram and Pinterest feeds of people who also #lovelondon have been a continued source of inspiration to me. 
Rosie - Big brands. Small movements by them are a big deal and should always be respected and considered. M&S, Chipotle and Argos = big movers and shakers. 
What building holds the most sentiment for you? 
Ashley - For me it would have to be Somerset House in WC2. It's right next to my old University, King's College London, so I spent a lot of my time there. I've been on dates to the open air cinema there, ice skating with friends at Christmas, and working during Fashion Week. Its beauty always amazes me. 
Ania - The Lloyds Building in EC3 by Richard Rodgers. I studied it as an Architecture student at University. I love it. 
Rosie - St Pancras Station in N1 - it is absolutely stunning, tells a million tales, and has my favourite Champagne bar inside!
What book changed your life? 
Ashley - From a personal point of view Harry Potter because it's the book that made me fall in love with reading, but from a business perspective definitely Outliers by Malcolm Gladwell - I find all his books fascinating , but this is the story of success and I couldn't put it down.
What is your most treasured possession? 
Ashley - My toy poodle, Snoop.  
Ania - My phone - shameless I know.
Rosie - My laptop - an investment which comes everywhere with me. I wish it was lighter, I'm developing back pains!
What motto do you live your life by? 
Ashley - Karma is a bitch so you don't have to be, basically don't let other people's behaviours and insecurities bring you down to their level, be nice. 
Ania - Life's short. Do what you want. 
Rosie - Work hard and be nice to people, I truly believe everyone gets rewarded for hard work at some stage in their lives.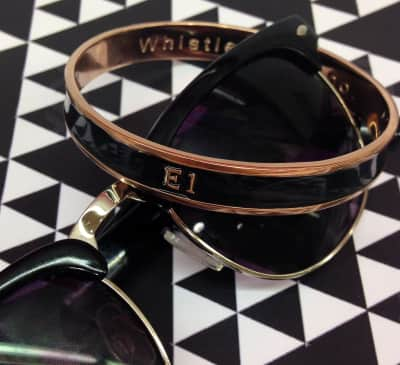 How do you keep your body and mind healthy? 
Ashley - I am a big runner, I've run two half marathons and a 10k so far this year. I'm also addicted to my Nutribullet and NutriJuicer.  
Ania - I go to the gym three times a week and TRY to cycle to and from work daily, providing i don't get distracted. 
Rosie - I'm terrible at this! I eat well, but my only form of exercise is walking up and down escalators. I'm constantly looking at meditation courses - I must find the time to sign up...
Where do you see the brand in five years? 
ALL: Well we wouldn't want to give away too much detail about our big plans just yet, but let's just say we think we'll be sold internationally on land and air, and we won't just be known for our bangles and our postcodes. There are big things to come for Whistle & Bango, some of the developments you'll start to see in the next couple of months.
What drew you to Wolf & Badger? 
All: Wolf & Badger has an excellent reputation as it only stocks the very best products, is based in great locations in London, and has great relationships with both journalists and stylists. We couldn't be prouder to stock our bangles in Wolf & Badger, and it seems their customers are happy too.
What one thing would make your life better? 
All: Winning the lottery. Money doesn't buy happiness, but it would give us the freedom to expand much more quickly!