This week we will be learning about one of Wolf's favourite designers, Piero Fornasetti.
Throughout his lifetime he created over 11,000 items spanning furniture design, ceramics and an array of other decorative objet d'art.
He studied at Brera Art Academy in Milan between 1930 and 1932 but was expelled for insubordination.
This did not stop his insatiable appetite for creating eccentric and flamboyant design, if anything it stimulated him to create an even greater array of wonderful objects.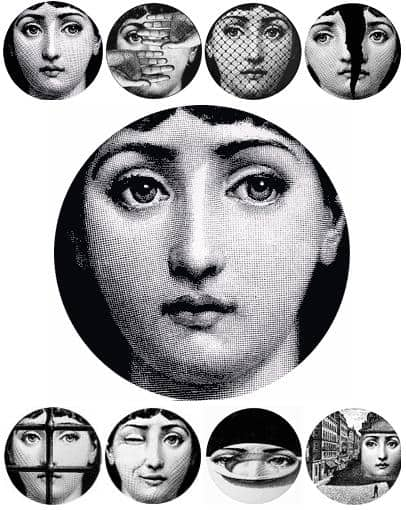 He became obsessed with the face of Italian opera singer Lina Cavalieri after seeing it in a 19th century magazine and subsequently went on to include her visage on over 500 different product variations.
This series was known as the 'Themes and Variations' series and he never stopped adding new designs to his archive of work featuring her face.
Strongly influenced by designs and narrative themes from antiquity he celebrated using architectural motifs in his work, particularly triumphal arches, Corinthian capitals and elaborate friezes.
He also loved using tromp l'oeil so as to create depth and perspective in his designs.
Although this may not seem particularly revolutionary today, at the time he was creating his major works the fashion was for modernism and simplicity which he rejected.
Despite this, he has become known as one of the most exciting and widely imitated designers of the twentieth century and his designs are still produced today, overseen by his son Barnaba.