Mira Manek is a healthy Indian food pioneer whose name is making waves within the food industry. We first heard of Mira when her spice bites arrived in Raw Press, with her gluten and dairy free balls of delight that made snacking so much more fun.  She has also introduced her Chai Spice mix into the cafe, a blend of seven spices and coconut sugar used to make the Chai lattes served.
With the second branch of Raw Press now open in Chelsea, we thought it was the perfect time to speak to Mira and find out more about the woman behind the products that everyone loves.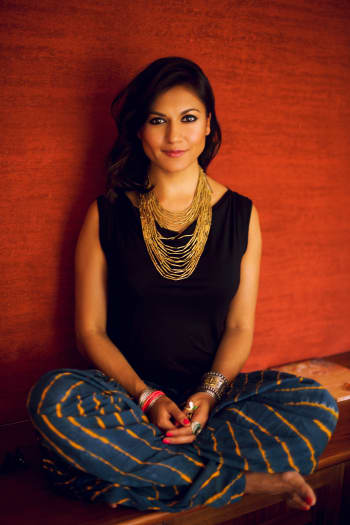 Where did your health and nutrition journey begin?
Awareness of eating well and eating the right foods comes from understanding your body, understanding what energises you and what makes you feel sluggish. After years of suffering from slow digestion and constant weight fluctuation, I took up yoga and returned to making home cooked, Indian food, inspired by the curries and daals the women in my family have been making for years. I realised that being healthy is all about eating food that is nutritious and having balanced meals, and of course all complemented by some form of exercise – for me, it's mostly yoga.
How would you describe your signature cooking style?
I'm creating a new concept of Indian food to make dishes that are easy to make, packed with flavour and are entirely nourishing. it's the amalgamation of healthy Indian and Indian inspired, of using spices in novel ways and reinventing curries, and lastly of making Indian flavours accessible, easy and approachable.
What do you usually eat in a typical day?
In the colder months, I like to start the day with a small bowl of porridge cooked in water and almond milk with lots of flax seeds and cinnamon, a couple of soaked prunes and papaya. I sometimes cook the porridge with a mix of quinoa and oats. During the summer, grapefruit with flax seeds and a few spoons of yoghurt makes for the perfect light breakfast. For the rest of the day, I try to include a good vegetarian variety from lentils and mung beans to grains and vegetables, whether that's a soup, salad, daal, curry and roti. And for snacks with my coffee and chai, I alternate between my coco fudge, spice bites and a few pieces of dark chocolate.
What do you do to wind down and relax?
In the past few years, my main form of relaxation and exercise has been yoga. I love trying out different classes in various studios and I've also been on a few yoga retreats abroad. I started combining yoga and food for some of my events as it's such a great way for like-minded individuals to meet after an energising class. Yoga and healthy eating go hand in hand. 
What advice would you give people trying to maintain a healthy lifestyle?
It is only possible to maintain a healthy lifestyle when you're able to strike a balance that suits you and your body. That's why quick fix diets don't work in the long run. Understanding what makes you feel good and which foods work for you is a key starting point. Having a small quantity of wheat, for example, is not a bad thing if you're not intolerant to it and you love bread. So don't cut out an entire food group just because of something you read or hear. Make sure you get the nutrients you need from you daily meals – a good balance of proteins, fats and carbs.
What are your kitchen staples?
The staple for any Indian cooking is the masala box, which contains turmeric, cumin powder, coriander powder, cumin seeds, mustard seeds, fenugreek seeds and red chilli powder. This colourful box has everything you need to make curry, daal or anything at all. And there's endless experimentation you can do with these basics. 
Best place for Indian food in London?
When eating out, my favourite type of Indian food is South Indian cuisine – it's healthy, coconut based and much lighter. One of my favourites in London is Woodlands in Marylebone. Mr Todiwala's Kitchen at the Hilton Heathrow Terminal 5 is also fantastic. Cyrus Todiwala has a way of bringing out flavours without losing the freshness of the ingredients. And lastly, Benares, for that classic Indian meal – Atul Kochhar's food is always on point.
Cooking oil of choice?
Coconut oil – I cook almost everything in coconut oil.
How did you decide which of your recipes to bring to Raw Press?
Raw Press was the first café to start stocking my products, early last year, even before I knew or thought I might venture into products! Toby and Jack loved my Spice Bites, which I called Spice Balls to start with and sold them individually… that's how it all began!
DATES AND PUMPKIN SEED GRANOLA RECIPE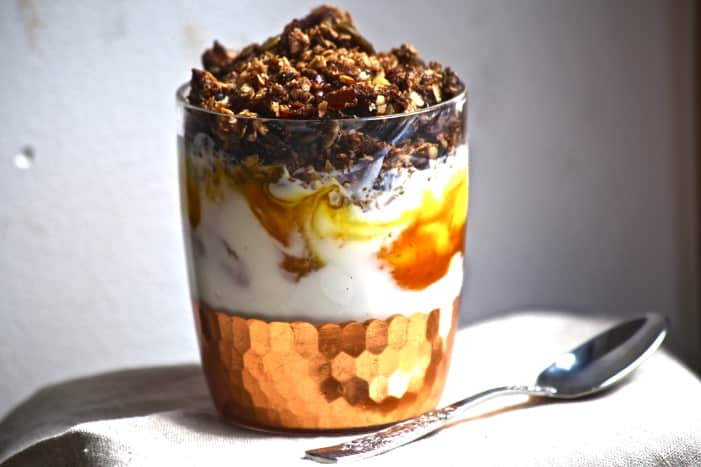 6-8 servings
2 tablespoons coconut oil
10 tablespoons oats
100g dates, finely chopped
1 tablespoon pumpkin seeds
1½ teaspoon cinnamon
1 teaspoon flax seeds, optional
2 tablespoons maple syrup/ coconut sugar
Start by preheating the oven to 180C/gas mark 4. Now melt the coconut oil in a medium pan on low heat. Add the oats and stir them for 1-2 minutes before adding the rest of the ingredients. Keep stirring the granola for 7-8 minutes until brown. Transfer to a baking tray and place in the oven for 10-15 minutes, checking regularly after 5 minutes to ensure it doesn't burn. Leave to cool down before serving as it will become crispier once cooled. You can have this granola with any kind of milk, or with yogurt and berries. Here it's served with plain yogurt and a saffron blossom compote.
Want to try Mira's products yourself? Find them at:
Raw Press Chelsea
3 Ellis Street
SW1X 9AL 
Raw Press Mayfair
32 Dover Street
W1S 4NE