Gemma has recently finished studying Writing Fashion & Culture at Southampton Solent University and is currently preparing to move to London. Follow her on twitter @Gemmbentley.
On Friday 6th June Arcade Fire took to the stage at Earls Court to perform what was more than just a gig but an overwhelming experience.
Arcade Fire created a carnival atmosphere. From arriving with a mariachi band greeting guests in the foyer to "The Reflectors" partying inside the arena with the now iconic paper mache heads, this wasn't your average gig. The Earls Court arena was transformed into a futuristic disco marquee with fairy lights draped from the ceiling and disco balls hanging in each corner.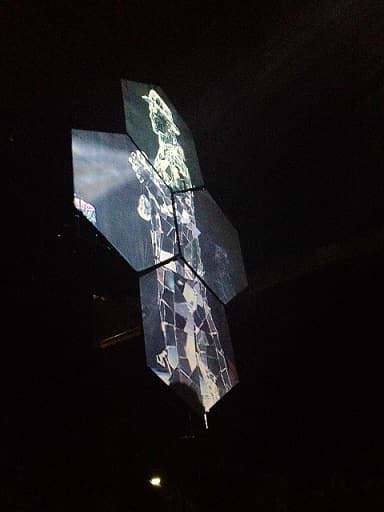 The US-Canadian band requested fans to wear costumes or dress up for their gigs. Many in keeping with the carnival theme wore bright and colourful ponchos and faces were adorned with glitter, there was something very magical about dancing underneath fairy lights next to a unicorn and guys dressed in tuxedos. Many took inspiration from front man Win Butler and recreated his raccoon striped eyes and blazers decorated with white duck tape.
People watching aside...
The support act was Owen Pallett and on Saturday 6th of June Arcade Fire were supported by New Zealand singer songwriter Lorde. You many not instantly recognise composer and solo artist Owen Pallett but will most certainly recognise some of the artists he has worked with such as Alex Turner, Taylor Swift, Franz Ferdinand, Robbie Williams and of course Arcade Fire. Owen later joined the band for the duration of their main set.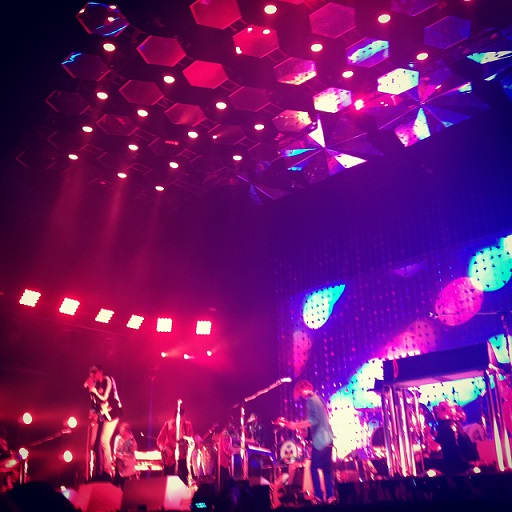 Complimenting the carnival theme Arcade Fire came dressed up inviting members of the audience up on stage to hit a piñata. There was a more important message behind the fun yet bizarre get up as the piñata is in the shape of a mobile phone, commenting on the social media age and how more people hold up phones than dance the night away.
Arcade Fire opened with Reflektor accompanied by an impressive light show. The stage transformed once more into a wall of mirrors with geometrical reflective pieces of glass lowered from the ceiling. Playing a mixture of songs from their album alongside their new releases pleased the masses of fans who were showered with gold and were treated to extra percussion, guest appearances, skeleton dances and most importantly a beautiful stage full of musicians.
Arcade Fire proved not all bands are egotistical and appreciate the importance of staging and atmosphere in order to captivate a crowd of such huge numbers. Creating something much more than a gig but a memorable experience as an ode to their loyal fans. Arcade Fire truly out did themselves with the beautiful, fun and futuristic set. Glastonbury prepare yourself.
You can catch Arcade Fire at Hyde Park on July 5th as well as headlining Glastonbury later on June.
The Arcade Fire look:
The Reflektors love to make a statement and this metallic detailed Minty Neckpiece by SOOMIN £125 would be the perfect Arcade Fire accessory.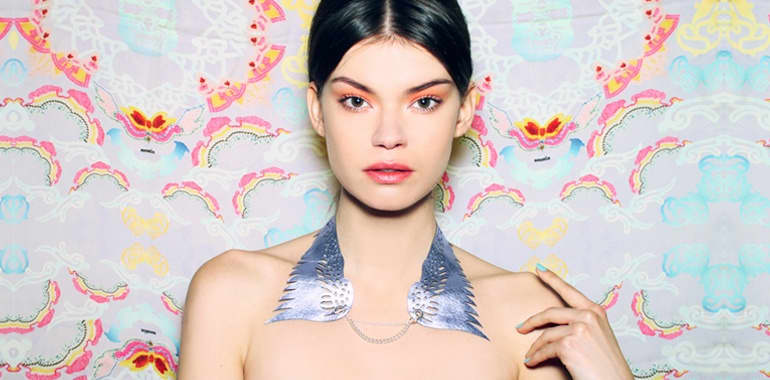 If you want a more subtle statement accessory the BUG Erika Headpiece £76 can give a simple outfit a unique and fun edge without being too overpowering.
Build these bold and unique accessories into more casual look with a t-shirt from Prints of Paradise Night Prey Tee £50 for the ultimate gig outfit. Are you planning to see Arcade Fire this summer?