I don't know what got into us wolves and badgers this week, but several of us are up to something music related this week.
There would be James Blake tonight at Plan B in Brixton. James Blake's music is a mix of electronica and soulful vocals and was just announced as one of BBC Sound of 2011.
All advance tickets are already sold out, but they still have limited tickets at the door.
On Saturday we'll listen to live New Orleans-style 1920s jazz by the Dixie Ticklers and vintage DJing at the Candlelight Club. But that's just one little part of all that jazz. The Candlelight Club describes itself as "a clandestine pop-up cocktail bar, in a stunning, tucked-away den with a 1920s speakeasy flavour, completely lit by candles."
Tomorrow's cocktail menu, which changes for each event, will be absinthe themed. We are sure that this will be very interesting in combination with the internationally renowned magician Ian Rowland, who will confuse your senses with illusions and mind reading. Some magic from the Green Fairy will certainly make the tablecloth-painting competition highly entertaining.

Saturday sees one of us ice-dancing (ice skating? grooving at the side?) at
Somerset House's Ice Rink
DJ Night. We really enjoyed the ice skating at the Natural History Museum last November and had a great time listening to Ice Music last week, so we thought "Why not try a combination of both?"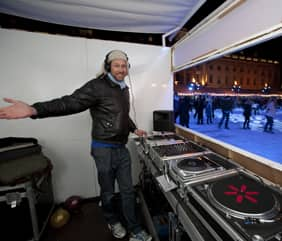 If that is just way too much music and you feel like you need to give your ears a rest, why not opt for the complete contrast and visit the London international mime festival? We think the description of
Gobo.Digital Glossary
sounds strangely intriguing...
Happy weekend! xS