# 1 – ART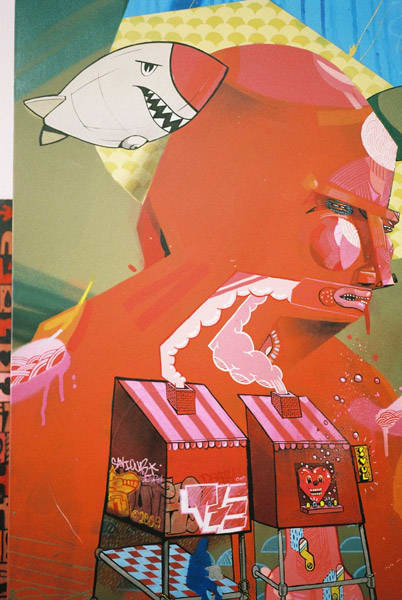 What: Sickboy Heaven & Earth Exhibition
Where: Bricklane, London
When: November 4-6, 12:00-19:00
Why: If you love graffiti, or even just share a love for all things arty, then this weekend is a great chance to catch the Sickboy exhibition in Bricklane. The solo show, titled Heaven & Earth, will offer a chance to take a sneak peak at the artists amazing talents. There is even a chance to be personally involved in the show by going on his website and submitting a "confession", which will be part of a piece at the exhibition. Definitely worth checking out!
# 2 – FIREWORKS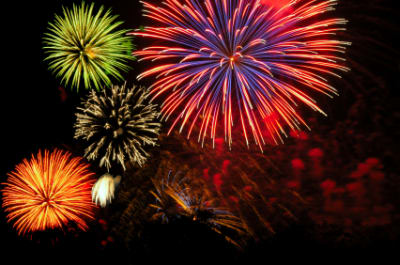 What: Bon Fire Night Fireworks
Where: Primrose Hill, London
When: November 5, anytime after dark
Why: This year, escape the overcrowded fireworks displays and experience a new way to celebrate Guy Fawkes Night. Gather up a group of friends, bundle up warm and sit back to enjoy the show from beautiful Primrose Hill. From this spot, you can view London from a height, giving you the chance to see not one, not two, but many of the gorgeous fireworks displays going on around the city. Also, considering that most people will be at the major displays, you are likely to have the luxury of having a seated view, so make sure to bring a blanket to sit on!
# 3 – SHOP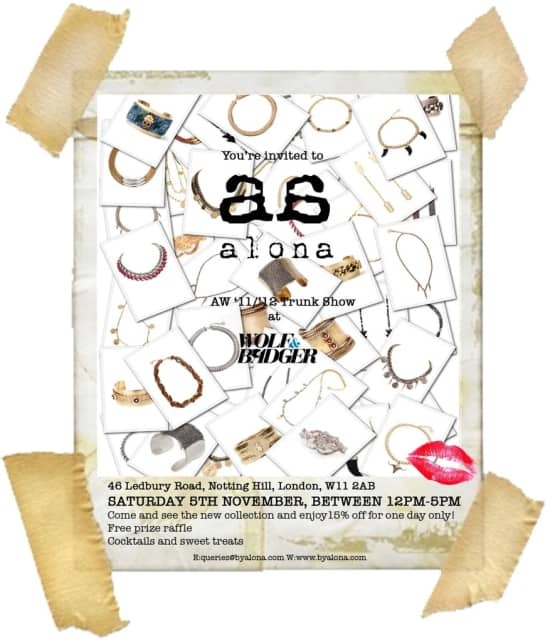 What: ByAlona Trunk Show
Where: Wolf & Badger Boutique, Notting Hill
When: November 5, 12:00 – 17:00
Why: On Saturday 5th of November the Wolf & Badger Boutique will be the venue for a ByAlona trunk show for her Autumn/Winter collection.
With the feel of getting ready for a girls night out, this wonderfully themed, girly show is not an event to be missed!
Just as if you were preparing for a night on the town with your friends, there will be no shortage of makeup and mirrors available to make sure you look your best! Enjoy cupcakes and bubbly while you get ready and even take a few snapshots of your final look wearing your favourite pieces from the collection, which you can take home as a mini souvenir!
And to top all this off, there will be a raffle draw and a chance to get 15% off any purchases from the current collection.
Happy weekend X