# 1 – Drive Thru Dining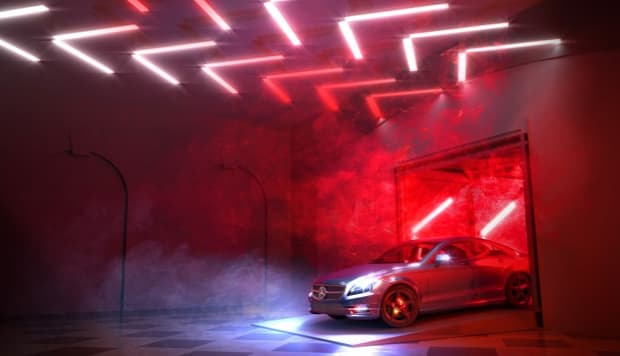 What: Mercedes Drive Thru With Bompas & Parr
Where: Located beneath Selfridges
When: Friday 14th – Sunday 16th September 2012
Why: An exceptional sensory dining experience! Kick start London Fashion Week with the Bompas & Parr Mercedes Drive Thru. The Drive Thru will feature a revolving restaurant, troupe of roller girls, uniforms by Tour de Force and an artwork with moving eyeballs entitled The Four Horsemen of the Oesophagus.
Pedestrian tickets for the revolving restaurant - £10 and include meal
Vehicle passes - £40 and includes 4 meals

# 2 – Look
What: The London Look Exhibition
Where: Horniman Museum,100 London Road, LondonSE23 3PQ
When: Saturday 1st – Sunday 30th September 2012
Why: The London Look photography challenge. The exhibition celebrates our diverse and contemporary capital with 14 finalists capturing a definitive 'London Look'. 14 images have been whittled down from 350 entries from both professional and amateur photographers. Stop off at the Horniman Museum to be inspired by The London Look photography exhibition.
# 3 – Trunk Show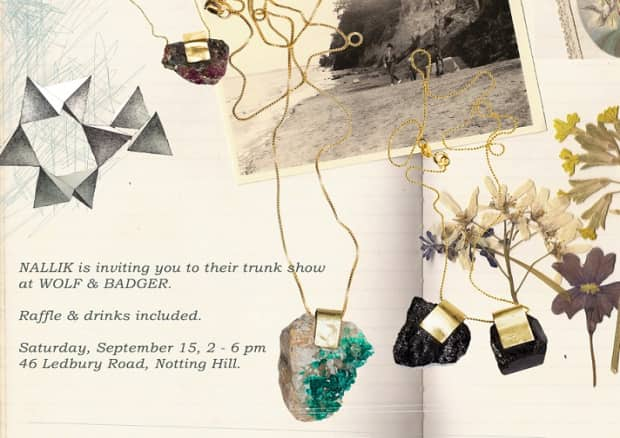 What: Nallik Trunk Show
Where: Wolf & Badger - Notting Hill
When: Saturday 15th September, 2 - 6pm
Why: Our first trunk show this week is being hosted by Jean Balke from one of our jewelry brands Nallik. She uses raw, organic semi precious stones in pieces and all stones are handpicked and then turned into her distinctive jewelry in Jaipur or her home town of Berlin. Her works is also inspired by Inuit philosophy. This weekend Jean will be hosting a trunk show at our Notting Hill store, with raffles and drinks included!
What: Sarah Angold Trunk Show
Where: Wolf & Badger - Dover Street
When: Saturday 15th September, 5 – 6:45pm (Viewing from 2:45pm)
Why: New collection preview! Our second trunk show this week is being hosted by jewelry designer Sarah Angold. Sarah is inspired by graphic shapes, mathematical structures and industrial processes. Using this and her expertise in laser cutting and acid etching, she creates unique and distinctive pieces. This weekend Sarah will be hosting a trunk show at our Dover Street store with Champagne cocktails and live music from Helen and the Sirens!
Have a lovely weekend! Xx