As we often do, this week we have looked to our latest Trunk Show for inspiration for our weekend plans
This Saturday see's Heidi London taking over the Notting Hill boutique showing off her vintage inspired frames. Heidi herself will be on hand to help you pick out the perfect pair. She will also be offering a 10% discount on all purchases.

The Trunk Show is on from 1pm – 5pm in our Notting Hill boutique.
Keep reading for the rest of our weekend plans…
If, like us, you want to show off your sunglasses straight away then, you should head down to the new pop up Chowpatty Beach Bar on the Southbank. Part of the festival of Britain celebrations taking place this summer, this pop up street food café has been erected by the artificial beach which will be there for the duration of the summer. It has been created from recycled materials; the bar for instance is made from old plastic bottles. It offers Indian street food a range of drinks and there is a DJ all day – who apparently has been asked to recreate the feeling of an acid trip on Chowpatty Beach in Bombay in 1965!

Staying outside in the sunshine but moving continents, from India to China, we will be heading over the bridge to check out the sculpture exhibition in the courtyard of Somerset House. It features sculptures from artist and political activist Ai Weiwei, who is currently being detained by the Chinese authorities. The exhibition features 12 large scale bronze animal heads which are re-creations of the traditional Chinese zodiac sculptures which were part of an 18th century imperial retreat in Beijing. The installation is part of an international tour and is in London until the 26th June.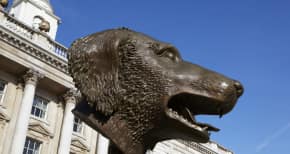 We have heard some rumours that the weather might not hold out all weekend, if that is the case you might want to swap your sunglasses for 3D glasses and check out acclaimed film Pina, before it closes in London on Monday. The film is a feature length dance film in 3D about Pina Bausch, the legendary German choreographer who died in 2009. The film describes itself as a sensual and visually stunning journey.
So come rain or shine, we hope you a have lovely weekend! Xx