Everything feels bright and shiny this week and we feel like adding a bit of glitz and glamour to our weekend plans. After months of dark winter colors and heavy knits we think it is time to get a bit bolder and brighter with our wardrobe and accessories…
First up we plan on getting dressed up and heading down to Trash & Ready, Hackney's favourite Dancehall and Reggae night, at Dalston hot spot The Alibi.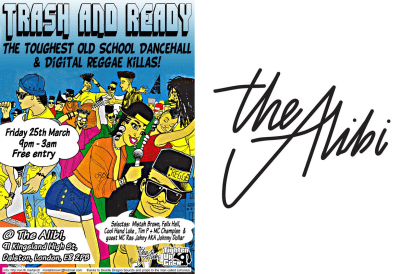 Celebrating the night's first birthday, this session showcases Johnny Dollar aka Ras Jahny. Always an energetic and high spirited party with live MC's over Dancehall and Reggae rhythms from the 80's and 90's. What's more the event is open mic….as long as the lyrics are positive! We like that! And, as always at The Alibi the night is free entry and open till 3am.
On Saturday, no matter how hard we partied on Friday we'll be at the Wolf & Badger boutique for Bling Deenie's trunk show to pick up some super hot jewelry at super hot prices.
Bling Deenie creates beautiful, wearable and affordable pieces for stylish, glamorous girls with a bit of attitude. Swarovski crystal pendants and rings, perspex shapes and multi-link chains are all part of Bling Deenie's signature style.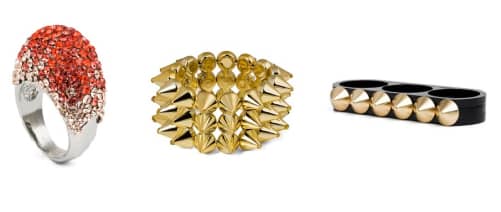 The trunk show will be from 11am-5pm at the boutique and as well as drinks and more stock Nadine will also be introducing her new Swarovski collection, which we can't wait for!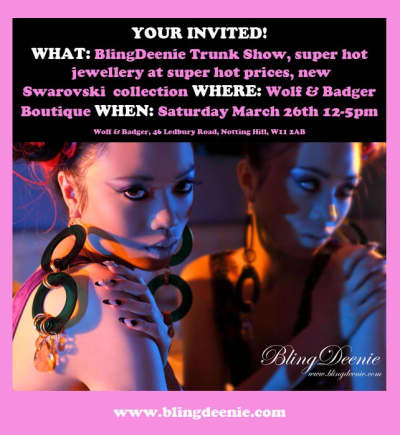 Japan Relief Fund Sale
Armed with our Bling Deenie jewels, we'll be heading back down Kingsland Road to the Amazing Grace / WAH Nails event for Relief for Japan. Being held at The WAH Salon the event is raising money for the British Red Cross Japan Tsunami Appeal who is providing aid to the people of Japan following the recent devastating earthquake.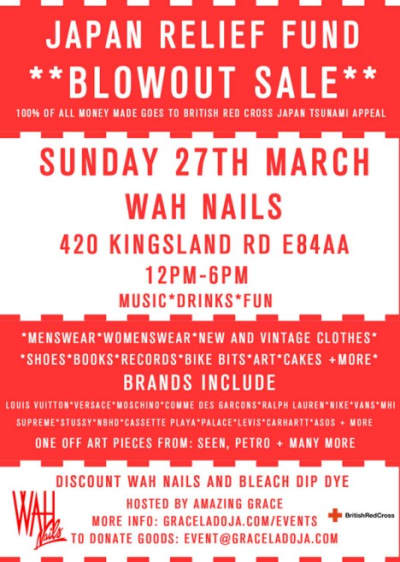 On sale will be new and vintage clothes from brands such as Versace, Cassette Playa, Moschino and ASOS as well as books, records, art and cakes! There will also be discounts on WAH Nails and Bleach dip dye.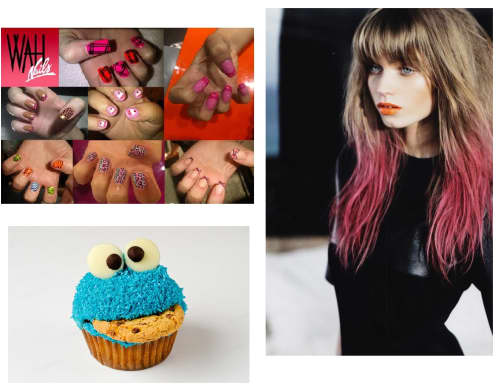 The event will be from 12-6pm on Sunday and 100% of proceeds will be going to charity.
Shopping for a good cause = winwin :)
Enjoy the sun and have a nice weekend xx