#1- FEAST fiesta
What: FEAST (4th edition)
Where: Brick Lane Yard, Buxton Street Gate, E1 5ER
When: 5th July (5pm – 11pm); 6th July (Midday – 11pm); 7th July (Midday – 9pm)
Why: The best way to (finally!) enjoy the hot weather this week end is going to FEAST, an 'alternative spin on the traditional village fete. There will be a mini croquet lawn, a strawberries and cream and Prosecco bar and most importantly a diversity of food provided by 35 top chefs and street food specialists such as Spuntino, James Lowe (Young Turks) and Meringue Girls. Deliciousness (and lots of fun) guaranteed! With live music, DJs and inspiring art installations, FEAST satifies all the senses. Limited tickets available on the door from £10.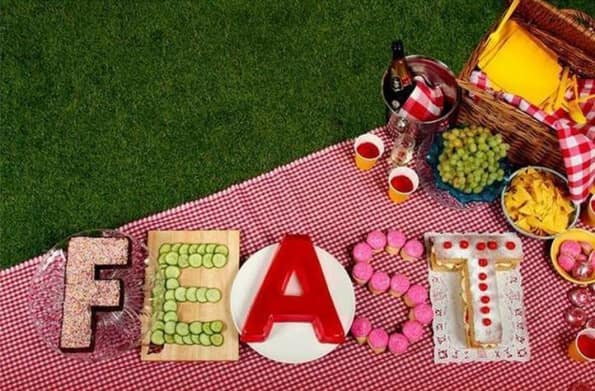 What: Enelle Trunk Show
Where: Wolf & Badger, Notting Hill
When: Saturday 6th July, 12- 6 pm
Why: Enelle is having a trunk show this Saturday! Taking inspiration from her past stylist experience and her two-year travel in Asia, Nina Lamb creates delicate jewelry that you can wear everyday but which is still eyecatching. There will be exceptional offers and also...a selected pair of Enelle earrings will be given to the first 5 customers of the day! A glass of prosecco is also waiting for you, of course.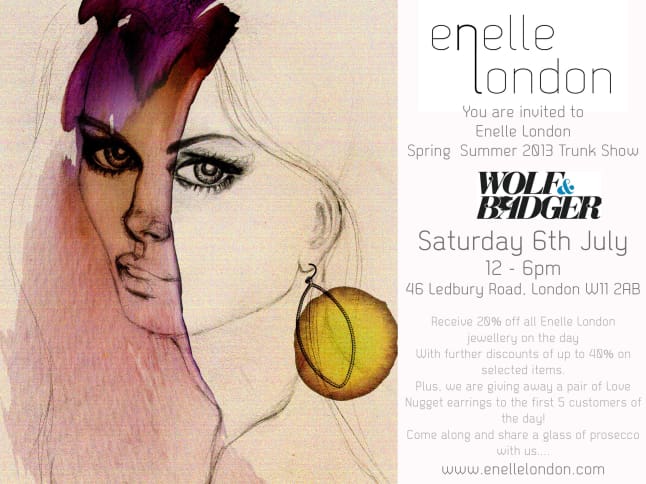 #3- Cashmere art
What: Orwell + Austen Trunk Show
Where: Wolf & Badger, Dover Street
When: Saturday 6th July, 12- 6 pm
Why: Orwell + Austen is hosting a trunk show this Saturday at Dover Street! Artist Jessica Schuhle-Lewis creates high end luxury scarves. Designed to be loved for a lifetime, each of the scarves are designed in Britain and then hand printed and woven in Nepal using the finest quality cashmere and silk.
The Saturday guests will be treated to a 20% discount...!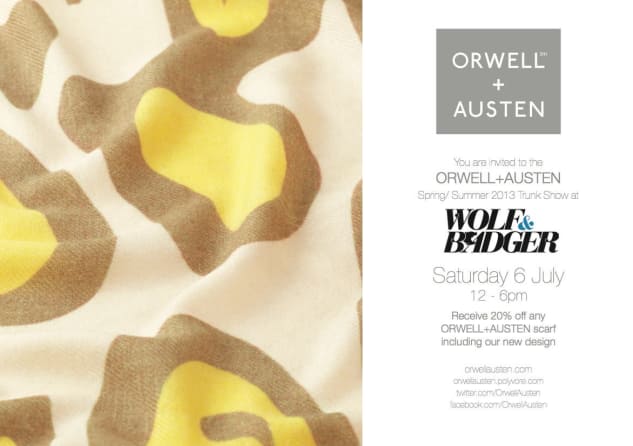 #4-
Burger battle
What: Grand opening of Five Guys and Shake Shack
Where: Five Guys: 1-3 Long Acre, London WC2E 9LH
Shake Shack: 24 Market Building The Piazza, London, England WC2E 8RD
When: Five Guys :Open today 11:30 - 23:00 Shake Shack 5TH JULY AT 10:00
Why: A burger battle is about to break out in London (Covent Garden more precisely) with the opening of two of the most successful and respected companies in the business.
Five Guys: "The Best $5 Burger A Man Can Eat"
GQ Magazine
. Five Guys was The Place to get a fresh, juicy burger with all the toppings you could stuff between fresh-baked buns. We use only fresh ground beef.
Five Guys, America's fastest growing restaurant chain, which counts Barack Obama as a fan and is said to have half the market for posh burgers, opens its first non-US outlet on Thursday in Covent Garden. And a day later New York's Shake Shack will make its London debut four minutes' walk away.
From the customer's point of view, one of the pleasures of Five Guys is that there is no charge for the toppings. There are about 15 and you can have as many as you want.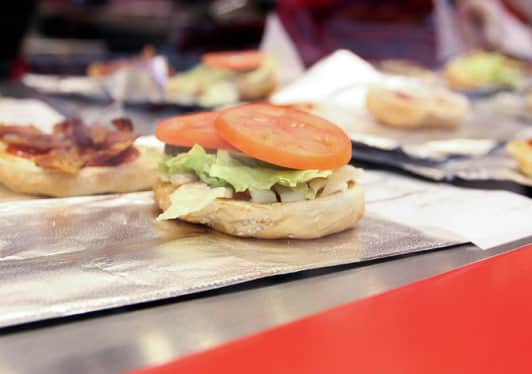 Shake Shack:
Shake Shack is part of Danny Meyer's Union Square Hospitality Group (USHG),
which includes many of New York City's most celebrated restaurants: Union Square
Cafe, Gramercy Tavern, Blue Smoke, among others
In the first-ever UK Shack, the menu will showcase all the Shack classics, as well as a selection of location-specific items - burgers, hot dogs, milkshakes and ice creams.
Born in New York City's Madison Square Park in 2004, Shake Shack is a critically
acclaimed, modern day American "roadside" burger stand known for its burgers, flattop dogs, frozen custard, beer, wine and more.
The menu will feature all the Shake Shack favourites including the signature ShackBurger®, SmokeShack™, 'Shroom Burger and Shack-cago Dog. The
majority of ingredients and menu items are UK-sourced. The burgers will be made
with freshly ground 100% Scottish Aberdeen Angus beef. ShackMeister Ale® will
be on tap, a beer designed to complement the ShackBurger that is brewed just for
Shake Shack by Brooklyn Brewery in New York City.
Shake Shack's frozen custard—dense, rich and creamy ice cream spun fresh
daily—will be featured in shakes and concretes (frozen custard blended at high
speed with mix-ins).
The concretes are made with locally sourced baked goods and
chocolate mix-ins from London partners St. JOHN Bakery and paul.a.young.
The Covent Garden-specific concretes include Union Shack (chocolate custard, St.
JOHN Bakery chocolate hazelnut brownie, fudge sauce, paul.a.young chocolate
chunks and sea salt)