#1- Summer colors
What: Spring/Summer Trunkshow
Where: Wolf & Badger, Notting Hill
When: Saturday 29th June, 12- 6 pm
Why: Come to the Key Leaf trunkshow and we guarantee you (unlike the weather forecast) a colourful summery afternoon with a bright, printed and fun collection! Favouring silk as their main fabric, the Colombian-Italian sisters Adriana and Claudia Chaparro Pignalosas' major inspirations are nature and South America. If you would like to know more about the design, check out Key Leaf's designers' profile here. There will also be champagne and canapes...so come along !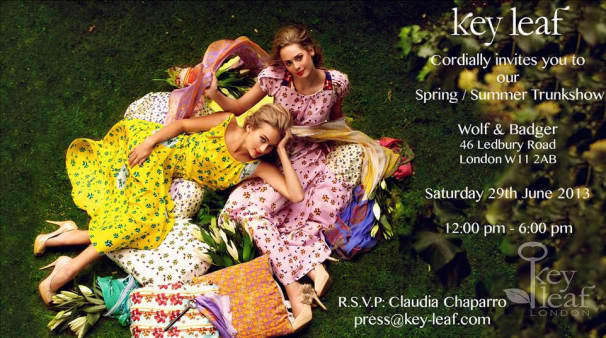 What: Ice cream carts
Where: Daphne's, 112 Draycott Avenue, South Kensington
When: 29th-30th June and 6th-7th July, 12-6 pm
Why: If you did not get the chance to go to Wimbledon, don't worry- it is not too late to get into the spirit. Celebrate the tournament by trying the ice creams from the Wimbledon cart at Daphne's in South Kensington. Flavours are inspired by the event. And even if tennis is not your thing, it is just a good excuse to taste the delicious ice creams. These include 'Strawberry & Shortbread Smash', 'Pimm's & Cucumber Sideline Sorbet', 'Grand Slam Orange Barley Granita', 'Peach & Prosecco Ace' or even 'It was on the Lime'.
#3- Rooftop cinema
What: Rooftop Film Club
Where: Queen of Hoxton: 1-5 Curtain Road, London EC2A 3JX.
Bussey Building: 133 Rye Lane, Peckham SE15 4ST.
The Roof Gardens: 99 Kensington High Street, London W8 5SA
Netil House: 1 Westgate Street, London E8 3RL.
When: from May until until 30th September 2013
Why:The July program is out so get your tickets for a night on one of London's finest rooftops! This is a guarantee of a unique film experience in the fresh air of a summer night (with tasty food and drinks!). Whether you're a film lover or not, you will love the Rooftop Film Club. Last summer was very successful so don't miss out!