This blog post could start with the famous stock phrase from childhood fairy tales, 'Once upon a time' and go on to paint the scene of a balmy summer night at a street-side fete, filled with ladies in summer dresses and men in suits and bow-ties, drinking magical concoctions and eating Italian gelato.
The truth is though, that this little fable was more of a reality at Wolf & Badgers Spring Fete, held last night at our boutique in Notting Hill, to welcome all our new designer who joined Wolf & Badger in May.

Designers, editors, writers and the fashion forward alike, gathered to celebrate our newest designers.

In traditional Spring Fete style, guests were entertained with games of 'Pin the tale of the Wolf' and raffle. Womenswear designer Christopher Waller and Esquire Man of Style of the Year, Ross Hancock, were the lucky winners of Capulet London's designer iPad cases.
For the rest of us, Pimms and Peroni flowed freely, thanks to the ever- impressive Londsdale team, and there was Vitamin Water and delicious Dri Dri Ice-cream to your hearts delight.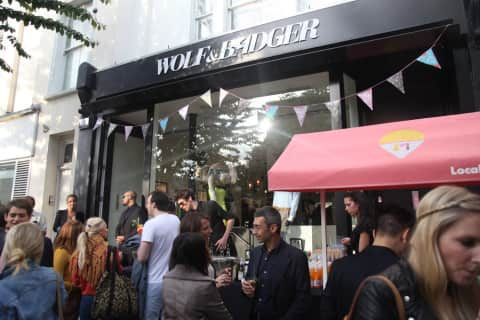 With this we welcome all new designers to the Wolf & Badger, thank everyone who attended for a magical time and hope to see you all next time.
xx
PS: Have a look at all pictures of the night on our Facebook!