Our boutique staff have done a mini-photoshoot to show off some of the amazing rings we have in store this season.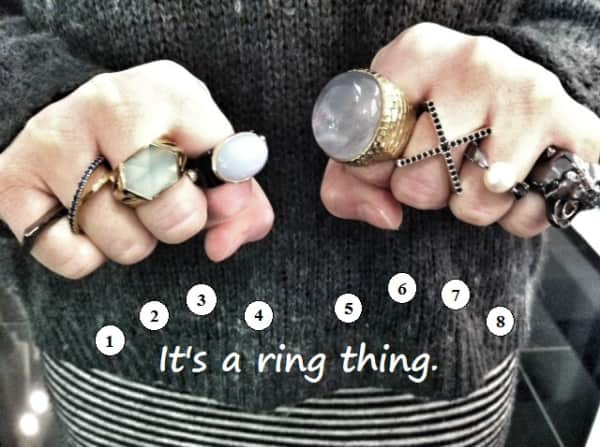 With the recent wave of new brands now in our shop, there has been an addition of new jewelry too! We would have loved to show you even more rings but unfortunately Carly only has two hands!
1. Elyona's Hexagonal Ring is perfect for those of you into subtle pieces. The black ruthenium color and minimalist shape is great for keeping things simple and chic.
(£110) Available online & in our boutique
2. This elegant, yet unusual double ring by Joanna Dahdah is great for adding a contemporary feel to any look!
(£285) Available in our boutique
3. If you are looking for a piece that will go with any anything, this Moon Ring by Mimata is perfect! The ocean blue stone and sharp angles will look great paired with a smart or casual look.
(£1590) Available in our boutique
4. For something extraordinary, this Dolce Vita Chunky Ring by Amanda Brighton definitely fits the list! Made from black onyx, blue chalcedony cabochons, pink sapphires and diamonds, this is luxury at its best!
(£2700) Available in our boutique
5. TAY Jewelry's Chiselled Ring is guaranteed to turn heads this party season! The oversized prenhite stone is sure to get you some attention at this seasons parties.
(£450) Available in our boutique
6. This 'X' Ring by Amanda Li Hope has just the right balance of modernism and elegance. The simple design combined with the blue sapphires makes this piece extremely striking!
(£575) Available in our boutique
7. For the girly girl in you, this Pearl Thorn Ring by Yumeko Yamada is great for creating a feminine feel. It's delicate and luxurious; just how every woman wants to feel.
(£430) Available in our boutique
8. This Black Bear Ring by Strange Fruit is sure to help you channel your inner animal. Made from precious metals and diamonds, this edgy ring is simply irresistible!
(£350) Available in our boutique
To check out more of our fantastic designers just pop down to our Notting Hill boutique!