February did not only bring a wave of fantastic new designers to our boutique in Notting Hill, it also brought along Wolf & Badger's second anniversary!
What better way to celebrate our Terrible Twos and welcome the new designers than throwing a party with loads of sweets! We certainly were excited by flying saucers, sour cola bottles, powder shrimps and more, but at the end of the day it was the amazing new talent that ensured a full boutique despite low temperatures.
We are happy to welcome ...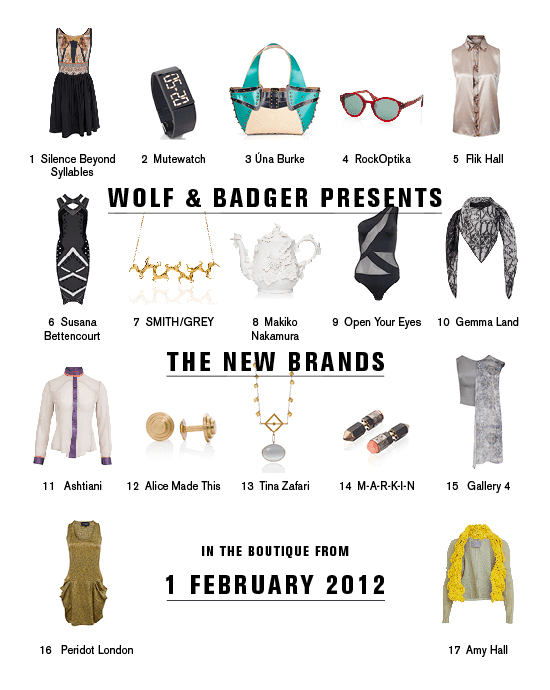 1 Silence Beyond Syllables / 2 Mutewatch / 3 Una Burke / 4 RockOptika / 5 Flik Hall / 6 Susana Bettencourt / 7 Smith/Grey / 8 Makiko Nakamura / 9 Open Your Eyes / 10 Gemma Land / 11 Ashtiani / 12 Alice Made This / 13 Tina Zafari/ 14 M-A-R-K-I-N / 15 Gallery 4 / 16 Peridot London / 17 Amy Hall
A big THANK YOU to all the designers, press, bloggers, customers and Wolf & Badger fans that wrapped up and braved the cold to join the party, drinking Rum cocktails served by the ever so amazing The Lonsdale team while listening to DJ Erol Sabadosh's fine selection! It was great to catch up with everyone and meeting most of the people behind those fantastic new brands!
Check all pictures from the party here on Facebook!
If you missed the party don't fret, our Notting Hill boutique team will be happy to show you what's new! If you'd like to have a second chance to meet the designers, don't miss the new trunk shows coming up on Saturdays during spring.
We will announce all trunk shows on our Facebook and here on the blog!
So long xx