You've booked your flights. Secured the perfect hotel. Found all the best spots to check out. And now, it's time to organise that suitcase. Whether you're a seasoned pro or a stuff it all in and pray for the best kind of packer, we aim to aid you in your packing woes with a little guide on all the essentials to get you through holiday season. However, while there are hundreds of guides out there encouraging you to invest in a whole new summer wardrobe for that one trip, we aim to offer a more conscious approach. Statistics from Barnados says that this summer we will spend £2.7 billion pounds on over 50 million outfits that we will wear once, which is a spectacular amount of wasted clothing. Therefore, we've aimed to make this a guide about how to invest in the right pieces which are versatile and sustainable so that your week away doesn't impact the planet or your purse quite so much. Browse our top picks of sustainable and ethical brands so that if you're needing to splurge this summer you can support people and planet at the same time.
Starting with clothing, look for items which can be easily coordinated with each other. This is an important point to consider regardless if a capsule wardrobe is your scene or not. Luggage allowance is restrictive and you want to make the most of every item in your suitcase. Plan your outfits and check your wardrobe before you go shopping to make sure any new items you may need will go with at least 5 other pieces in your wardrobe. This will help prevent an impulse purchase that sits in your suitcase all week. Opt for a mixture of basic pieces which you can chop and change with your patterned statement clothing for foolproof and fashionable outfits.
Invest in a light summer dress, like this white number from Oramai which will take up next to nothing in the suitcase. A staple summer dress is an easy throw on and go option no matter what you're getting up to. During the day pair with comfy sandals and a wide brimmed hat and in the evening dress it up with wedges and layer gold necklaces to compliment the tan.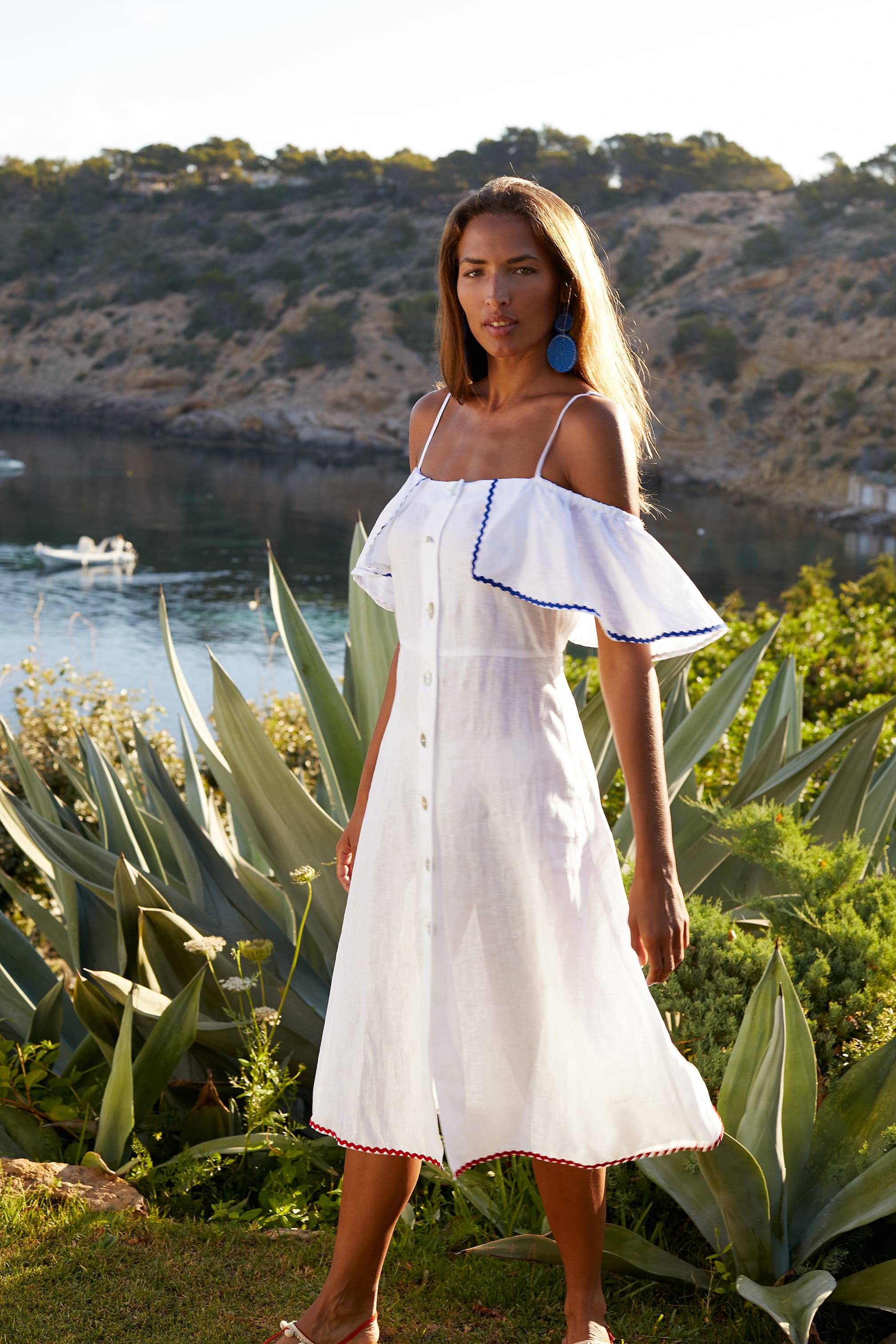 If your holidays are a little more active than sauntering round the streets then a pair of shorts is another great option. We love this pair by Les 100 Ciels as they are oh-so summery and will look great with any kind of t-shirt or sun top. You will definitely get your wear out of them all summer long.
For a lazy pool day, invest in a cover up that will be comfortable, will match all your swimwear and most importantly, protect you from the hot midday sun. This will help ensure you've got a practical and timeless kaftan that will last each year and not be chucked out because the cheap, trendy style you bought on a whim isn't flattering anymore. House of Dharma have a dreamy range of kimonos and dresses for the ultimate floaty, bohemian beach goddess look. The brand was born out of Ibiza by two sisters and they help to support the factory workers that make the beautiful pieces.
Swimwear is one area of the textile industry which has been making leaps and bounds in terms of sustainability. A vast amount of new brands have popped up which are championing new materials and production methods that don't take their toll on the planet. Econyl is a nylon yarn which is made from recovered fishing nets, carpets and other waste and considering that around a tenth of the plastic waste in our oceans compromises of abandoned fishing nets, repurposing this waste is a great step forward. Raw X Salt is just one of the sustainable swimwear brands on Wolf & Badger that uses Econyl in their bikinis. They also use ethical manufacturing, pay workers over the living wage and provide health care and opportunities for progression in the workplace. And if that isn't convincing enough they avoid single-use plastic in their packaging and offset carbon emissions on their international shipping, making them a great responsible brand to invest in. Oh and did we mention their bikini's are simply sumptuous too? The Knot One Sided Top can be worn 3 ways, meaning you can change your style when you get bored.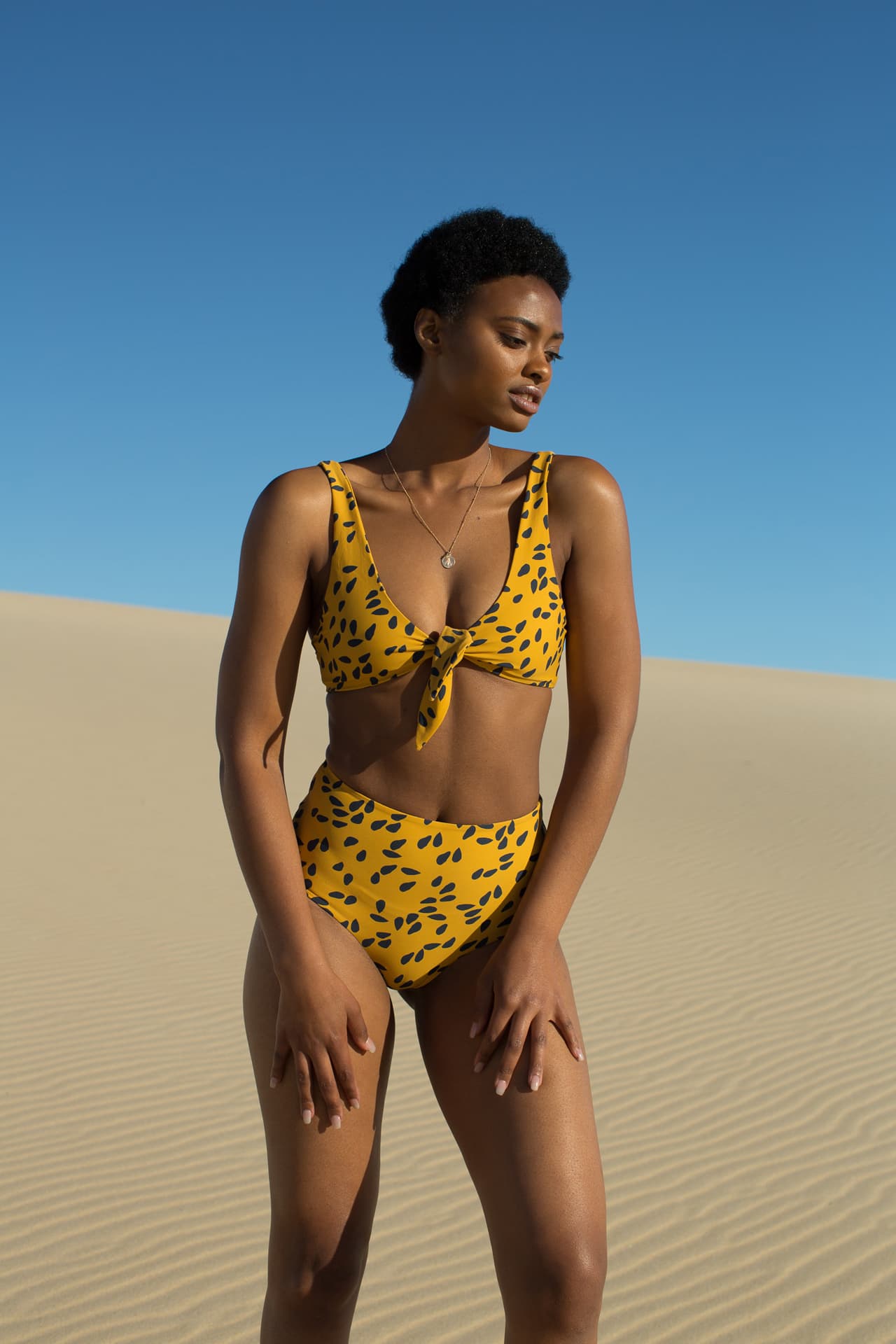 Knot One Sided Top Desert Spots & High 'N' Waisted Bottom Desert Spots, Raw X Salt
In terms of accessories, think simple gold pieces that can be easily layered and interchanged with each other and different outfits so that you can get use out of everything but still mix up your look. A simple pendant or medallion can be worn on its own during the day or for a more dramatic evening look, layer with gold chains in assorted lengths. This is perfect with low-cut tops and dresses. Don't forget a pair of statement earrings that can elevate any maxi dress from poolside to effortless evening attire. 
Shoes are an important choice when packing for a holiday. Nothing is worse than uncomfortable sandals that cause blisters, make your feet ache all trip or even worse, break mid-stroll. Opting for a quality pair which has been well made is one way to ensure that your shoes will stand to even the most hardcore of exploring and hopefully reduce your risk of discomfort too. Laiik are champions of the slow-fashion movement with each pair of their sandals made by hand by artisans in their small, family run factory in Athens. Their luxury shoes reinvent classic styles with bold colors and geometric shapes, a true must-have for any shoe lover.
Invest in a good sun hat and sunglasses to protect you from the rays. Pala is a British eyewear brand which has its roots firmly in ethics. They have partnered with Vision Aid Overseas so that with every pair of sunglasses sold they provide a pair of spectacles to those in need. This is important as 10% of the world's population are unable to access eye care, yet a pair of prescription glasses are one of the most cost-effective poverty alleviating tools you can give someone. 
For beach bags Soi 55 have a colourful selection that scream summer with fruity colors and playful pom poms. Their totes are made from recycled plastic, meaning they're a more sustainable choice. Not to mention that they're strong, durable and waterproof - which is an essential for beach bags. Simply wipe down and you're ready for the next trip to the beach, meaning this bag will last longer than it's fabric counterparts. 
While finding the perfect outfits are often what the majority spend their time contemplating, it may be worth lending a thought to your sun cream. Last year, Hawaii and the Pacific island of Palau passed a bill that bans sun lotions containing the chemicals oxybenzone and octinoxate. These chemicals, which are typically found in ordinary sun lotions, are incredibly damaging to coral reefs. As well, there is also evidence to suggest that these chemicals are damaging to our bodies too. Although you might not be heading out snorkelling on your holiday, your sun cream will still enter the waterways from showers, baths and pools, all of which add to the level of chemicals in our oceans. However, there has been a whole host of brands which are releasing eco sun creams without these hazardous chemicals. Instead they use mineral filters such as zinc oxide to provide UV protection. Look to brands such as Seventyone Percent and Saltee Skincare for natural sun cream options. 
When you're heading back after a day in the sun, be sure to moisturise to help heal any sun damage and keep your skin at its best. Heinrich Barth's aftersun is great natural lotion to restore the skin and also comes in a handy travel size, perfect to slip into your hand luggage for those weekend getaways.