With Christmas approaching faster than you can say 'mince pies', we would hope that most of you will be crossing the final items off your list and getting your gifts wrapped in time to be put under the tree. If you're still struggling with the few last items (or if you haven't even started yet!) then fear not because Wolf & Badger have come to the rescue with our last Christmas Gift Guide before the big day!
We've included some great items this week and hope that our list can help you cross those last few names off your shopping list!
If you're interested in purchasing something from our online shop, make sure to get your orders in by the 21st if you live in the UK and by the 20th if you live internationally to guarantee delivery before the 25th.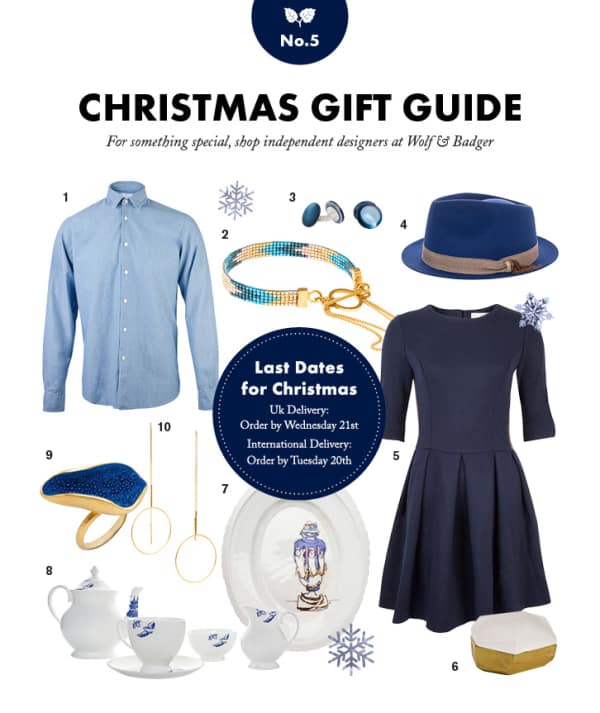 1. Denim Friday Shirt by Hentsch Man (£95) - Available in the Notting Hill boutique and online
2. Navajo Bracelet by Anabel Campbell (£115) - Available in the Notting Hill boutique and online
3. Color Cufflinks by Samuel Gassmann (£80) - Available online
4. Chelsea Hat by My Bob (£167) - Available in the Notting Hill boutique
5. Colbolt Dress by Irwin & Jordan (£460) - Available onlineonline
7. "Nouveau Bleu" Platter by Amy Jaynes Hughes (£360) - Available onlineonline
9. Concave Caviar Ring by Jacqueline Clarke (£350) - Available online
10. Monocle Earrings by Maria Black (£119) - Available in the Notting Hill boutique and online