In one of my past non fashion jobs, an adorable super geek colleague showed me a website he had created of optical illusions and games. Whilst I didn't share his passion for maths and physics which led him to create the site, I was quite impressed with some of his edgy geometric creations.
Geometrics are a perfect example of the fashion world's penchant for turning something serious and strict into something fun and beautiful. All vague memories of Pythagoras Theorem go completely out the window when I'm lusting after Christopher Kane's geometry inspired AW14 collection which featured stunning layered triangular details.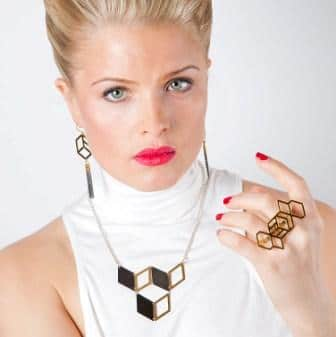 As possibly the most versatile trend, I never tire of seeing the innovative use of the numerous shapes, prints and even psychedelic looks created with geometrics. Anna Byers forms a geometric, honeycomb inspired matrix on her perspex and metallic cuffs and necklaces with matching hexagonal earrings. Stephanie Bates plays with metal cubes on rings, and necklaces in a range of colors from neon to black. The complex and striking shapes with numerous intricate details of Absence shoes would make them fit in perfectly to a Picasso Cubist painting. With geometric clothing the possibilities are endless and I can't wait to see how the trend evolves over the next seasons.