By Charlotte Golzari
Mirrored sunglasses have taken the number one spot for eyewear this season.  They come in a variety of shapes, styles and colors, making them the go-to accessory for making a statement with your outfit.  But if you're not a fan of this trend or are keen to try out something different, then take a glimpse at the trends below, guranteed to make you stand out from the crowd whilst still fitting in with the fashion pack.
The Clear Trend
The best thing about clear frames is how versatile they are. You don't have to worry about color or print matching, as the transparency of the frames mean they're likely to go with pretty much any outfit. The Heidi London decor sunglasses in clear add a retro twist to the trend, with rounded frames and gold panelling on the corners. The combination of the modern 'clear' trend and the 60s inspiration make the sunglasses a timeless yet current piece.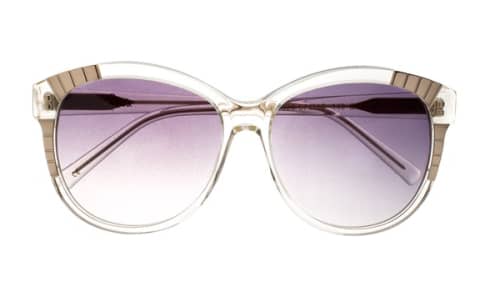 The Floral Trend
Practically made for spring and summer, floral sunglasses are the go-to eyewear piece for the feminine, girlie types. The frames would go perfectly with a floaty summer dress or a fun way to accessorise a casual jeans and t-shirt outfit. Heidi London's floral square sunglasses take the trend to the next level with floral petals embedded in to the transparent frame. 
The Round Trend
Round, 'retro' sunglasses have been everywhere recently, and with good reason! The bold frame shape throws back to the 60s and are flattering for most face shapes. Finlay & Co's Draycott Tortoise sunglasses would look perfect teamed with a denim button-down skirt or flared jeans to complete the look. 
The Removable Lenses Trend
These types of lenses have been popular for a while in sports eyewear and have recently made their way into the fashion world. Practical and versatile, they give you the chance to experiment with your look with different options of lens color and while adapting to changing weather conditions. The Pembroke Opaline sunglasses by Finlay & Co have nailed the trend with their clip on gold lenses that are ideal for brighter, sunnier days.