Events
Curated by Wolf & Badger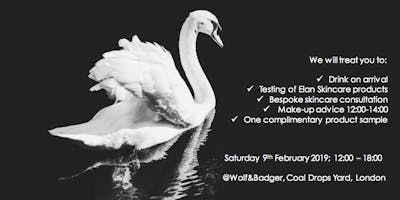 FREE
Saturday, 9 February 12:00
Sat, 9 Feb 12:00
Meet The Maker: Elan Skincare
Elan Skincare is an honest, transparent brand of beautiful skincare products based around natural concept and with sound scientific background.Elan Skincare like their skincare products to be as natural as they can be, without compromising their safety. They believe in science and closely follow developments in dermatology. Elan is all about confidence and well-being, elegance and style. It is about beauty inside out. Welcome to the art of beauty. Join Elan Skincare in our Coal Drops Yard store for drinks, skincare consultations and product samples.
View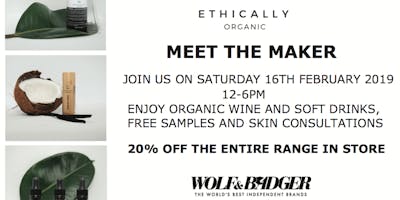 FREE
Saturday, 16 February 12:00
Sat, 16 Feb 12:00
Meet The Maker: Ethically Organic
The Ethically Organic ethos is cruelty and chemical free skincare, these are the fundamental and core values that built the brand, it stands for what they are, and what they believe in. They have sourced our ingredients ethically, using sustainable and fair-trade suppliers. All of their products are 99% organic and 100% natural. The entire range is anhydrous, which gives the consumer, undiluted high concentration skincare products, packed full of vitamins and omegas. Ethically Organic are proud to be endorsed by PETA and carry the cruelty free logo on our products. All of the products are vegan and have been registered by the vegan society, and we proudly carry their logo on our products.  Meet the Ethically Organic team in our Coal Drops Yard store and enjoy organic wine, free samples and skin consultations. 
View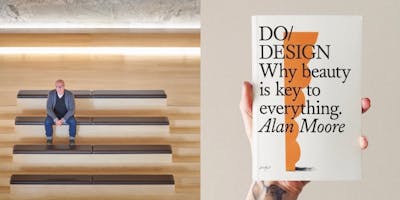 FREE
Wednesday, 20 February 18:30
Wed, 20 Feb 18:30
Alan Moore talks DO Design: Why beauty is key to everything
DO Design: Why beauty is key to everything Alan Moore is an accomplished designer, artist, and craftsman of Beautiful Businesses. His purpose, to show beauty as a frame for life is a philosophy and design capability, that enables us all to become; better humans, better leaders and better makers of things that matter. As a business innovator Alan possesses a Zen like wisdom and insight on the changes that are reshaping our world. Alan is the author of 4 books, his latest, 'DO Design. Why beauty is key to everything' is an inspirational guide to beauty and design capturing the hearts, hands and minds of people around the world. Some believe beauty is simply a luxury. But, what if beauty is calling us to return to our true human nature? Alan's talk on Wednesday 20th Febuary at Wolf & Badger will help you understand why and how beauty isvital to leading a prosperous and purposeful life. Why Beautiful Businesses are the future, and why beauty is the only ultimate metric you will ever need. Alan will inspire you to re-think the world in which we live and how we all have the opportunity to discover our own unique beauty. Alan has spoken at The DO Lectures, SXSW, MIT, Sloan School of Management, Hay on Wye Literature Festival, and been privileged to advise, teach and work with multiple leading businesses across six continents. Alan still works as an artist and tries to live every day as beautifully as possible.   www.beautiful.business  @alansmlxl
View