Long Multistripe Overshirt Dress
Long Multistripe Overshirt Dress
Sustainability Guarantees
Long shirt dress, featuring long sleeves and vibrant multicolored stripes, making for a relaxed cut piece. Constructed in a blend of linen, viscose and polyamide. This is a longer shirt - almost a dress-, really, and therefore, 'the' shirt-dress in all its glory. It falls into the 'resort' category and could very easily be pictured in a beach scenario, not only because of its material, but also because it features a super fresh multi-colored pattern. It features a mandarin collar, an understated mini pocket, a button placket that goes halfway down its front and long sleeves. Constructed in a blend of linen, viscose and polyamide, its design comes away as a relaxed-cut piece and is therefore perfect for summery months.
Some recent customer reviews of the A-line Clothing collection:
14 Jun 2019
Service rating : Mooie kwaliteit en uitstekend op de hoogte gehouden van leveringstermijn
Product : Mooie kwaliteit, uitstekende levering
23 Nov 2018
Service rating : Sales assistant was so helpful and stayed outside the changing room in case I needed help or a different size.

Loved both my purchases and so nice to be able to buy something a little bit different.
Product : Beautifull...
Some recent customer reviews of Wolf & Badger:
4 Apr 2020
Service rating : Despite on going difficulties wolf and badger delivered lovely skirt and efficient honest purchase .

4 Apr 2020
Would definitely buy from Wolf & Badger again.
Swift delivery, easy purchase.
3 Apr 2020
Service rating : Product was strange fitting, and although I followed washing instructions, the red part of the shirt turned the white part of the shirt pink.

60% Linen, 20% Viscose, 11% Polyamide

Wash at 30 degrees
Wash separately
Wash and iron inside out
No bleach
Do not tumble dry
Cold iron
Do not dry clean
XS, S, M, L, XL
---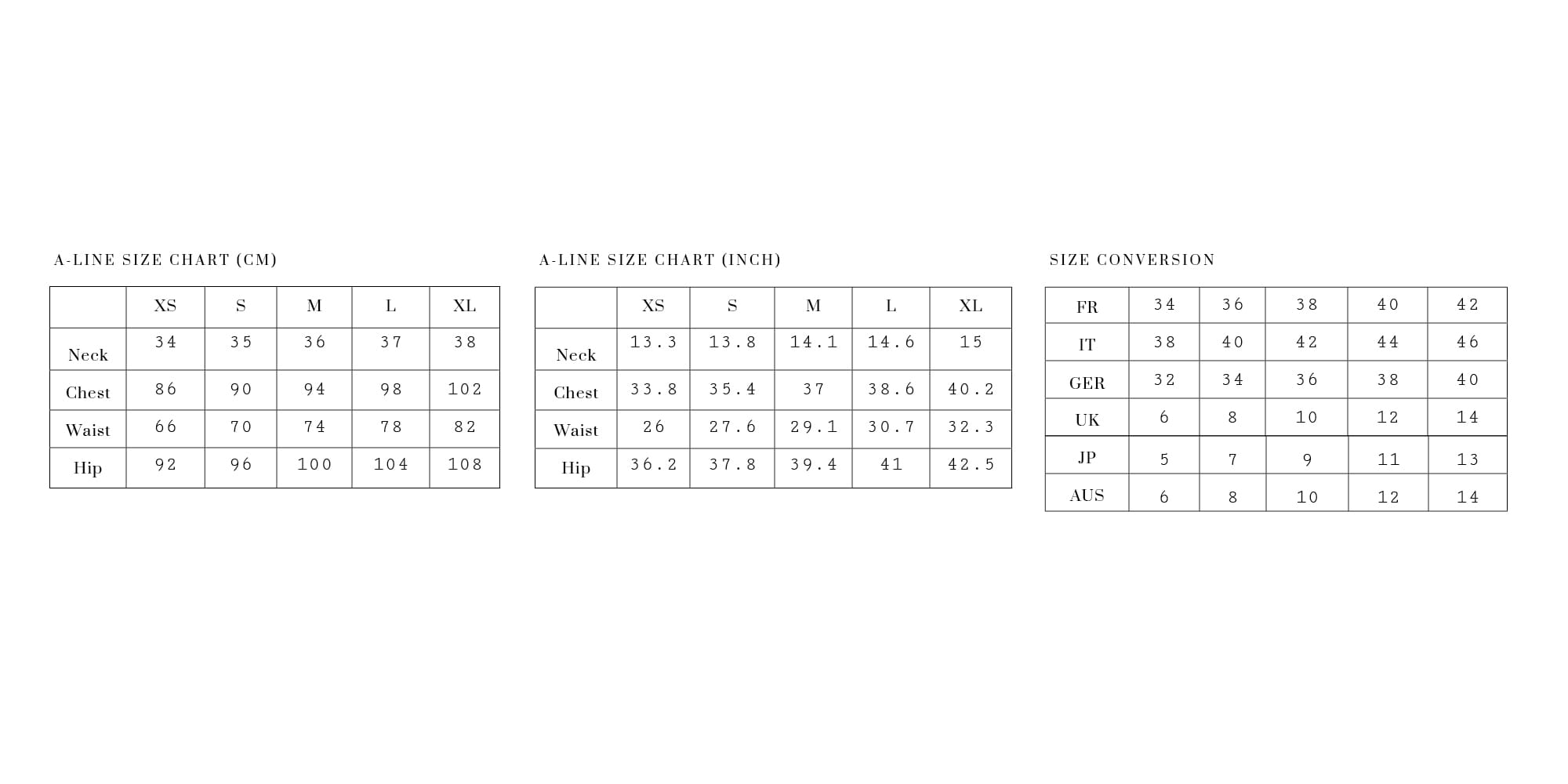 COVID-19: We're open and shipping as usual
Items shipped directly from designer
Tracked

 

delivery

 

to home or work

All customs fees, duties and taxes are included

See Delivery page for full details, conditions apply
Free

 

returns

 

within 14 days, collection arranged by us.
See Returns page for full details, conditions apply
Price match guarantee
If you find an item cheaper elsewhere we will match the price
See

 

FAQs

 

or

 

Contact Us

 

for full details

, conditions apply
Wolf & Badger acts as agent to the brand only - you, the customer, are purchasing any item directly from the brand
A-line is a women clothing brand challenging conventions to create the perfect fit for the 21st century woman. Simplicity meets sophistication – the synergy results in unlikely shapes that compliment the female body.
The brand's designs are a reflection of what the A-line woman stands for – elegance, maturity and confidence. Designing the perfect styles and sharing it with women everywhere was Alexandra Carneiro's drive. Thorough and passionate about detail, the creative director at A-line has synced her sense of taste and her 20 years' experience in the textile industry to reinvent the essentials in a woman's wardrobe.

Inspiration was sparked by women for whom comfort and distinctiveness come first, anytime and anywhere. A-line curates natural and delicate materials such as cotton and silk to design easy care, functional, high quality pieces. Available in neutral shades and pastel colors, the design's wow factor is its fit, softness and attention to detail.
need help?:
+1 646 934 6601
[email protected]