Abhati Suisse is next generation skincare and hair care that blends technology with tradition to create a line of contemporary Ayurvedic products. Cleansing, hydrating and soothing comes naturally for the oils, creams and soaps made for hair, body and face. Lavish in their rich consistency, conditioning properties and their subtle yet addictive fragrances.

Their sustainably formulated and ethically sourced botanicals provide mindful care that leaves a tiny environmental footprint and a big heart-print. Each purchase allows them to fund social projects that make a difference by promoting education and female empowerment in underprivileged societies. They embrace our credo of care, compassion and charity to create beauty and beat social injustice. We sat down with founder, Anju to learn more about her brand and the social causes behind it.
How did Abhati Suisse begin?
The idea for Abhati was born one night during a dinner party in Paris. I was sitting at a table surrounded by friends who were experts in various areas of beauty, and a thought popped into my head: what if we could combine all of our skillsets, including my history as a philanthropist, and create a beauty brand that brings heart to capitalism by giving back. Everyone was so excited by the idea, so we set to work to realise our vision. We crowd-funded our first product, our hand wash, successfully on Indiegogo and launched Abhati in Dec 2013.
I am a British-born Indian and serial social entrepreneur who believes that girls are agents of change. After my first visit to India in my 20s, I couldn't believe what I witnessed: a devastating lack of education available to women and girls. In India, only 1 out of 100 women complete high school, and I knew I would one day go back to India and try to do my part to combat this tragic lack of equality. 
In the meantime, I returned to Switzerland (where I had settled) and confronted inequality at home. I spent years working as a social worker who counselled and protected women fleeing domestic violence, and then later founded a series of pediatric walk-in clinics that provided medical care for families. We had an employment rule that required all doctors who worked for us to also go on pro bono trips abroad to provide medical care in vulnerable parts of the world.  
At the same time, I became involved in the foundation of a reforestation charity called WeForest, which has to date, planted 20 million trees worldwide. It was during my time at WeForest that, during a humanitarian trip to the Himalayas, I first made contact with tribal farmers and realised the potential of partnering with them to source their gorgeous botanicals for a natural beauty brand. Botanics that have been used by Indian Royalty, our farmers shared how their ancestors were engaged by them to make these luxurious oils. This is why we named the brand Abhati, an ancient Sanskrit word meaning "shine". Our proprietary blend of these special botanics is used through our whole line.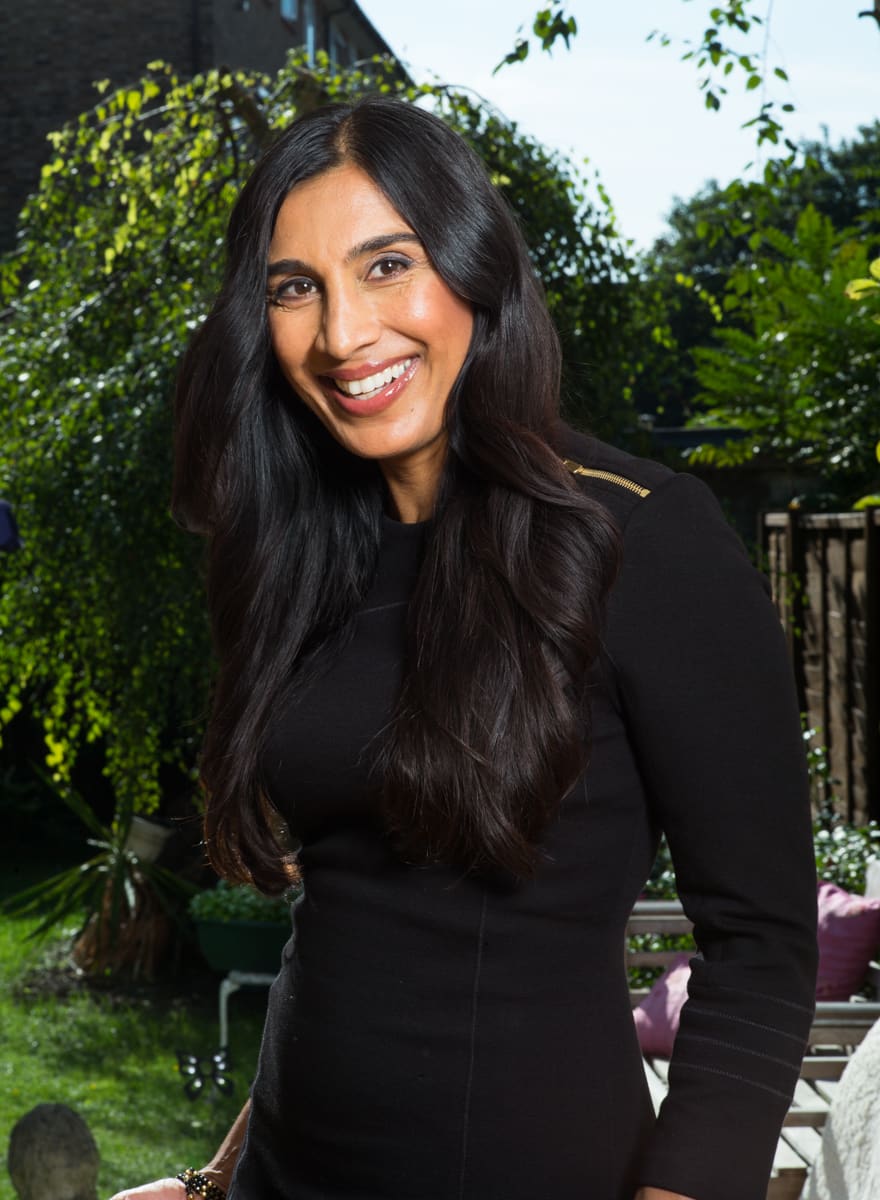 Have you always been interested in the beauty industry?
Yes, I'm Indian! I imagine like most Indian women, I grew up sitting around my grandmother's kitchen table with my mum, grandmother and aunties as they whipped up various beauty potions to keep my skin clear, give me glossy hair, keep my nails strong and beautiful, etc. My grandmother was the master of homemade beauty remedies and was doing green beauty long before it was trendy. I fondly remember her slathering gram flour mixture on my face during the winter to keep my skin hydrated, and you know what? It worked! Now decades later, I keep her in mind as we formulate new products, and always ask myself, "Would Naniji use this?" If the answer is no, we go back to the drawing board.
How did you begin to develop your products?
I approached one of the biggest and most prestigious labs in Switzerland and asked them if they would donate their time to help me formulate a beautiful clean beauty line using organic botanicals we would harvest in the Himalayas. And at the same time, I approached Geza Schoen, who is one of the most respected perfumers in the industry, and asked him to develop a signature natural scent pro bono. People thought I was crazy for doing that, because no one thought that some of the biggest players in beauty would work for free. But everyone I pitched to saw how big this idea was and how it had the potential to disrupt beauty, and agreed to come together for Abhati.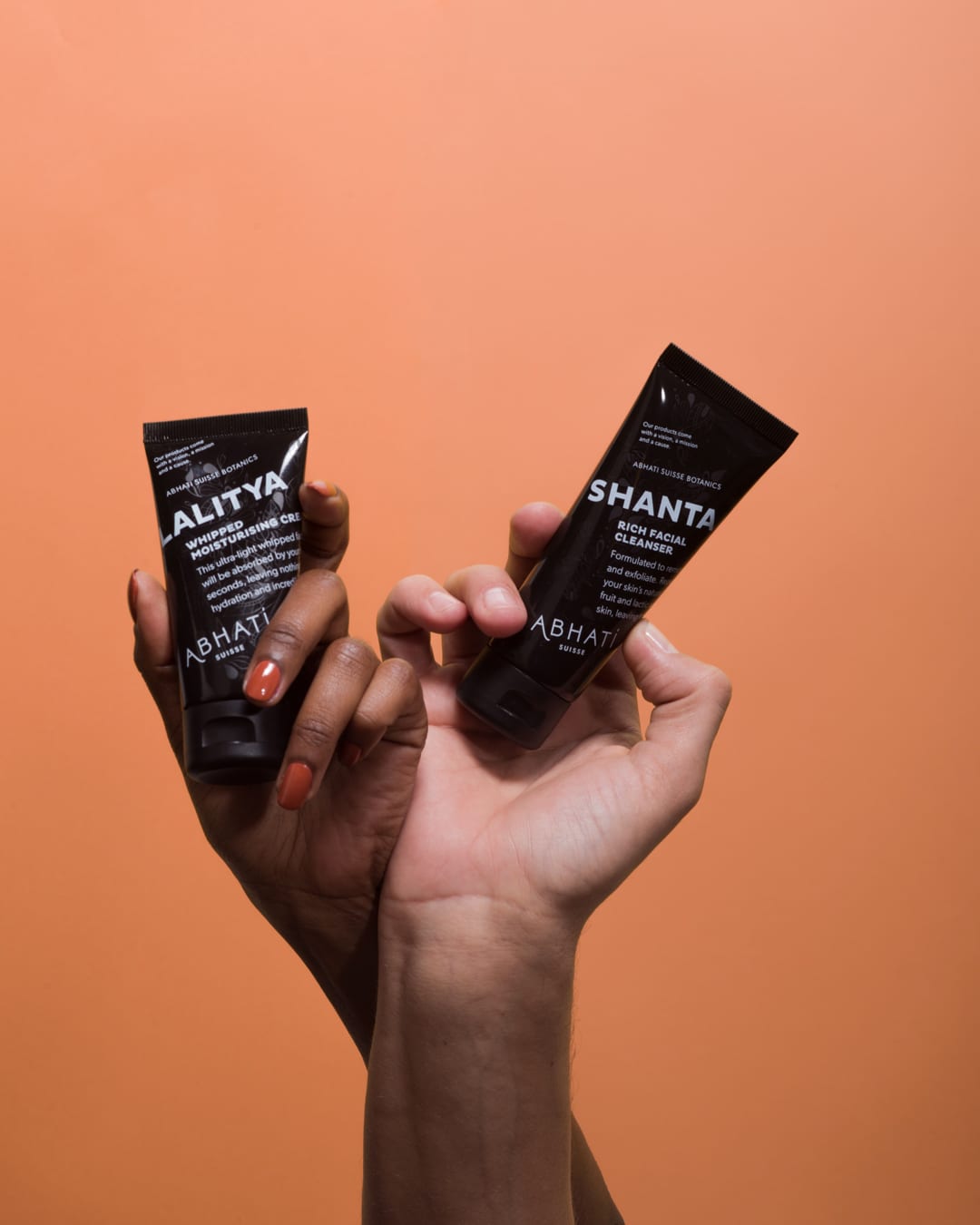 What have been the highest and lowest points on your journey so far?
Low points are a natural part of entrepreneurship, and I try to always flip them into positives. For instance, I hear the word no, but I never hear the word no. That might sound trite, but it's what you have to do for a company to work. Perseverance and staying motivated are key to building anything successful. 
The highest point of Abhati Suisse so far is, of course, our social impact. The fact that we have sold enough products to educate 225,000 girls is really emotional for our team. That is a quarter of a million girls who are developing the tools to take control of their own lives.
Another high point, which founders don't often mention, is that moment when you first see one of your products out in the wild. And I don't mean the first time you see it on store shelves, but the first time you see a stranger using your product as they go about their day. For me it was our lip balm—our Mahanadi Lip Treatment. I spotted a woman on a train pulling out a little black tube of lip balm, and nearly screamed the second I realised it was mine. THAT is a moment I will never forget!
What people don't realise about brand building is that there are thousands of steps we take before a product goes to market, and after that there are about a thousand more steps we have to take to communicate that product so people see it and want to try it. So by the time someone is using it in public, we have put a tremendous amount of energy into getting it out there and see it being used is really an indescribable feeling.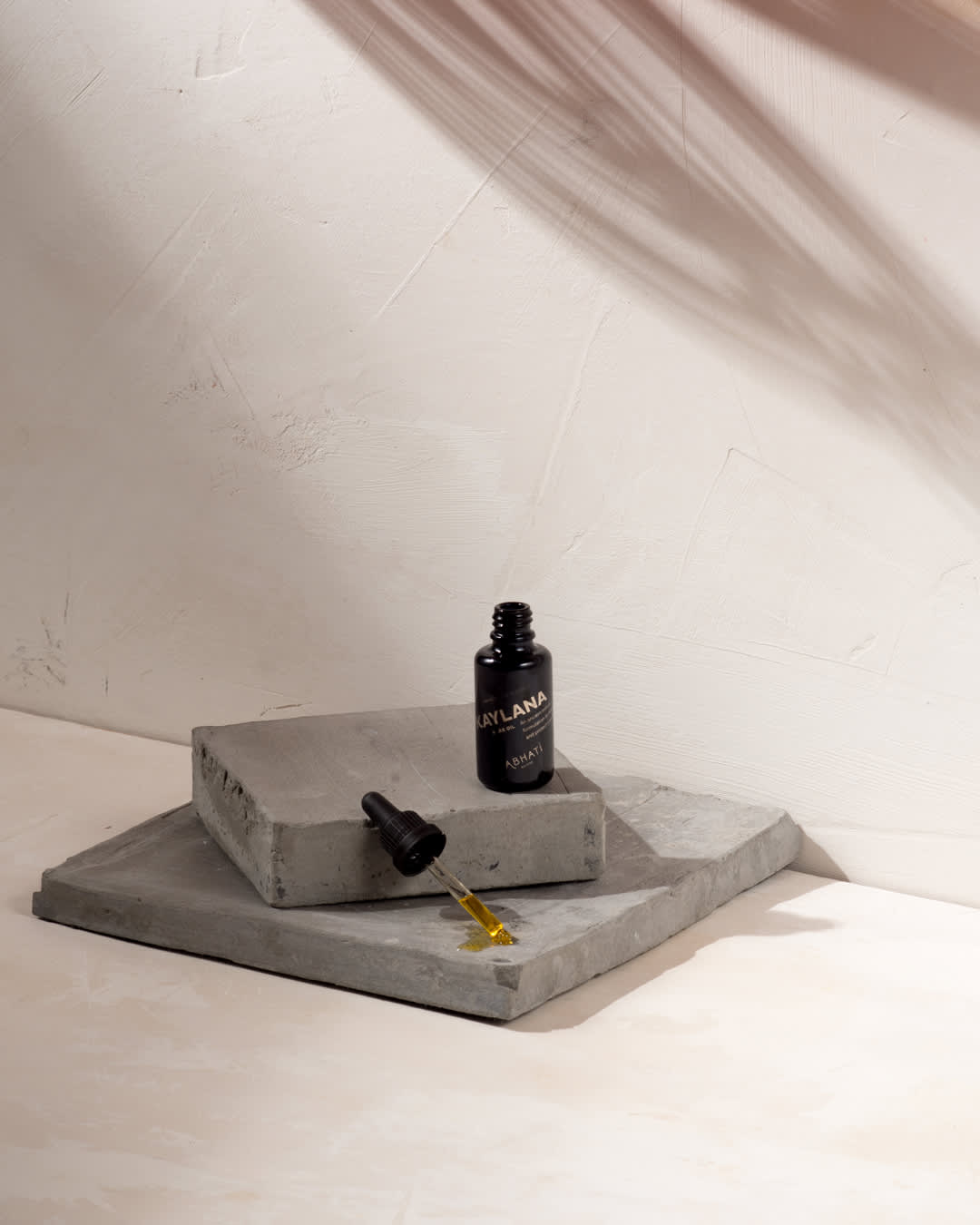 How would you describe your customer base?
Our customer base is conscious of both what goes into their skin and haircare and how it impacts their world. The Abhati customer supports emerging brands with missions and strong social and environmental impacts, and chooses to vote with their wallets for the world they want to live in.
What do you do when you're feeling uninspired?
I engage with other social entrepreneurs, because we all hit similar roadblocks regardless of industry. When you're building an impact-driven brand, there many more considerations that come into play than with building a traditional brand because we have that many more shareholders impacted by our company. For Abhati it's not only you, our end consumer, but also our farmers, our NGO partners, the girls who are receiving tuition assistance from our profits, the social workers who approach families about getting their girls into schools, the families of the girls who might not be interested in their daughters being educated, etc. It's a lot of consider, and overwhelming at times, so that's why I seek guidance from other founders of sustainable brands.
Also, I watch TEDTalks. The passion, ingenuity, and inspiration of presenters are always major sources of inspiration for me. I was fortunate enough to deliver a Tedx talk in Zurich a few years ago, and since then I've remained active in the TED network and am constantly inspired by everyone who is a part of it.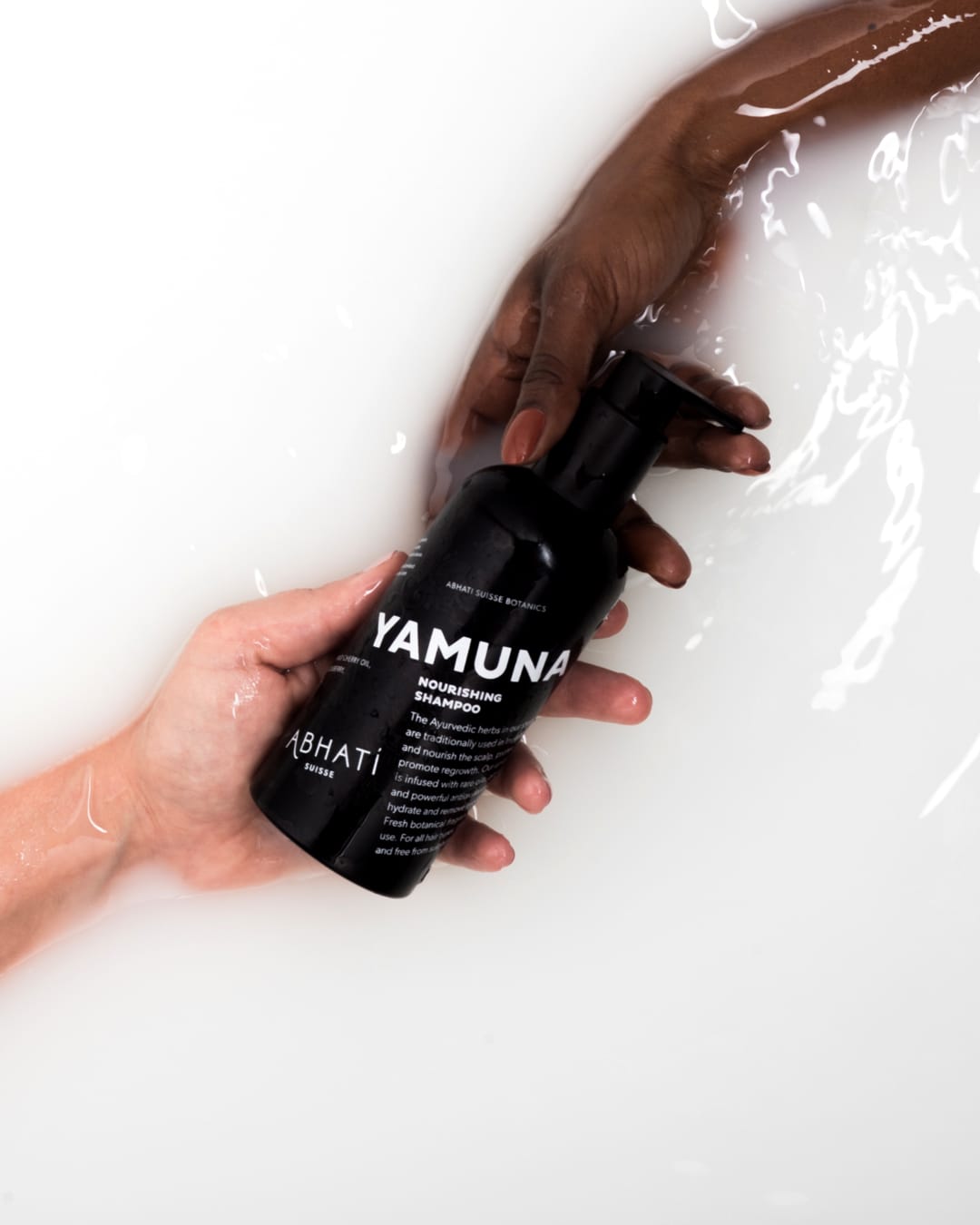 What is your evening skincare routine?
I keep things simple. I know 218-step skincare routines are all the rage at the moment, but that's not for me. If you have good products that adapt to your skin, there's no need for wasting so much time, energy and money on millions of products. At night, I double cleanse with our cleanser, then apply our face cream. After everything has been absorbed, I gently massage three drops of our Kaylana Rare Oil into my face and neck and then, if I have time, will do a few minutes of face yoga. If you don't know what face yoga is, you can find tutorials on YouTube. It looks a little silly, but it's very relaxing and does wonders for your skin.
What's different about your products?
Our products are made with botanicals that are harvested and processed using traditional Indian techniques. The farmers we work with still harvest by hand, and then macerate our plant materials for up to three months to achieve maximum potency. Our whole plant ingredients are therefore never heated, so they're incredibly potent for your skin and hair.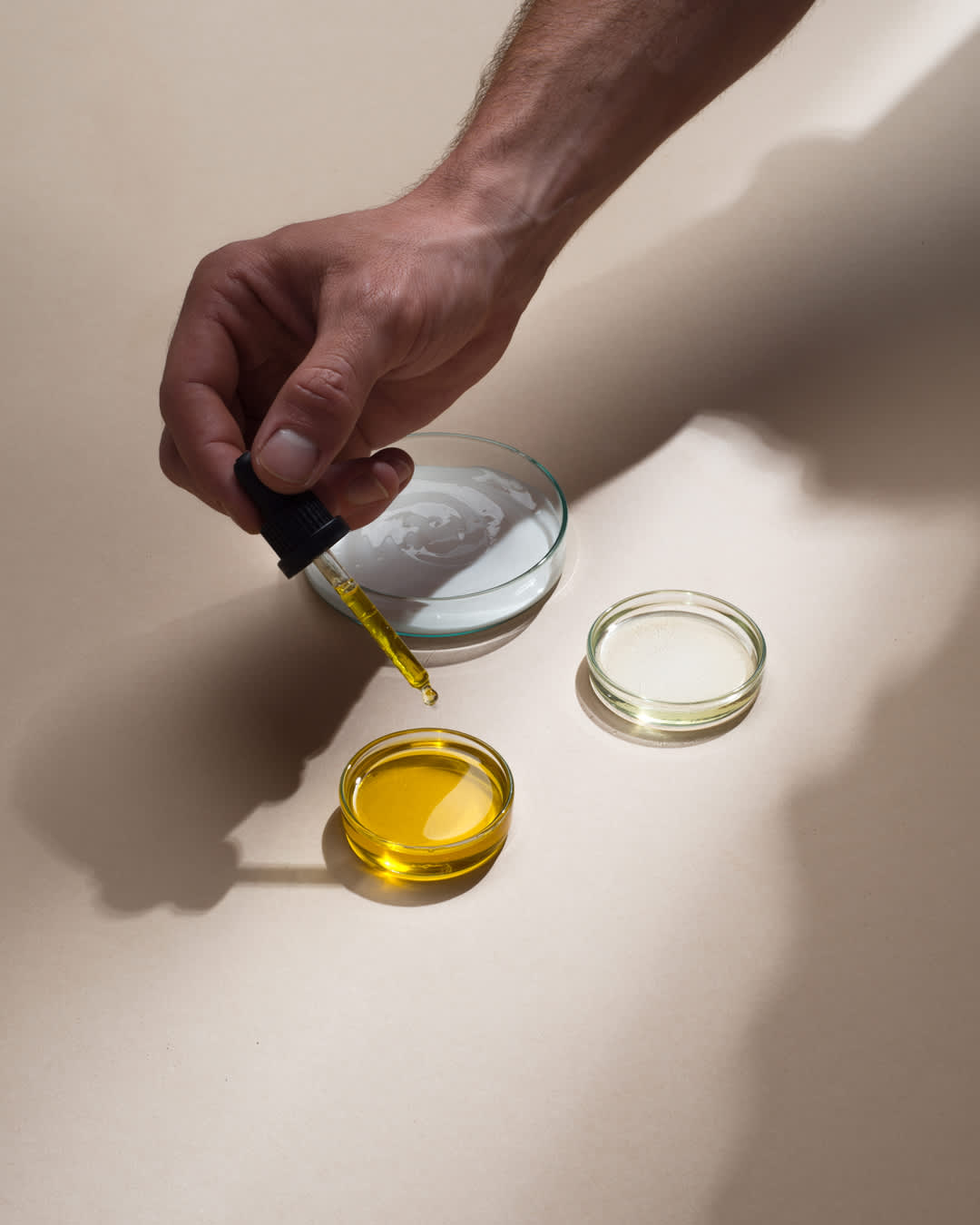 Why is using natural/organic ingredients in your products so important to you?
Organic ingredients make wonderful skincare products. Our products are based on beauty rituals that have been passed down through generations, but formulated using cutting-edge beauty technology (so there is proven efficacy). However, one thing that we don't talk about enough in clean beauty is that organic ingredients are also better for the planet. Brands focus on this notion that natural is better for you than chemically-processed ingredients, but not enough is said about how certain ingredients or farming practices harm ecosystems, either through leaking into groundwater, over-farming, etc. We are conscious of this, and make sure that our products work for both people and planet.
What is your go to product from your range?
Kaylana. It's our highest price point, but a very special product and my skin just drinks it up. The story to how it came to be is also very special. I was visiting the farmers we work with in Himachal Pradesh, and one of the men suddenly produced this disintegrated piece of paper with the local dialect scrawled all over it. It was a recipe for an oil that he thought I might want to see. This might sound unbelievable, but he told me that generations ago, his ancestors had been the chemists to the royal family during the Mughal empire (think Taj Mahal), and that they had developed a rare oil that both princesses used for beauty rituals and warriors used to heal battle scars. He said that the recipe had always been passed down through generations and that they still made a form of the oil today. And, if I'm being honest, everyone in that village had incredible skin and hair and I was dying to know their secret. It was apparently this! So I brought it back to our lab in Switzerland and we set out to adapt it for a modern audience using the botanicals we harvest in Himachal. The oils we use for example Kaylana are all certified organic, and are macerated for three months before we bring them to Switzerland for formulation. It's a very ancient method we use and it really helps the oils to achieve maximum potency.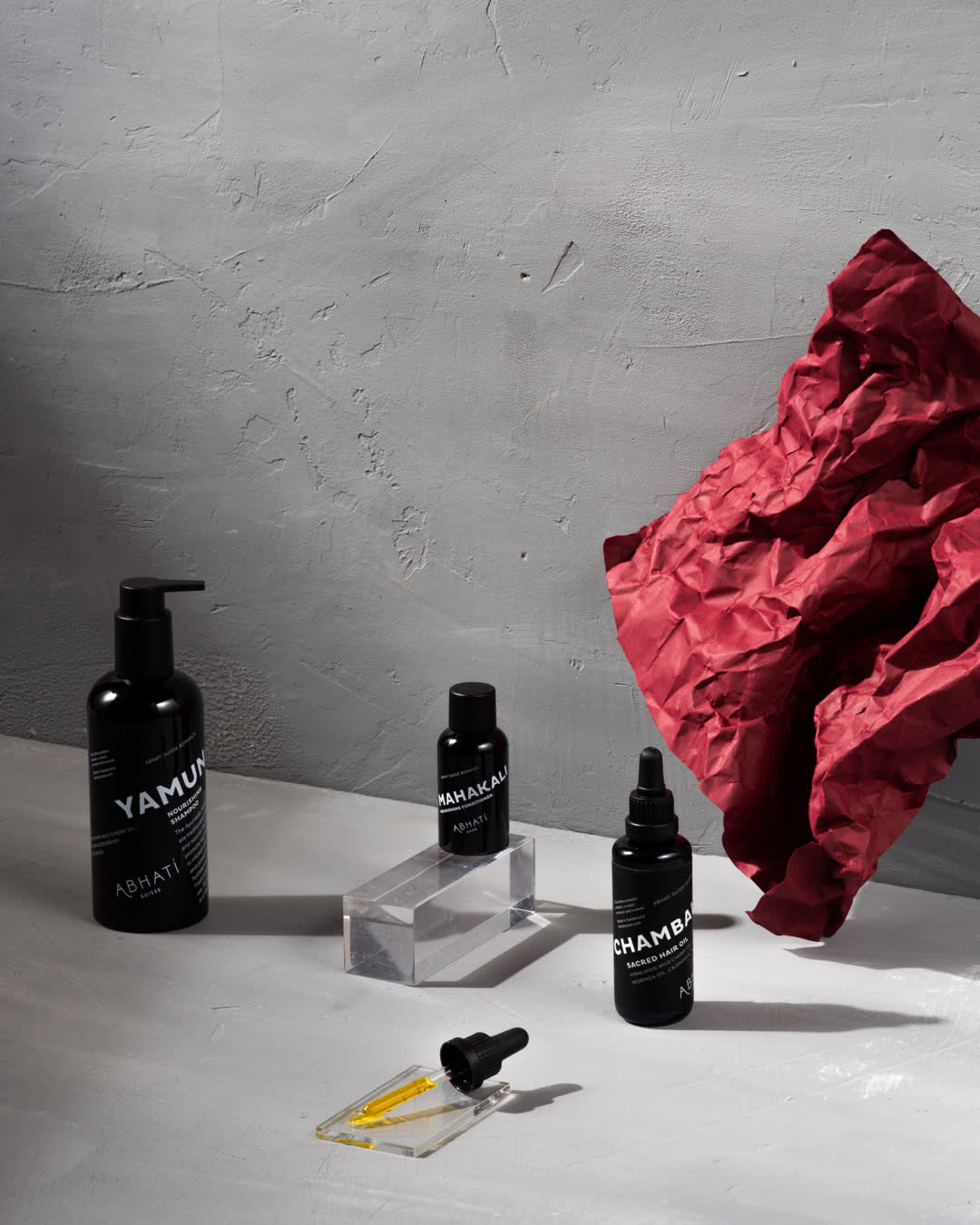 Do you have a mentor?
I have many for example, Dalai Lama's French translator Matthieu Richard who I was fortunate to spend three days with in the Himalaya.
But mum is for me someone special who always had an open house and sheltered & fed everyone who came in. Growing up I remember our house being like Clapham Junction. 
What are the morals you run your brand by?
Simple: our brand has to work for both people and planet. We strive to create products that are high-quality and effective, so our end consumer loves what they buy and continue coming back. But we are also committed to producing lovely products with a high social impact and minimal environmental footprint. 
Is there another brand whose work you particularly admire? 
Patagonia! We were the first Swiss company to be certified a BCorp, which is a designation for companies that maintain high standards of sustainability and transparency. Patagonia is probably the largest and most famous certified BCorp, and the work they are doing in terms of transparency and accountability is inspiring. We are actually working indirectly with Patagonia now through our farming practices. Our wild turmeric is sourced through a farming cooperative that supports biodiversity through crop rotation. Crops are rotated every season with other plants to achieve a diverse system to enhance soil biodiversity and physical structure. Our farmers supply Patagonia with organic cotton, and rotate their cotton crops with our ingredients.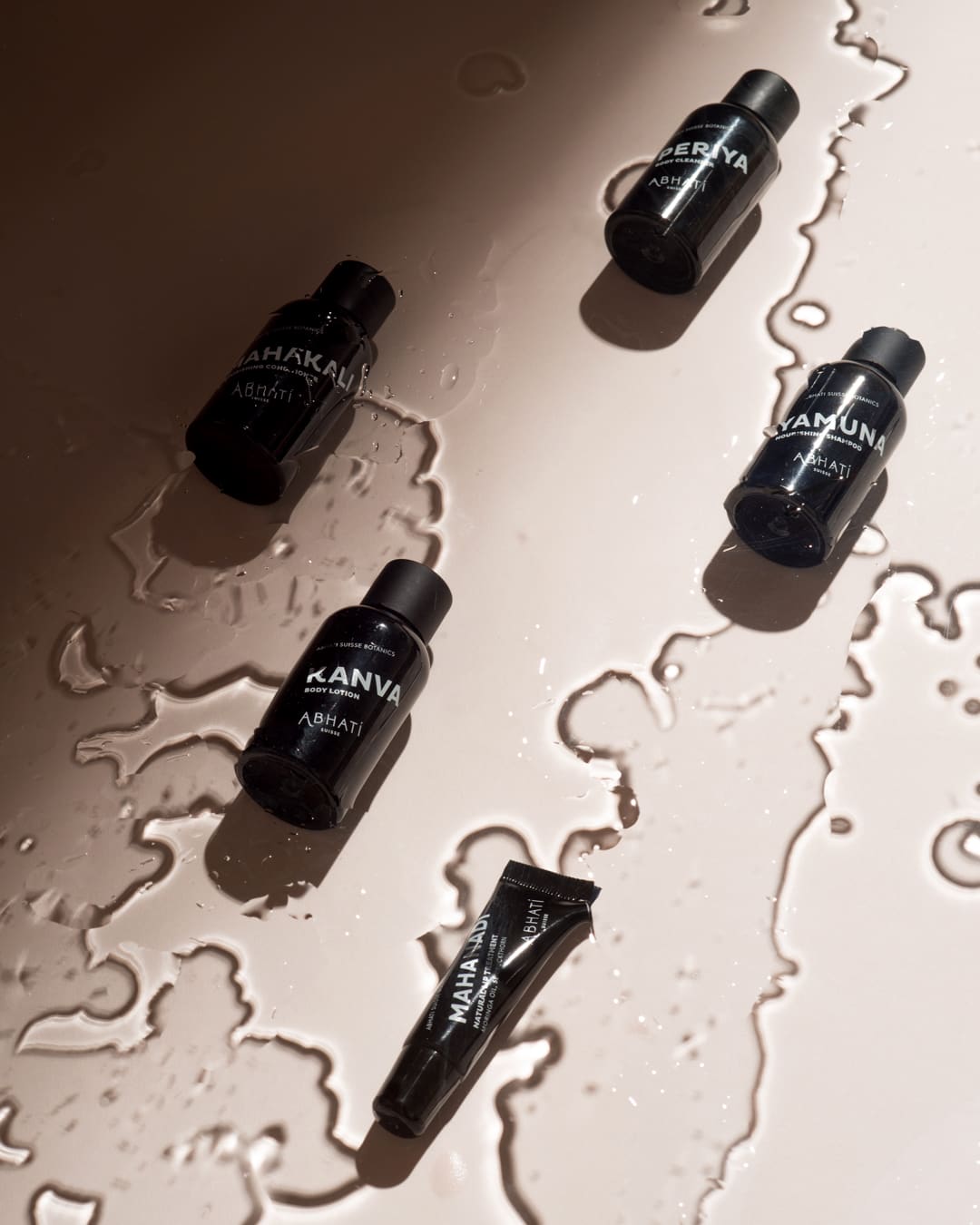 What's the best piece of advice you've ever been given? 
I don't have a rich Uncle so finances have been a struggle. Abhati is a small independent brand that has taken no outside investment so I believe in "stay authentic and real, the rest will fall in place".
What drew you to Wolf & Badger?
It's just such a hip retailer. If you go to other major retailers, you often see the same brands over and over again, and there is little differentiation. What attracted us to Wolf & Badger is that they haven't conformed to that. It's refreshing to see such a huge retailer continuing to support niche brands.
Where do you see the brand in 5 years? 
In five years we will have reached and raced past our next milestone: to educate one million girls.