AEVHA is a luxury handbag brand conceptualised and designed in London and made in Italy. Recognisable by its strong color palettes, inimitable hardwares and structural aesthetic, AEVHA channels London's creative aesthetic, always making a design statement, whilst simultaneously balancing this with an element of timeless elegance. We spent 5 mntues with the designer, Alice Horlick, to get a glimpse inside her world.the brand. 
How did AEVHA London begin?.
I launched my eponymous label AEVHA London (Alice Emma Victoria Horlick Accessories London), having studied a foundation degree and subsequently embarked upon a Bachelor of Arts in Womenswear at the London College of Fashion. I realised very quickly that I loved working with leather and my sculptural design aesthetic made me realize that accessory design was a more natural fit for me. I have been Creative Director of AEVHA London since September 2013, a role which involves everything from conceptualizing, directing and editing seasonal photo shoots to handbag and website design.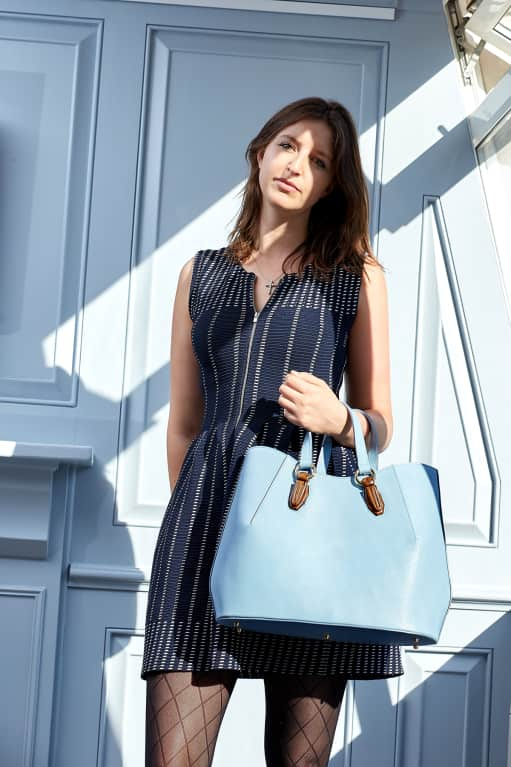 Have you always been interested in fashion?
No, I went to a very academic secondary school, so didn't discover that I was interested in fashion until I took a short course at the London College of Fashion on my gap year.
What have been the highest and lowest points on your journey so far?
My lowest point was not knowing whether I would succeed in raising £150,000 for AEVHA London with Crowdcube, the online crowd funding site. We did succeed in raising the money, but it was a very nerve-racking month as so much was riding on the outcome. My high point so far would have to be Beyoncé posting a video of herself wearing her AEVHA clutch.
What was the inspiration behind your latest collection?
The latest collection is the result of the evolution of our most popular styles. The Autumn Winter 2017-18 collection embodies what will become our core collection, so I am particularly proud of it.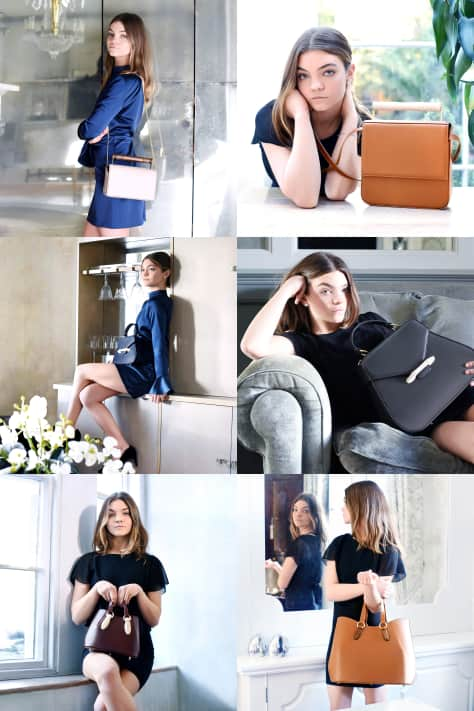 Images by Bart Lenoir Photography
Do you ever struggle to stay inspired?
No. The beauty of the business at this stage is that there is so much variety in what I do. I think if I were sitting at a desk designing all day every day that might not be the case!
Where is your go-to meeting spot?
Sea Containers at the Mondrian Hotel.
How would you describe your customer base?
I have always worked to create a product that will never be relegated to a passing trend or aesthetic, and as such the collections appeal to a large demographic of stylish women, from early twenties to late fifties.
Is there anyone you would love to see wearing your designs?
I would love to see Diane Kruger and Kate Hudson wearing their personally requested bags.
What are the morals you run your brand by?
We are not a trend-led brand. An AEVHA London bag is forever, and should transcend the seasonal trends. Extremely high quality materials and craftsmanship are the practical side of that ethos and our Italian-made, structured pieces are designed for longevity.
Do you have a mentor?
No. I have always worked in a quite an insular way as I left fashion college after one term to set up AEVHA London.
What apps keep you sane?
Two Dots- I am not particularly good at giving myself breaks during my workday but I am totally addicted to Two Dots, which allows me to switch off for fifteen minutes here and there.
If you could only wear one piece from your collection, what would it be and why?
The Garnet Tote. It is one of the hero pieces of the collection and is just so useful. It is bigger than it looks and you can fit everything you need into it, but it's structured shape doesn't allow you to shove in all the unnecessary things we tend to carry around every day, when we haven't cleared our handbags out for a while!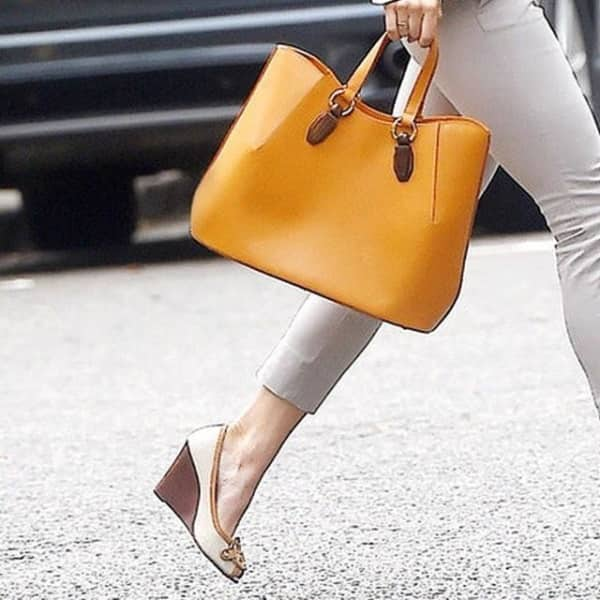 What's the biggest style mistake you've ever made?
Hmm, this takes me back to my 13-14 year old self. Think tie-die t-shirts and some serious early noughties fashion faux pas!
Is there another designer whose work you particularly admire?
I hugely admire Anya Hindmarch for the empire she has created around her brand. That is the goal for AEVHA London, to branch out into small leather goods and to establish a real international presence.
What's the best piece of advice you've ever been given?
Persevere no matter what.
What drew you to Wolf & Badger?
The Wolf & Badger ethos is so admirable. There are so many amazing new brands surfacing but the fashion industry has become so stilted and safe in recent years. It is an amazing platform for the best in new talent.
Where do you see the brand in 5 years?
We hope to have more of an international presence with high profile retailers in the US, Japan and Middle East.