BIBI HERRON specialises in exquisite oversized luxury silk scarves. Her design philosophy is firmly rooted in a passion for cultural nostalgia, beauty in the decorative arts & zest for life! A combination of her own hand drawings & digital manipulations create all pieces and are made Lake Como, Italy, where the silk is ethically printed and hand finished. We spent 5 minutes with Bibi to get a closer look inside the brand.
How did Bibi Herron begin?
The first step for me was creating the identity and this meant logo design. I adore tigers and was born in the year of the Tiger so have always felt drawn to them. I knew I wanted to incorporate them into the brand logo so I played around with this for a while before coming up with my final logo.  I also knew I wanted to design scarves which were unusual but unfaltering in quality and exquisite statement pieces with a rich design process.  I also knew I wanted to have a nostalgic approach to the brand so I chose the 60's & 70's as a starting point, I would have loved to have been alive during those days.  Everything was experimental and limits were being pushed, I wanted to get in touch with that way of designing.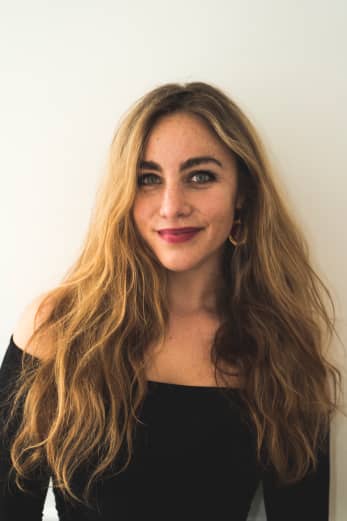 My most recent role in the industry was as Head Designer for Luxury accessories brand Lily & Lionel. I had a wonderful time there and loved designing for them.  Through them I worked on many projects from designing for all the in house collections to working with on briefs for third parites under the Lily and Lionel label, Whistles, Anthropolgie, HRH's Prince Harry's Charity Sentebale to name but a few. In 2014 towards the end of my time, the brand won the Drapers Accessories brand of the year which was an inspirational moment for everyone that worked at the company.
Have you always been interested in fashion?
Yes I have but I always in a more personal way. I always though that I would go down the route of Interior Design or Wallpaper design initially. I actually studies History of Art at Uni and even trained as an interior designer after that before I found my passion in print design which I adore.
What have been the highest and lowest points on your journey so far?
The highest point so far was the photo-shoot without a doubt. Lucy my gorgeous model (http://iamlucyjackson.com) and Oliver my super talented photographer (http://mcgivernphotography.com) were beyond professional and I will 100% be working with them again on the next shoot. They totally understood the concept of the brand and we had a wonderful and I fell rare creative synergy. I feel that the involvement of them both as creative individuals in their own right led to an even stronger visual representation of the brand than I could have hoped for. It was a magical day in which we all felt we had been transported back to the 70's somehow. I also have to thank my lovely close friend whose parents loaned me the use of their stunning home.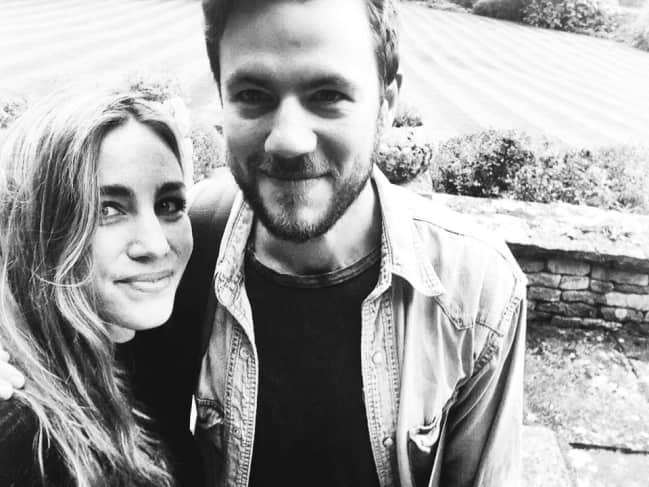 Here is My photograoher Oli and I after the shoot.  
The lowest point was I think looking at my bank balance after I had invested all of my money in stock & packaging just before the shoot and the website wasn't up yet! The fear definitely kicked in then and there were a few sleepless nights for sure. Obviously as soon as I had done the shoot I knew it would be great! I think during this time keeping an extremely clear vision of the brand and where I wanted it to go was vital and so being focused was my saving grace. 
What was the inspiration behind your latest collection?
This collection is Inspired by the vibrancy of the Amalfi coast in 60's & 70's and plays with traditional design patterns and concepts creating avant-garde designs.  My Grandmother is a total style Icon and a lot of the ideas behind this collection stem from seeing countless old photos of her in the Rivera in the 70s'.
To use the NUIT! Scarf as an example, the design process for began with creating some sketches of suns & stars.  As soon as I combined the idea of celestial theme, musical Inspiration in the form of Ziggy Stardust & fashion designer Ossie Clark feel in my head I knew what kind of design I wanted to create.  After playing with different elements of the design digitally, my vision of a beautiful explosion in a night sky and the Nuit! design was a piece of design ready to be transformed into a luxurious silk scarf.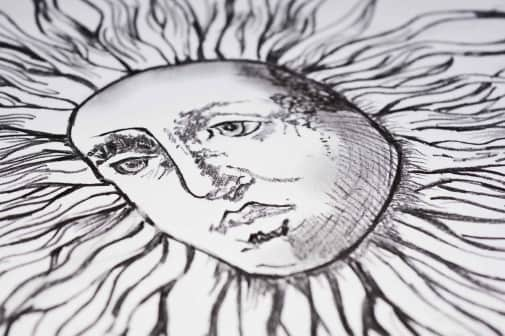 Here is a detail shot of my original sketch.
Do you ever struggle to stay inspired?
Of course there is the odd day, I think all creative people tend to beat themselves up with the frequency of ideas but the key is to keep on creating... Sometimes you think something is awful and then come back to look at it later and you love it! The key is to keep feeding the creativity with looking at art, and spending time doing things that personally inspire you. For me a lot of that comes from either popping into the V&A and the British Museum whenever I'm in London, & looking at old photographs and of course travel. Its very important to explore different cultures. 
Where is your go-to meeting spot?
Absolutely 76 Dean Street, part of the Soho House group. It's very central in London and has been exquisitely renovated making it a gorgeous place to be! Not to mention so many other creatives are members and it's a wonderful place to socialise.
How would you describe your customer base?
I would like to think of my customer base as very wide ranging through ages, styles and gender but all having a sense of fun and imagination as well as having an eye for good quality and original design. I like to mix it up when I design as I use the designing process as a creative outlet and because of this there are always a couple of slightly more unusual and exploitative designs within the collection.  I like to think that my customers would see and appreciate this and have a similar outlook on what they choose to invest their money in with regards to a statement piece & luxury design.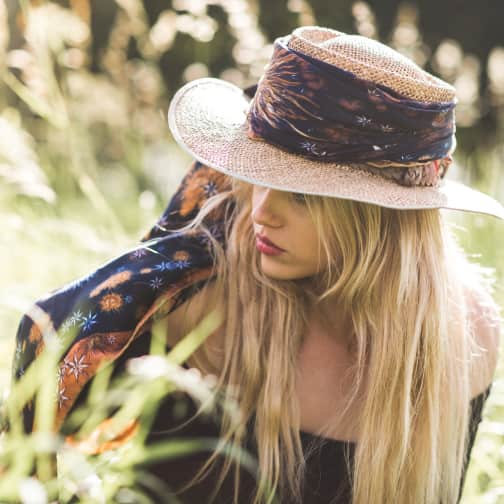 Is there anyone you would love to see wearing your designs?
This is such a hard question and there are so many people I would love to see wearing my scarves. Emma Waston & Victoria Beckham are up there..(girls with serious girl power) , but I think in the light of current events I would have to pick Iman, the wife of the late & great David Bowie. I would love to see her in all of the collection! She would suit all the palette choices and especially the bold bright colors which I love to design with. That would make my year! Bowie was such an inspiration to so so many creatives and in my last collection I too looked to his alter ego of Ziggy Stardust. He was one of the most culturally influential figures of the time, a creative visionary and true icon of the 70's. He was at the forefront of the music industry and therefore a trailblazer for fashion trends. 
What are the morals you run your brand by?
The main thing is to keep having fun with it by creating things that can be worn easily but are also beautiful and interesting!  As I mentioned, this is my creative passion, so if I'm not enjoying it then something isn't right. Scarves are so versatile and I feel like because of the nature of them there are no limits other than 'would I want this on my wall!'
William Morris sums it up well 'Have nothing in your home that you do not know to be useful or believe to be beautiful'
Do you have a mentor?
No I don't have a mentor, but I feel like the person I look up to the most is my grandmother  who is a business woman in her own right and a total style icon. Here she is in the 70"s rocking a super glam turbn on the Amafi Coast.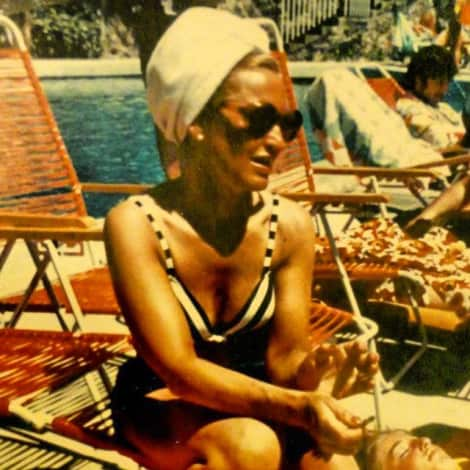 What apps keep you sane?
I actually think that the thing that keeps me sane is not having too many apps and spending quality time with my Working Cocker Spaniel Molly, walking out in the fields behind my Bath apartment.  It's a great way to get some head space to think and get inspiration.
If you could only wear one piece from your collection, what would it be and why?
It would have to be the AMALFI  scarf. It's the one that is the most inspired by my Grandmothers style, bold but timeless and full of color. It also happens to go with most of my clothes so I end up wearing it a lot! Looks fab with casual jeans and a simple top or worn as a Parisian knot with an LBD. My 2 most trusted go to looks!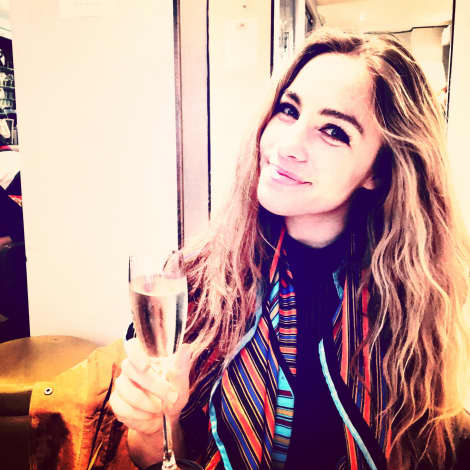 What's the biggest style mistake you've ever made?
Hahaha! Ah there were definitely a few in my teens for sure!  I think the overriding one my friends would say would be the serious overuse of fake tan during the mid 00's! I know I wasn't alone in this one but it was not a good look… There was also a very questionable red leather halter top I bought from Topshop a couple of years before this that needs to go into room 101!
Is there another designer whose work you particularly admire?
There are so many creative and talented people in this industry who are just genius, so that's very hard.  With regards to this collection the 70's designer Ossie Clark was an enormous inspiration, everything from the print design, clothes themselves to the way they were photographed at the time.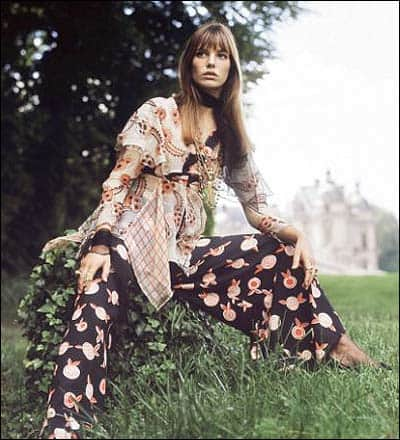 What's the best piece of advice you've ever been given?
When it comes to advice, my family always have been there with great support and advice on a daily basis, far too many pearls to put down on paper. However JK Rowling has some serious gems of advice which I always look to if I'm having a tough day. She is a fantastic role model and proof that if you can fulfil your dreams if you keep on. These are the two quotes that have got me through some tough days! 
"It is impossible to live without failing at something, unless you live so cautiously that you might as well not have lived at all, in which case you have failed by default."
"Anything's possible if you've got enough nerve." 
What drew you to Wolf & Badger?
To me there seemed to be an obvious synergy with my brand and I adore the ethos of giving fresh new talent a platform to showcase their products to a wider audience.  Wolf & Badger give new designers an opportunity that previously just wasn't available and I think the whole idea is fantastic for the emerging design industry as a whole.
Where do you see the brand in 5 years?
I would love to be an International brand by this point and stocking obviously the scarf collection but also a range of loungewear, kimonos, homeware in the form of soft furnishings and men's ties and kimonos to add to the current pocket squares range. Over the next year I hope to be stocked in many more wonderful stores like the scarf hall in Liberty of London, that would be the most exciting thing for the brand and me personally as its one of my favourite stores in London. It would also be wonderful by this point to be starting to open up my own independent store too, ideally in London.