Free delivery on orders over $200. Buying a gift? Extended returns until 11th January. #SupportSmallBusiness
#SupportSmallBusiness

Free delivery on orders over $200.

Buying a gift? Extended returns until 11th January.

#SupportSmallBusiness

Free delivery on orders over $200.
creators2020/04/24
5 Minutes with... Cristina Cipolli
by Becky Elliott
Cristina Cipolli is an Italian Architect who Graduated in Architecture in Florence, and now lives and works in London. Her demi-fine and fine luxury jewellery brand was established in April 2018 and has been featured in numerous publications and worn by many celebrities around the world. We sat down with Cristina to find out more about her brand.
How did Cristina Cipolli begin?
I inherited an unconditional love for jewels from my grandmother, who collected unique jewels and gems from around the world, To gain a deeper understanding of the jewellery, and the techniques involved in their creation, I decided to attend courses at Central Saint Martins, the world-renowned arts, fashion and design college.
The transition to this amazing new business was mainly motivated by the desire of finding greater freedom for experimentation and creativity, which are most of the time suffocated by the circumstances, the budget, the client's needs etc. In architectural projects, often it takes a long time to see then end result of a project. It can be a long and stressful process.
The nature of scaling down (into jewellery design) and speeding up creation was to create my own financial possibility for the testing of new materials, technologies and concepts.
It was also about finding another forum to communicate, to reach a wider audience, and to create different scales of human interaction. I am driven by a genuine desire to connect with other people. I wanted my work to be connected to a person rather than a place.
So, the main reason behind the decision of creating my own jewellery line was to design small architectures which anyone could wear every day.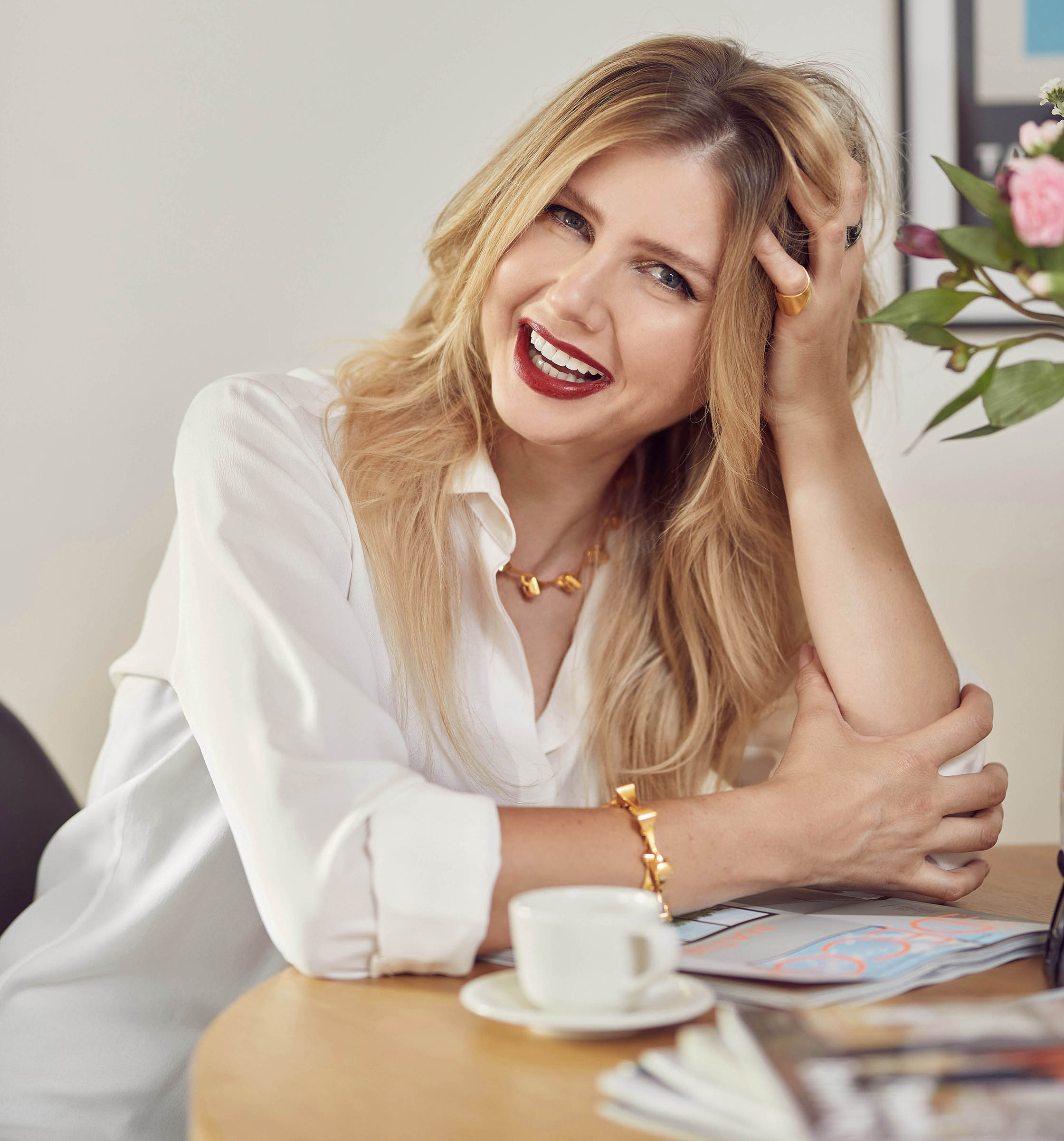 Have you always been interested in fashion?
Indeed, although I studied Architecture at University, I have always seen style as a reflection of your attitude and your personality.
What have been the highest and lowest points on your journey so far?
The highest point was after exhibiting in New York City, as my brand started to extend into international territory. The lowest during the current conditions caused by the coronavirus outbreak. Because of the spread of Covid-19, consumers are not in the mood to shop as they hunker down at home. Stores have been closed and events cancelled.
What are the morals you run your brand by?
Sustainability and no fake materials. My jewels are made with precious materials. They are demi-fine and fine jewellery pieces. I also work on bespoke commissions especially for unique, one of a kind engagement rings, with diamonds and various gemstones, which I mainly buy in Jaipur.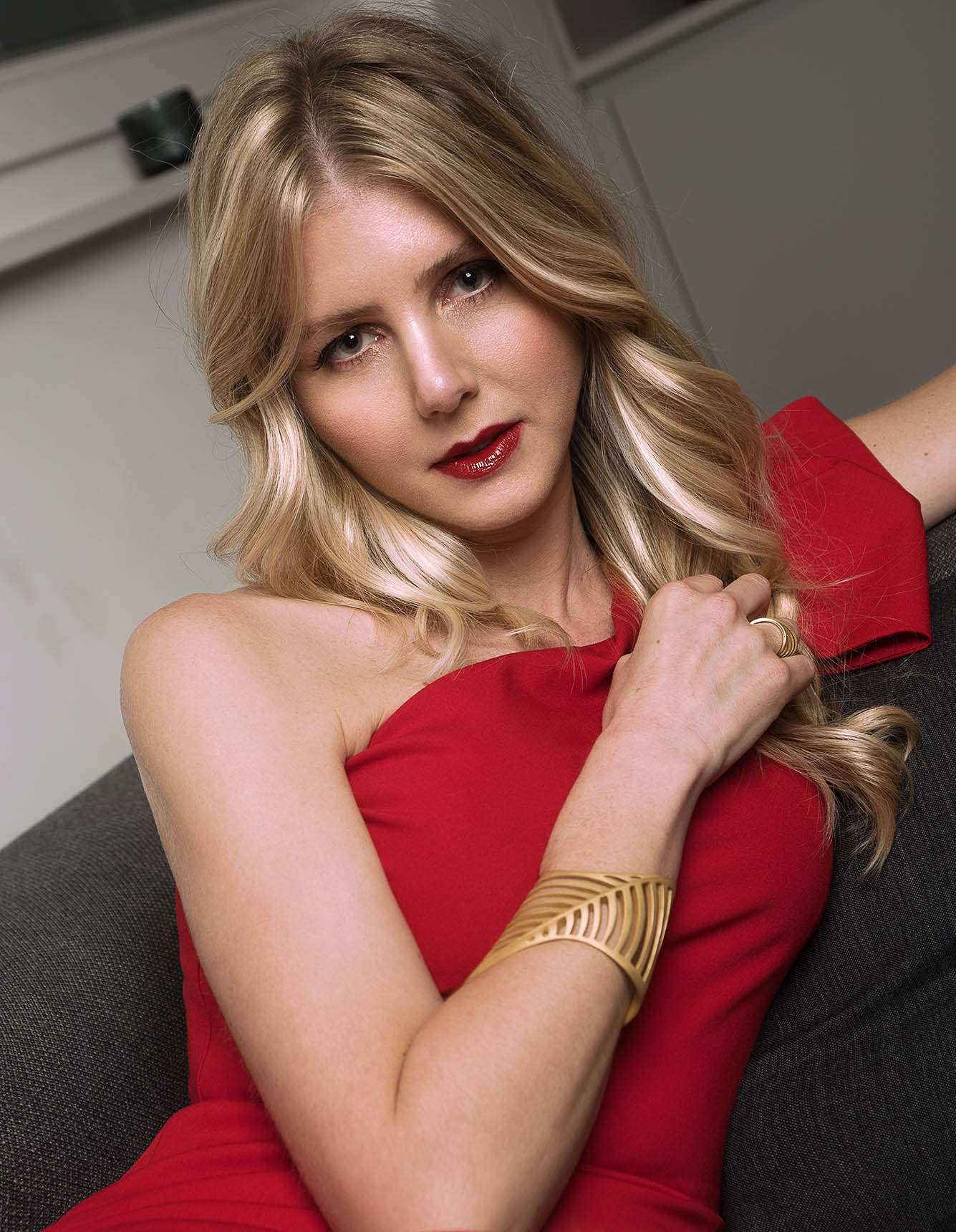 What was the inspiration behind your latest collection?
I am always inspired mainly by Architecture because of my architectural background.
Jewels are small pieces of architecture, where details are fundamental as much as in Architecture, in a smaller scale. The design is very minimalistic and colourful. The pieces are completely handmade, characterised by precious metals and precious stones.
The Collection is named Rainbow and it is as colourful as a Wassily Kandinsky's painting. "Color is a power which directly influences the soul"
How would you describe your customer base?
My typical clients are independent and sophisticated women who want to look sexy and original at any occasion.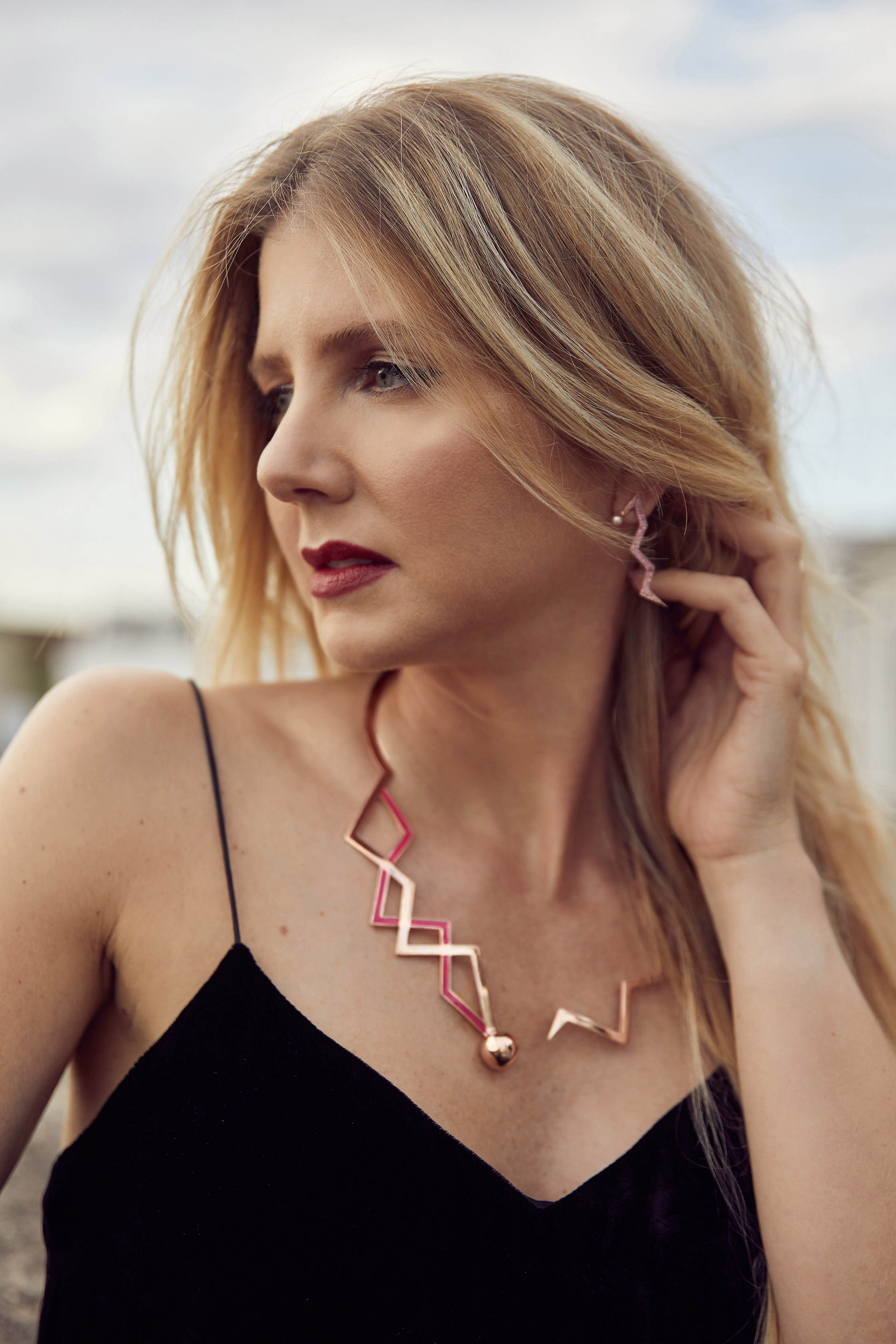 Do you ever struggle to stay inspired?
No, I don't. I struggle sometimes to find time for sketching unfortunately. I am a creative person, with a lot of imagination. My work blends the magic of architecture with the world of jewellery, all the while incorporating diverse influences and inspirations: from nature, to art, to tribal traditions and the adornments of ancient civilisations, made refined and sophisticated.
Is there anyone you would love to see wearing your designs?
A rockstar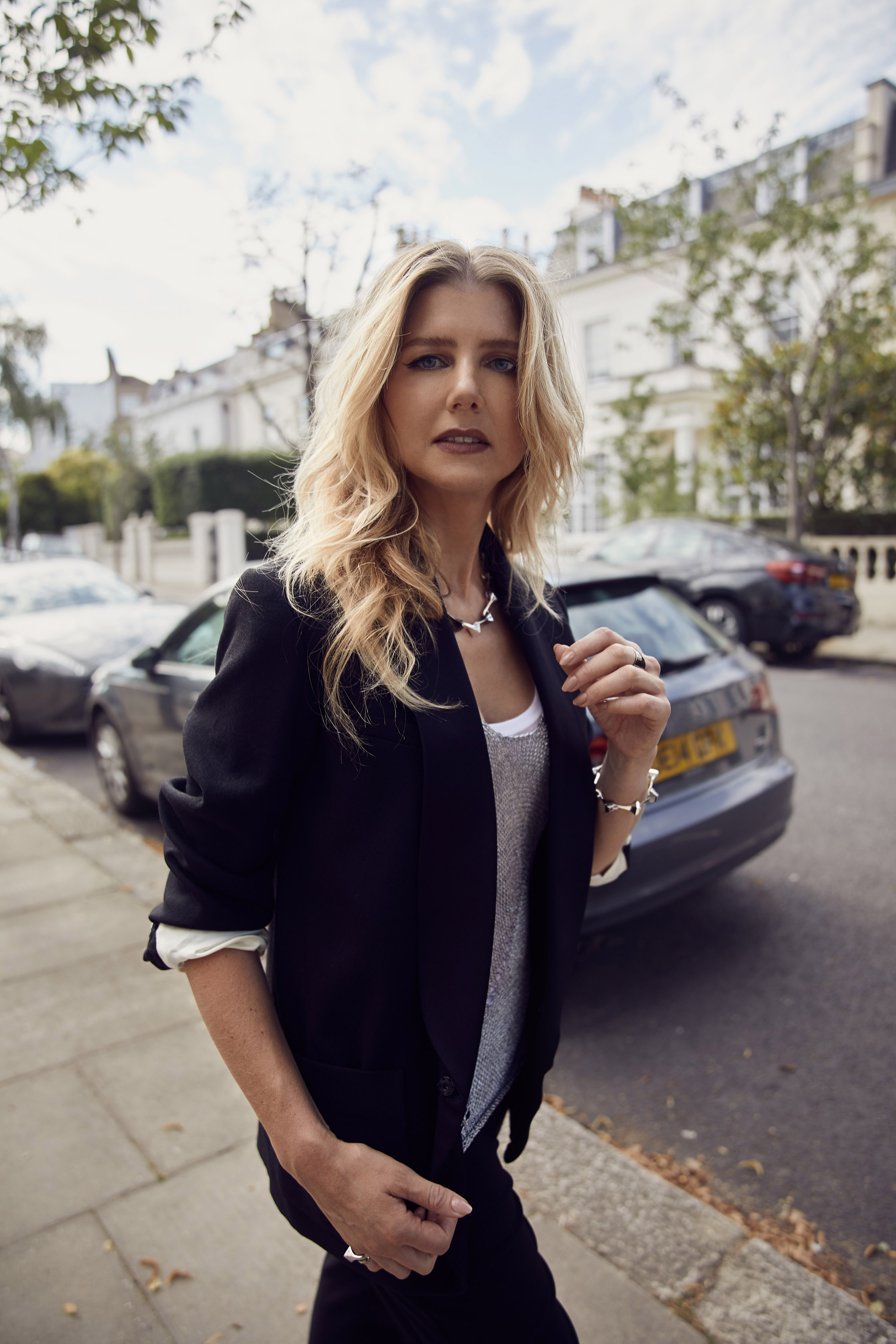 Do you have a mentor?
No, I don't. I just follow my instinct.
If you could only wear one piece from your collection, what would it be and why?
The Sharch Cut-Out Bangle. The design is characterised by strong clean lines with a dramatic touch, showing my architectural background and inclination to minimalism. It looks like a sculpture for the arms. I find it sexy.
The Bangle Bracelet is one of my favourite types of jewellery. This historically significant item is one of the oldest forms of jewellery that has ever been discovered.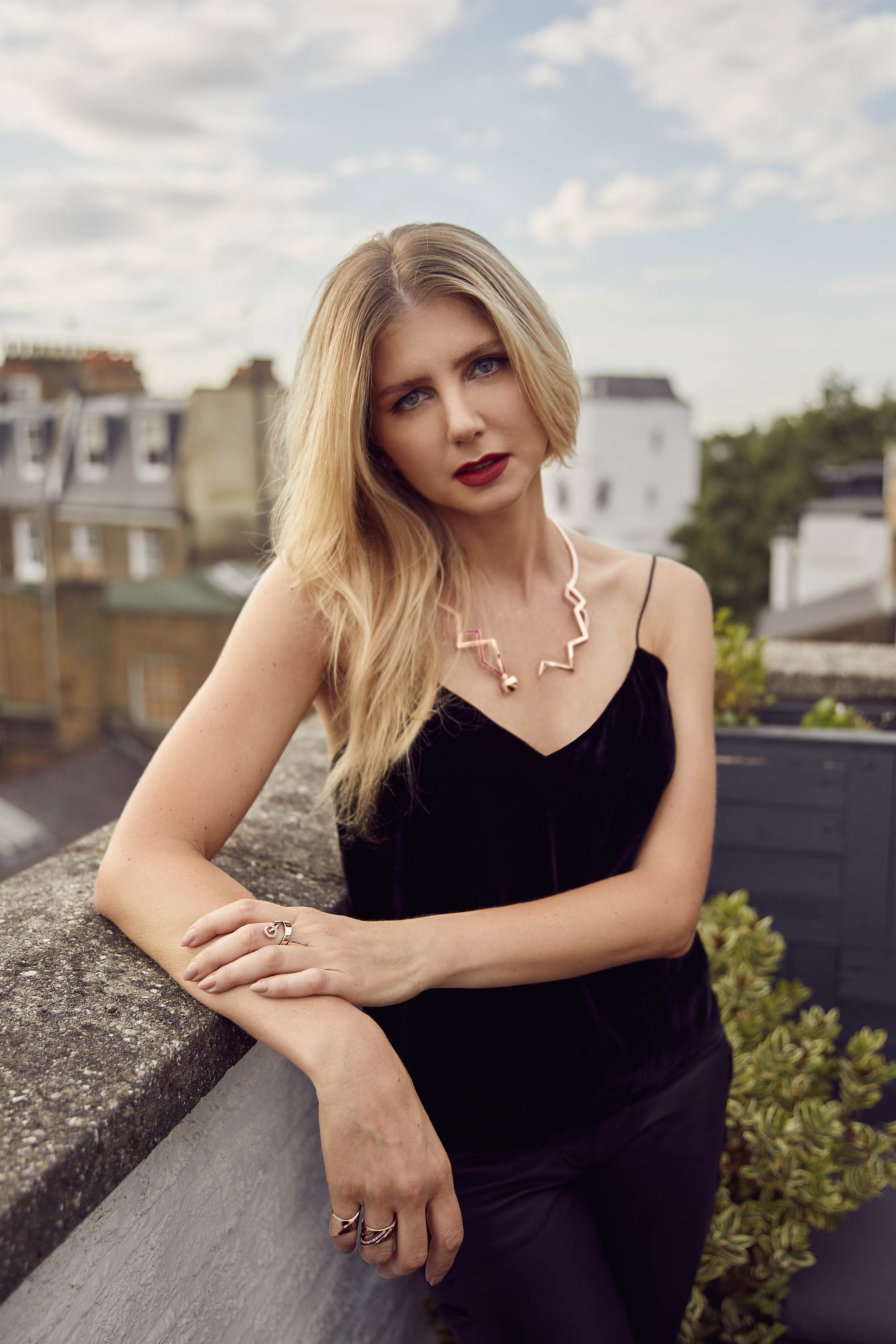 Is there another designer whose work you particularly admire?
At the moment I would wear anything by Saint Laurent, designed by Anthony Vaccarello. It has a strong rocker chic style and it makes you feel sexy.
What's the best piece of advice you've ever been given?
I would mention a brilliant Albert Einstein quote: "The true sign of intelligence is not knowledge but imagination"
Where do you see the brand in 5 years?
I have the intention of moving into the overseas market. I would love to see my products in concept stores and boutiques not only in London but also abroad.