Harem Bath was founded by two Turkish sisters in 2015; Duygu D Ozturk – a Central Saint Martins graduate with a design background and Begum Naz Ozturk – a Queen Mary University graduate with a business background. Having both lived in London for more than 10 years, the sisters decided to bring an oriental twist from their cultural heritage to modern European life. We spent five minutes with the pair to find out what inspired their brand...
How did Harem Bath begin?
We began by taking our products straight onto the streets of London. We met buyers and Londoners every week and introduced them to our 100% organic cotton hammam towels in person. Based on their needs and reactions, we developed new products such as bathrobes and throws and finally created a clothing line using the Turkish towel material to create the perfect modern beach look.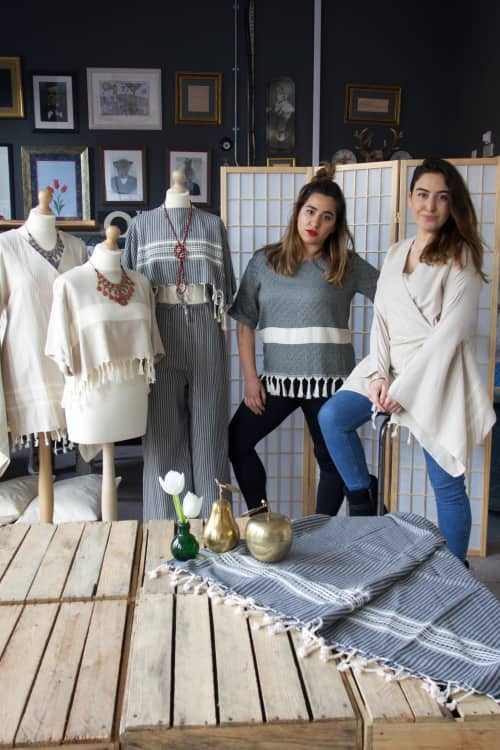 Have you always been interested in fashion?
DUYGU OZTURK: Yes, I came to London to study costume design, so I have a true knowledge of the garment. Design needs the knowledge of construction, and passion boosts inspiration. I've had a passion for it since I was a little girl.
BEGUM OZTURK: Yes, I was as well but mostly focused on the marketing side of the fashion world. The presentation of the products is also very important in my opinion. I believe my sister and I complete each other well.
What have been the highest and lowest points on your journey so far?
The beginning of our journey was tough for sure, but since we love what we do, it gets better everyday. Each time someone compliments or loves our product, it is a priceless feeling of accomplishment. We have a very hands-on approach to each step of our product from beginning to the end. So it is a great satisfaction to launch the final version of a piece.
What was the inspiration behind your latest collection?
We come from a very authentic cultural background and we have been living in London for more than 10 years. The cities we grow up in everyday is inspiration on its own. We want to be different and original. We bring two cultures together, and that is our sole inspiration.
Do you ever struggle to stay inspired? 
Every creation period is like giving birth; of course there is struggle but once you see the product coming together, it is the best feeling.
Where is your go-to meeting spot?
We love hosting, it is a cultural thing I guess. We love having meetings in our East London studio. Also, Soho House is our second home. You can always find us there catching up with creative minds.
How would you describe your customer base?
People who seek uniqueness and originality in detail. Our products are natural, unique, long lasting and original. Our customer base is quite wide and it varies between anyone from a mother who likes non-synthetic products for her children, or an artistic personality who likes original textures, or to young women who seek chicness in comfortable clothing.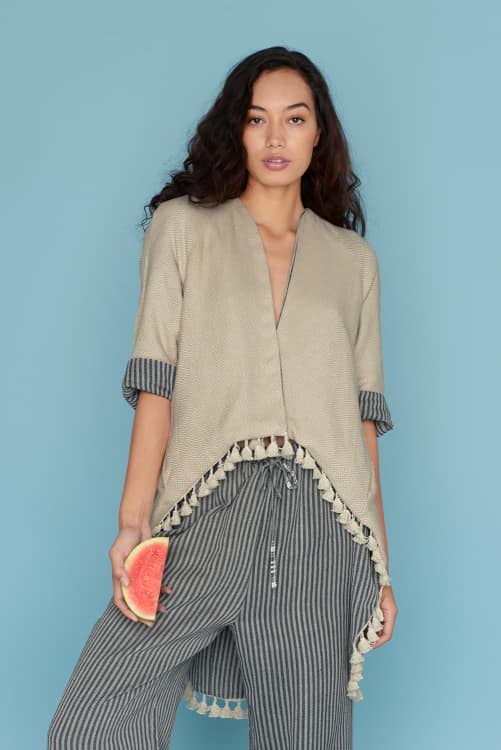 Is there anyone you would love to see wearing your designs?
BEGUM OZTURK: Well we always get so excited when we see our products worn in the street, but if you mean a celebrity, I'd say Alexa Chung or Emma Watson. 
What are the morals you run your brand by?
For us the most important thing is customer satisfaction. We are 100% customer oriented which is why most of the time we operate in bespoke collaborations.
We also always like to think about multiple usage and combinations when we design our products. For us every single item of clothing we produce can be worn in different variations and scenes.
Do you have a mentor?
Originally "Harem" stands for the "family" of the Sultan at the Ottoman times, which is our heritage. We have chosen our name because we pay great importance to family and see both our brand and our customers as family. Giving great attention to family, we can say that our father is actually our mentor.
If you could only wear one piece from your collection, what would it be and why?
DUYGU OZTURK: I would choose the reversible kaftan for sure! It is fun, playful and elegant. You can reverse it and wear it for day or night in a casual or formal setting. You can get some really great combinations with this kaftan that can take you anywhere. 
BEGUM NAZ OZTURK: I would choose the Baklava t-shirt. It can be casual, smart, modern or oriental. You can combine it with anything; jeans, shorts or denim jackets and you can use it to look relaxed with an elegant twist. 
What's the biggest style mistake you've ever made?
DUYGU OZTURK: I don't believe in style mistakes. The only important thing for me is to know your body and dress accordingly. If you are happy with how you look, you would give people that energy with your aura.
BEGUM OZTURK: It is embarrassing to look at old photos and think "Oh no, why did I wear that?" but it was fashionable at the time, so I agree with Duygu.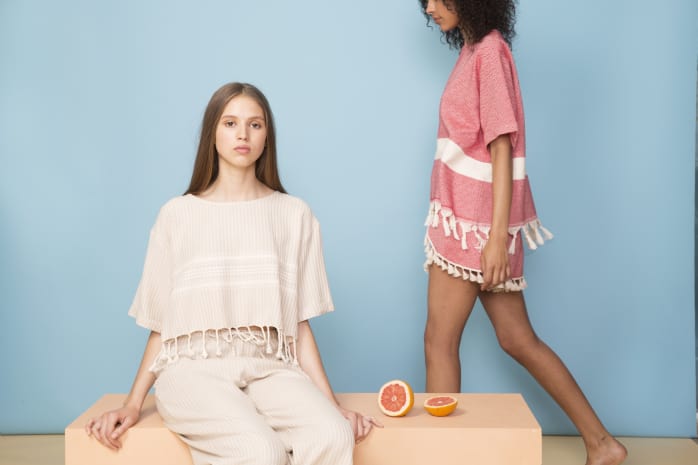 Is there another designer whose work you particularly admire?
DUYGU OZTURK: Well I've always had great admiration for Alexander McQueen. I also do think that Virgil Abloh has started a new era of understanding fashion.
What's the best piece of advice you've ever been given?
DUYGU OZTURK: "Impossible only takes a little more time" 
BEGUM OZTURK: My dad always says, "Believing in yourself is halfway through success".
What drew you to Wolf & Badger?
We always loved Wolf & Badger's collective spirit. It has great pieces, new brands and you can visit the stores and find something that will work for you. We wanted to be a part of it.
Where do you see the brand in 5 years?
Definitely in streetwear. We are currently working on our A/W 2018 collection and are planning to bring in an extra elegant twist to your every day life.