Stockholm-based jewelry designer Isabel Lennse launched her first collection in 2012 with the vision to create a nordic jewelry house. With her clean lined design and her passion for precious metals she creates timeless and fashionable jewelry in gold, silver and diamonds. We spoke to Isabel to get a closer look at the brand.
How did Isabel Lennse begin?
I have always loved wearing jewelery and think that jewelry and accessories bring someting special to an outfit, but everything that was fashionable back in the day lost it's color after a weekends use. I got so tired of this that I started to design my own fashionable jewelry in silver.
My jewelry designing started as an hobby but it has become a well-known brand.Since I began I have been represented at the big department store NK in Stockholm, which of course has been important for the branding. In 2013 I was nominated for "Accessory Designer Of The Year" at the Swedish "Guldknappen Gala".
In the beginning I only made jewelry in silver but now I'm making it in 14k gold and creating collections with diamonds as well.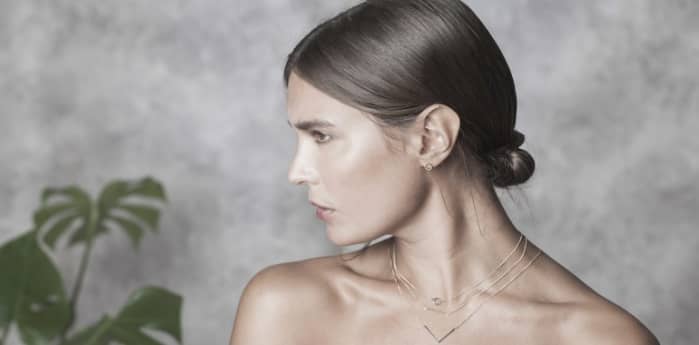 Have you always been interested in fashion?
I would definetly say that I've always been interested in fashion. I have had my own style since I was a child and have always been very selective with what I wear.
What have been the highest and lowest points on your journey so far?
2012 was both the best and the worst year for my business. We re-launched the brand, had a fashion show, released the Black Diamond Collection and opened a Flagship store in Stockholm. At the same time I became a mother. When you have your own company you have to be able to spend all of your waking hours on it and of course that was impossible for me when my son was born. There are always ups and downs when you have your own company but you just have to ride along and stick it out.
What was the inspiration behind your latest collection?
When creating a new collection I always go back to the keynotes of my brand which is; sustainable, fashionable and timeless. With the TWISTED collection I wanted to make pieces that were both a little bit edgy but classic and collectable pieces at the same time.
Do you ever struggle to stay inspired?
Of course it's hard to always stay inspired. When it's time to create new collections I have to shut down for a while, maybe travel or just take a few moments so that I can have some space. Then I get more attentive to details around me and that is when the inspiration comes back.
How would you describe your customer base?
Our prime customers are women who are looking for jewelry that is fashionable, sustainable and has a high quality. The customer is interested in fashion but is also concious about the environment and want to keep the pieces she buys for a long time.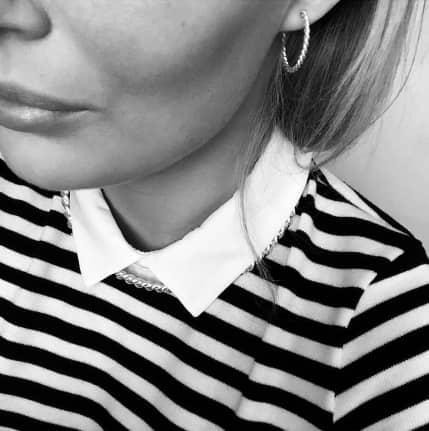 Is there anyone you would love to see wearing your designs?
Jane Birkin in the 1970's. I love her style and sense of fashion. She is a natural beauty and I would have loved to see my design on her when she was young.
What are the morals you run your brand by?
For us it's very important that our collections are linked together and that it's clear that the jewelry is an ISABEL LENNSE piece. We also believe in creating timeless pieces that you will hopefully keep for your whole life and maybe pass along to future generations.
Do you have a mentor?
I work very closely with my colleagues and they are like mentors for me. I cross check nearly all of the decisions with them and they give me feedback.
What apps keep you sane?
I love photography and all of the photography apps, I use them to edit my pictures, look at pictures and to get inspired.
If you could only wear one piece from your collection, what would it be and why?
I would wear the Wide Fighter Ring. The ring itself we've had in the collections since the start but we put the Black Diamond in it later on. It's a real signature piece and it speaks for what ISABEL LENNSE stands for- classic with a twist and timeless within our time.
What's the biggest style mistake you've ever made?
The biggest style mistake I made is falling for too many trends. It's not good for your wallet or the environment and you lose your personal style when you chase the trends.
Is there another designer whose work you particularly admire?
I hate logotypes but absolutely love when you see who the designer is just by looking at the details of a bag or a shoe. The brands I think succeed doing this is for example CHANEL with their quilting, Bottega Veneta with their Intrecciatio fabric and JOSEPH with their choice of fine fabrics and cuts.
What's the best piece of advice you've ever been given?
The best advice I have been given is that I should keep in mind that quality and thinking long term always pays off. I apply this on relationships, business and design and it works very well.
What drew you to Wolf & Badger?
I have always had my pitstops when visiting London and one of them is Wolf&Badger on Dover Street. I go there to get inspired and to keep up with the latest brands. Which is why it is very fun to now have my own brand here.
Where do you see the brand in 5 years?
Right now we are going through and working on international expansion. We are releasing three new lines – a men's collection, a wedding and a high end collection. So in 5 years I hope my brand will be just as well known internationally as it is in Sweden.