At Kati Kaia unique abstract artworks are combined with high performance product design to inspire you to the mat. Their yoga mats are made from 100% natural rubber, a sustainable, eco-friendly and natural resource, with a vegan suede soft touch surface, made from select recycled PET bottles. Printed using water-based inks and featuring original artworks, all created in their artist studio, nestled in the Surrey Hills, UK. They believe in embracing individuality, encouraging creativity and creating beautifully crafted accessories that compliment your active lifestyle. Plus for every mat sold they donate five acres of land for conservation with Rainforest Trust. We sat down with founder Kati to find out more about her brand.
How did Kati Kaia begin?
Kati Kaia which translates to 'pure joy' came from the feeling I get from painting and expressing myself freely. I had a career break from fashion and started to look around to find what was the next right step for me. I knew I wanted to re-work the design field, to create a sustainable and eco-friendly brand I could be proud to work for. During this time, I was exploring expressive painting more and more. The way I paint is quite vigorous, energetic and all consuming! I ached most days and so turned to my trusted friend of yoga to realign my muscles and reconnect to my mind (all on a very basic and uninspiring alignment pink yoga mat). The mat was turning me off. I wanted to break free of the lines, bring the expressions, colors and creativity I felt from my paintings into my yoga practice and that's when I started to develop prototypes!
I always knew I wanted to make a positive impact in the design of products. Following my degree in fashion design at Ravensbourne College of Art and UAL, I started my career in global fashion institutions such as Diane Von Furstenberg, New York, Tillsonburg, Hong Kong, Vivienne Westwood and Maria Grachvogel in London. Specialising in draping around the female form and working with brands that have female empowerment at their core, these companies gave me the experience of designing ranges from bespoke couture pieces to mass markets. During this time, I was absorbing cultures, capturing colors and energies. I also started painting these musings, marks and expressions throughout my journey, creating large scale canvases with 'spiritual' energy to them, which I began to show in an artist's collective.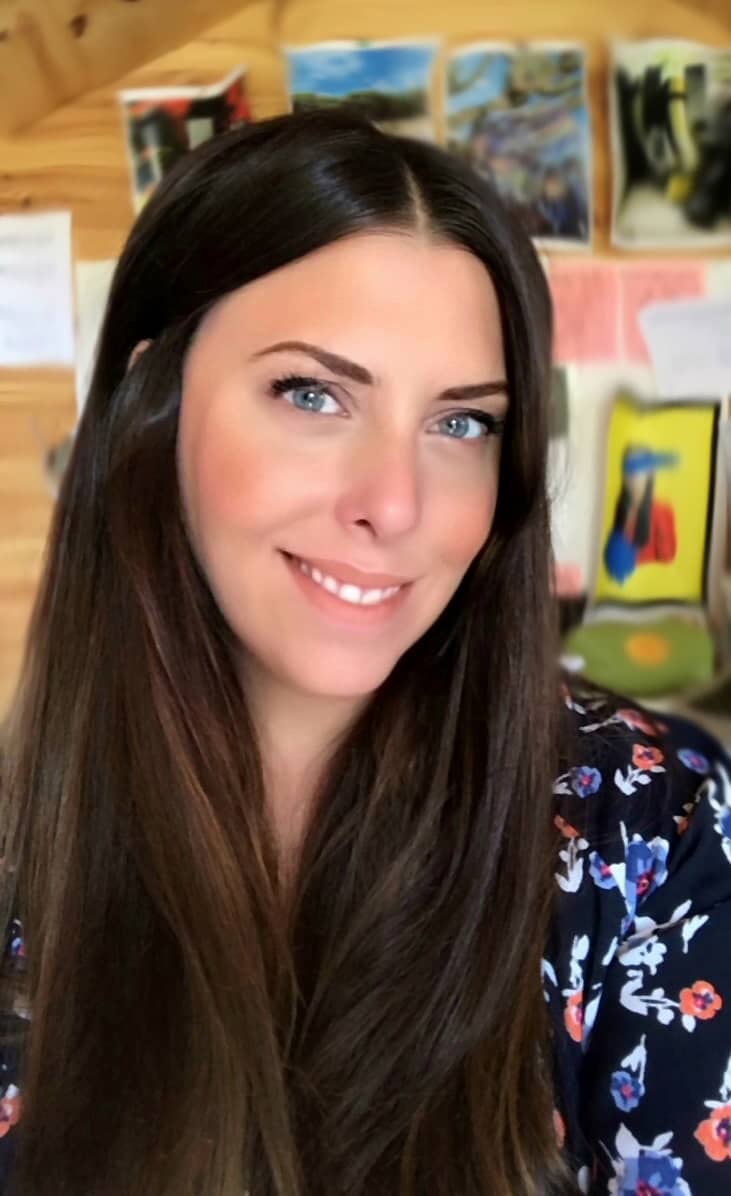 Have you always been interested in design?
I have always had that creative spirit, from contemporary dance and ballet as a child to my career as a fashion designer. Art and design have been close to my heart and are a key part to my sense of self.
How would you describe your aesthetic?
My paintings are literally an explosion of creativity and colors! I like to build a clean base and layer up, so when I pick a key piece to show expression, to translate my creativity and vision, it is usually something striking and colourful that can completely pull a look together. My aesthetic comes from the paintings and eclectic pieces in my surroundings. I love antiques and collectibles, objects with stories! All of which translates into my passion for painting. I build stories in my artworks, one mark leads to, informs and changes another, building these abstracted marked layers, which breaks down what you are looking at, when the label of an item is gone and you're just left with the colors to absorb, it can have a great impression on the beholder.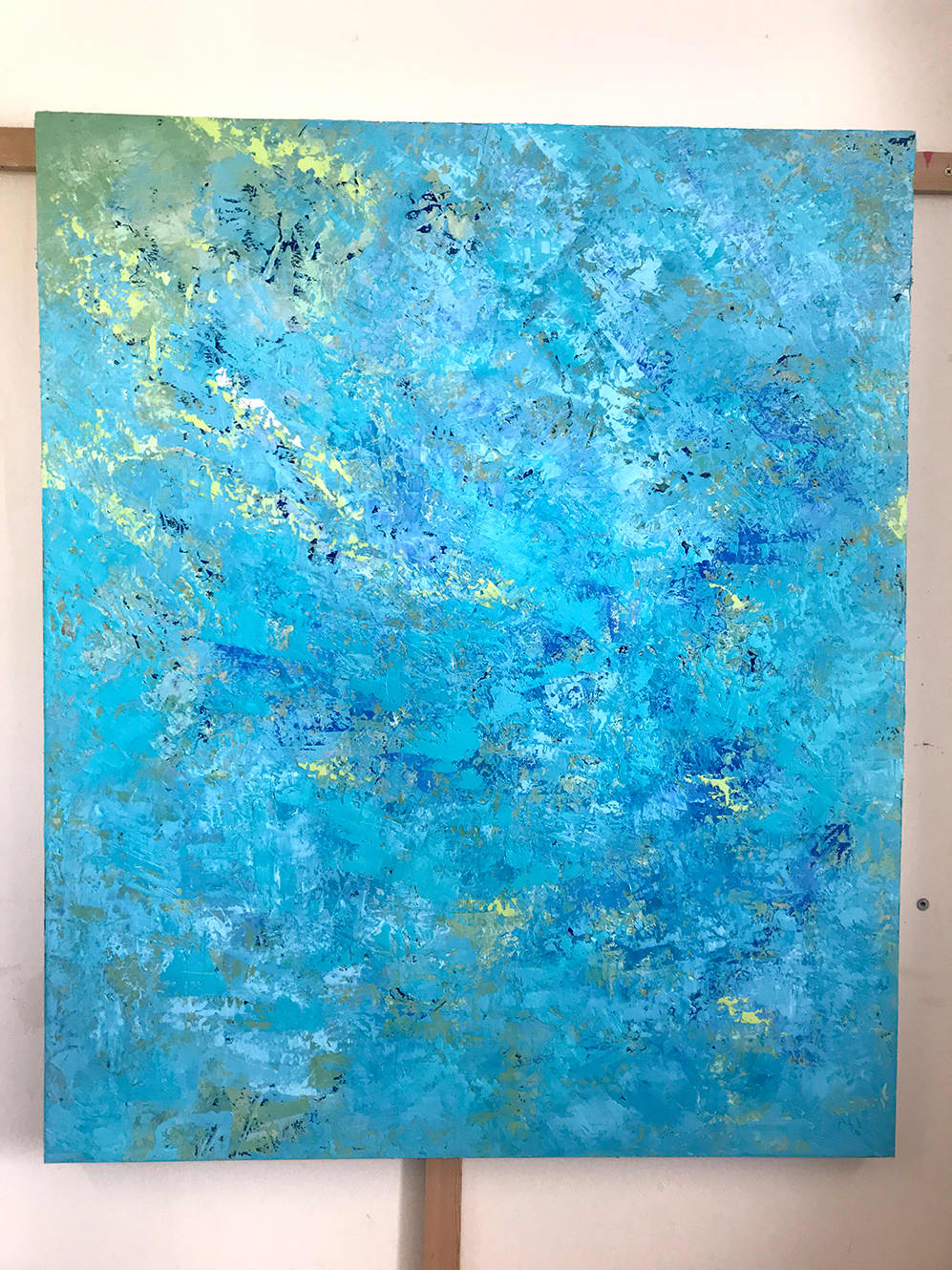 What have been the highest and lowest points on your journey so far?
The highest points must be when our collection was stocked in a major Knightsbridge department store, which I still pinch myself about, it is such a dream! I am a real believer in gratitude and keeping a positive attitude, that has been my saviour in a lot of my testing times. I don't dwell on the lower points, though they are usually money related!
What do you love most about your job?
The creativity. I love painting, it's both my work and my outlet! I have a pretty labour-intensive method in which I alternately build up and scrape back layers of paint, removing stories and rebuilding them to create and capture energy, emotive expression or modern storytelling of themes from nature to philosophy. Sometimes I give myself a creative holiday, a week to just paint and be creative without all the other stuff, to really be expressive!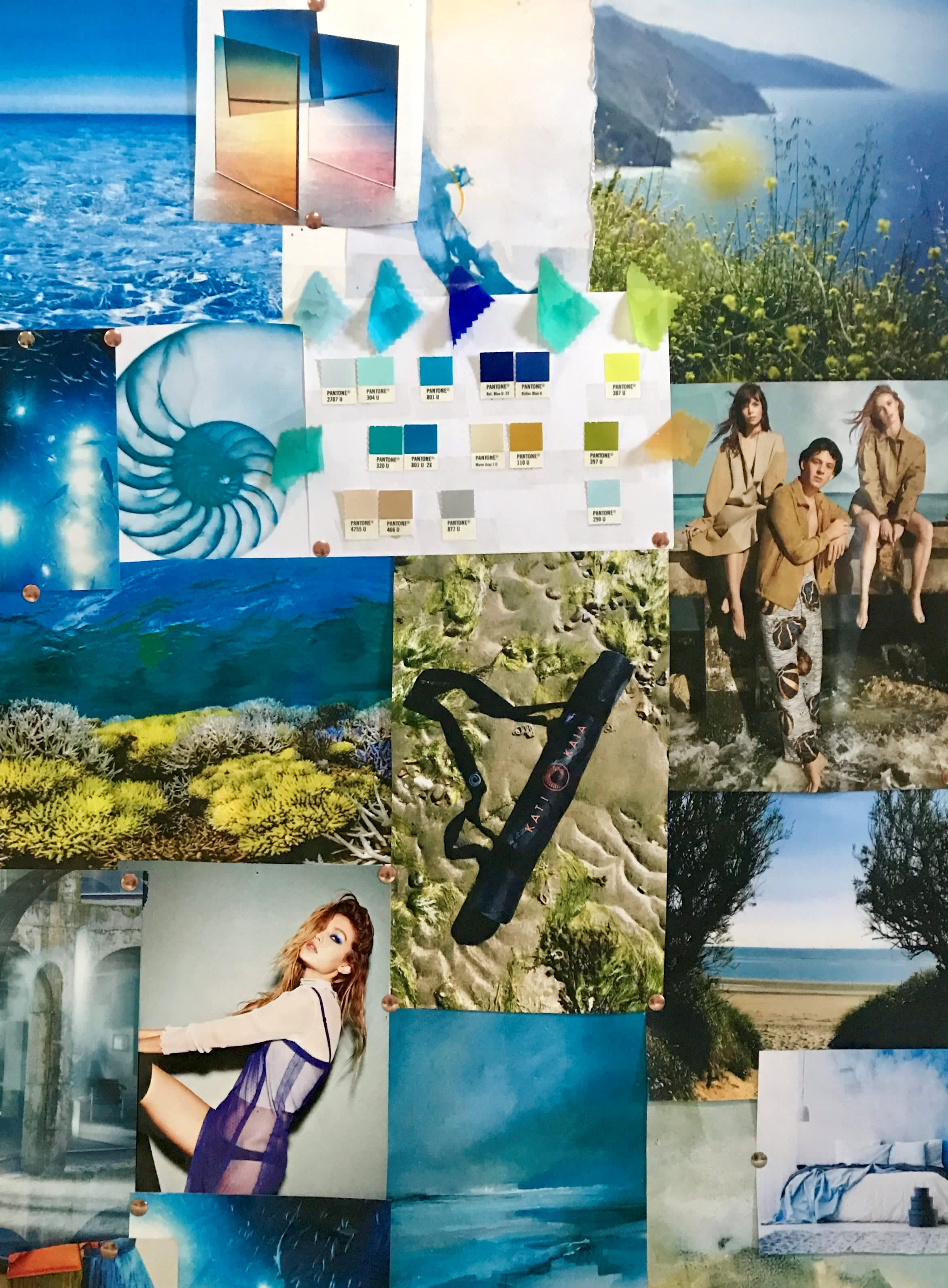 What are the morals you run your brand by?
I believe in a forward thinking, sustainable approach with beautiful design, bringing VICE into your world. We created VICE as our keyword to stand by with every decision - Vision, Inspiration, Compassion, Empowerment. With every decision made, we consider each of these pillars and at each process from creation to production. I believe that by making conscious purchases, we will be the generation to create a global movement of sustainability, which will ensure the protection of the environment for generations to come. By building a community of yoga and wellness lovers, fashionistas, image consultants, artisans, craftsmen, producers, practitioners, future creatives and light workers. We encourage creativity, pure joy, inner peace and taking the courage to find your inner VICE, in which we need to spread the word and inspire others.
How would you describe your customer base?
All genders and all ages, who love art, appreciate quality and most of all love yoga! There is such a wonderful community of yogis out there, who are all passionate about spreading the joy of yoga, the inner peace and balance it can bring to your life and when they find the right mat, it's wonderful! I get phone calls from yogis and teachers telling me just how much they love their mats, which makes me so happy!
Do you ever struggle to stay inspired?
I find that there is so much to be inspired from! My art studio is nestled in the Surrey Hills, an area of outstanding natural beauty in England. If I feel stuck, I take myself off for a ramble, a walk or a hike, clear my head and really be absorbed by the surrounding nature, the blues (or greys) in the sky, the movement in the trees as they sway in the wind, the long grasses of Spring are literally my favourites. I am not a fan of winter, perhaps that is my Aussie half coming into play, I struggle when the evenings get short and I do find getting the balance of creativity to business a hard one to find! So, I have to switch off the business brain to let the artist come out to play!
What do you love about yoga and wellness?
I caught the yoga bug quite a while ago… When I was a teenager, Ginger Spice - Geri Halliwell, aka my favourite spice girl, brought out a series of yoga DVD's with teacher Katy Appleton that I used to practice in my bedroom after school. I found it was such a great calming influence, connecting the mind to the body and breath. It's a great spiritual tool as well. My career took me from London to Asia where I used to work in the very stressful and burnout world of fashion design. My home practice kept some balance in my life, it introduced me to meditation and the more spiritual side of yoga. I love to keep my home practice and mix it up with classes. There is something really lovely in the coming together of people from all walks of life with the common thread of yoga and flowing together. My current teacher trained with Katy Appleton as well!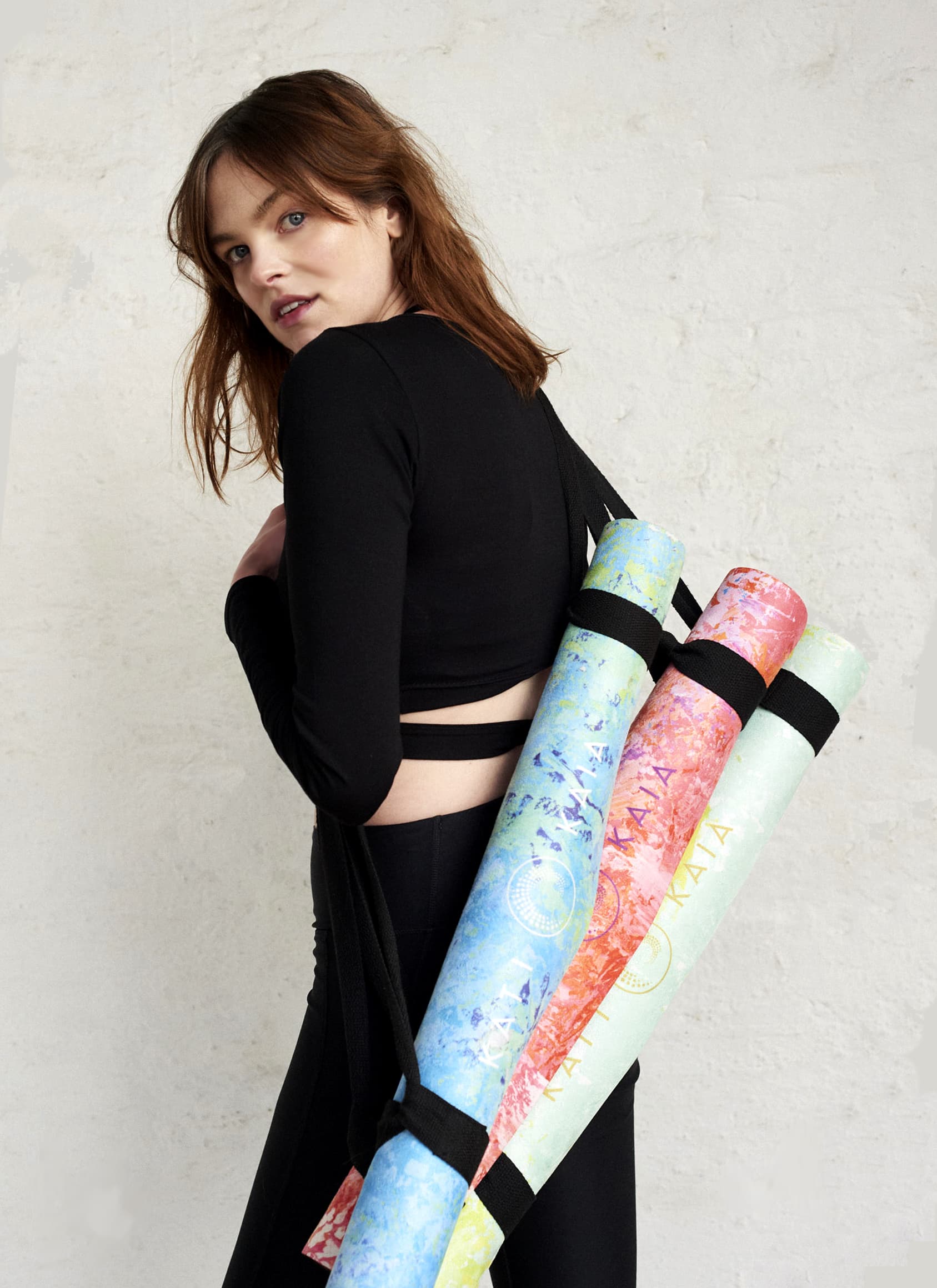 Can you tell us about your favourite piece from your collection?
I love them all, different one for how your mood changes. The Thalassa Gallery Mat, from the new collection is so calming and it's such a lovely piece to practice on. Every time I'm in a crow pose I find a new detail or color depth I hadn't noticed before! I also have that original painting framed on the wall in my lounge. It is very large, taking up most of the wall and reflects into the mirror opposite, when the light hits it in the morning sun, it reflects around the room.
What is the most important thing you've learned on your journey?
Keep calm and carry on.
Is there another designer whose work you particularly admire?
Many! I think my favourite designers are Stella McCartney and Sarah Burton. Two women, who empower not only their role as female directors but also inspire the whole industry to be better. Better designers and with better practices, who champion true freedom of creativity as well as business and commercial sitting comfortably together. They value the crafted methods that take time to inspire, are sustainable and make beautiful pieces all while not bending on their morals. I have so many books on McQueen it is unreal and even met him once at a fashion show!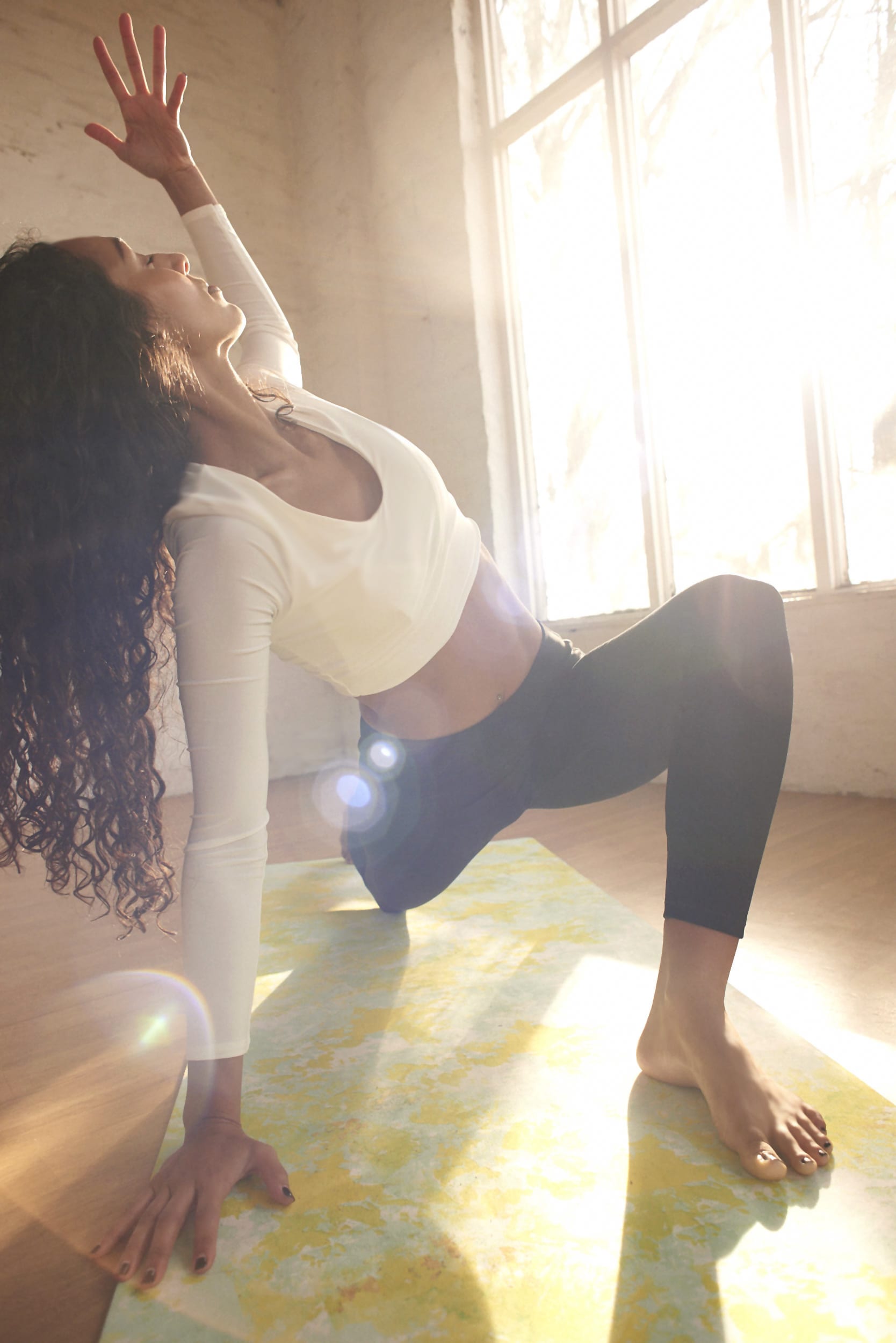 What's the best piece of advice you've ever been given?
Comparison is the thief of joy.
What drew you to Wolf & Badger?
I love Wolf and Badger's aesthetic. The store is my inner treasure hunter's dream! Each corner of the shop is stocked with little finds or interesting designer pieces you might not find otherwise. Their website is carefully curated with brands to not only love but trust. That's something that really drew me in. A beautiful offer of ethical independents, that supports small business owners and brings them to a wider audience, which is a great opportunity for both!
Where do you see the brand in 5 years?
I have a lot of plans up my sleeve, coming from my design background, I have already designed the first clothing pieces! I am hopeful that with some good honest hard work, perseverance and some funds, I'll be able to make these sketches and scribbles into a reality. I will keep dreaming big. Currently, I am working on some unique yoga accessories and of course making them ethical, functional and beautiful.