Born in Ukraine, Kristina Stets moved to Italy as a teenager. Having studied Fashion Design in Milan at the Instituto di Moda Burgo, she moved to London to complete her study at the Central Saint Martins. Living in London, Kristina worked for a number of womenswear designers where she trained and acquired in-depth knowledge of design techniques and a great eye for details. We spent 5 minutes with Kristina to get a closer look inside the brand.
How did Kristina Stets begin?
The idea of having a fashion brand was born many years ago, I believe that the first step was that I decided to study fashion. After my studies and working in the fashion industry, I decided to move forward and set up my own brand. It was my dream. I started to research into how to establish a fashion brand. I read plenty of different books and articles, watched loads of videos, and spoke to many people. I was trying to find any advice I may need for my future business. Luckily my previous experience in the fashion industry and my studies helped with my first step.
I originally graduated university with a degree in Law, however my passion for fashion was really intense that I decided to study more. I applied, studied and successfully graduated with a degree in fashion design from the Istituto di Moda Burgo in Italy. In 2013 I moved to London and continued my studies in school of Alexander McQueen, John Galliano and Stella McCartney at the University of Arts, ­Central Saint Martins.
Have you always been interested in fashion?
I was interested in fashion from very young age. I remember when I was a little girl I would cut up my mother's clothes to make dresses for my dolls. My mum had a lot of influence on me as well. She had little store in my home town where she sold women's clothing, so I was surrounded by fashion thanks to her.
What have been the highest and lowest points on your journey so far?
I have a long journey ahead of me to reach my success, but I am very grateful for what I have done so far. I face many challenges every day, but I am ready for them. Success is a journey not a destination, so I try to enjoy it in any situation.
What was the inspiration behind your latest collection?
­ Our first capsule collection is entitled "White Instinct" and plunders the essence of Bauhaus architectural lines. In the continuum of Le Corbusier and Lies van der Rohe, White Instinct re­appropriates classical and geometric lines in their purest form. The collection is entirely hand­made in London from Italian fabrics.
Do you ever struggle to stay inspired?
You can find inspiration in every moment of life and everywhere around you. It can be very easy to create a collection when you have a clear idea, a story behind it and you know exactly what you want the outcome to be. But we all are human beings and sometimes we can struggle especially when we are in a bad mood or our ideas are not clear.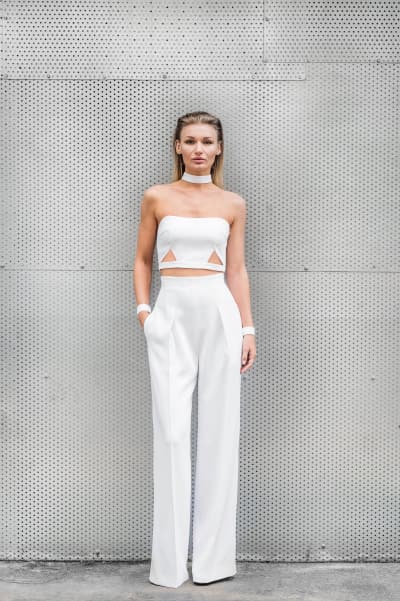 Where is your go­to meeting spot?
I love to discover new places! But my favorite meeting spot is the Coya restaurant! Delicious food, decent drinks, entertaining evenings with live music and a different themed party. It is a place where you find all of those and more.
How would you describe your customer base?
­ Our clients are ladies of any age. Ladies who are confident and they love to look great and modern in any occasion.
Is there anyone you would love to see wearing your designs?
­ Sharon Stone. I grew up watching her movies. She is always an example of a perfect woman! Beautiful, smart, sexy and so elegant...
Do you have a mentor?
­ I am the mentor myself, my life experience is my mentor .
­What apps keep you sane?
In today's world technology is essential in our life, my basic apps are: Uber, Treatwell and Opentable. In my daily routine I use all the social meda apps media like Twitter, Facebook and Instagram.
If you could only wear one piece from your collection, what would it be and why?
­ I love the whole collection, but my two favorite pieces are the Alkaia wide leg pants and Alkaia top which goes with pretty white wrist cuffs. The look empowers women and at the same time is very feminine. For me the ultimate sexiness is a woman in pants. Nowadays women have to feel comfortable and wear kind of day­/night outfits that they can wear to work by just putting a blazer over it, and after work with a pair of high heels when going for drinks or dinner.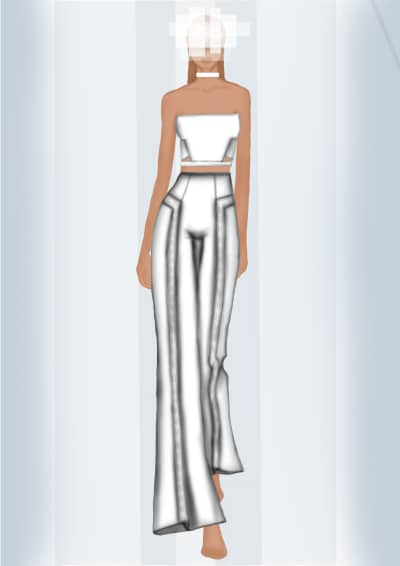 What's the biggest style mistake you've ever made?
I think that there are no style mistakes anymore... We all have to be free to experience and use our imagination to dress how we want. Fashion is art and their are no rules! Something ugly or incomprehensible for one can be very beautiful for another. Clothes give you confidence and speak for you without you having to say a word. It is important to tell your story through the way you dress.
Is there another designer whose work you particularly admire?
­ I like many new designers. They are full of new, fresh and innovative ideas. Although my favorite and one and only is YSL! The whole story and every collection gives the world an amazing brand.
What's the best piece of advice you've ever been given?
­ Follow your heart, it is always right!
What drew you to Wolf & Badger?
­ Wolf & Badger is a platform for new designers, to help new brands to get to the fashion industry. I've known the brand for many years and I always wanted to be a part of it .
Where do you see the brand in 5 years?
­ My goal in the next 5 years is to have successful brand in Europe and to expand to the other parts of the world. I would love to extend the brand range and establish a shoe line as well.