Designer Tomer Tom is the founder of Mad Men Jewelry, the men's jewelry brand that offers jewelry and accessories with a strong statement and intricate design for the modern man. We spent 5 minutes with Tomer to find out what inspired him to launch the brand.
How did Man Men Jewelry begin?
I have been working as a jewelry maker for many years. I learnt the skill from an artist when I was 20, and afterwards I studied industrial design before returning to jewelry design a few years ago. Product design and jewellry design are very similar, both are about functionality in design and efficiency in the production process. which applies to jewelry as well. But with jewelry there is an element of absolute freedom and this is where jewelry design meets art - functionality, efficiency and madness, all tied together. This is Mad Men Jewelry.
About two years ago I decided to devote myself to making decidedly masculine jewelry, especially in silver. The idea behind Mad Men Jewelry is that you can put your passion or your madness, out there with the jewelry and accessories you wear. Show the outside world a little bit of what's inside of you.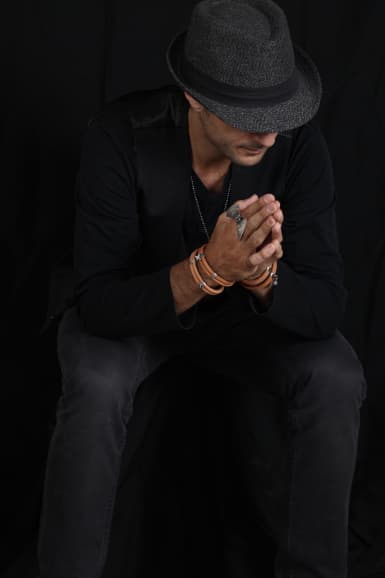 Have you always been interested in jewelry?
Yes, I grew up with it. My dad used to make jewelry and I always loved to watch him working on things. I also loved to disassemble watches, figure out the mechanics and put them together again. I was a curious child, exploring everything around me. I still draw inspiration from this. My favourite subjects for jewelry are nautical themes, airplanes, animals and nature, weapons and all kinds of masks.  
What have been the highest and lowest points of your journey so far?
The highest points for me are when my brand gets recognised, when I get the opportunity to participate in shows and to sell my pieces in established boutiques in Tel Aviv, London, New York and Tokyo. The lowest points are when I work on something for weeks and weeks and I spend a lot of time, energy and money on it but i just cannot get it right. I cannot match the image that I have in my head with the piece of jewellrey in my hands and then I can't put it in the collection because it just doesn't feel right.
What was the inspiration behind your latest collection?
My newest collection is the skull and weapon collection. I can see the beauty in many things, for example, look at the helmets and armour that knights wore, they are fascinating pieces of design. By putting them into the form of jewelry, I can make a perfect replica of a weapon without it being a weapon.
Do you ever struggle to stay inspired?
No, absolutely not. Everything stimulates me. I am overloaded with inspiration, if anything then I struggle to choose and focus.
How would you describe your customer base?
My customers are men (and also women!) in their thirties and above that have a passion for certain things, that have money to afford it and who are bold enough to put themselves out there. They might go sailing or flying on the weekends but they don't abandon that identity when they put on their business suits. They display their passion by putting on a piece of jewellrey that reminds them of it.
Is there anyone you would love to see wearing your designs?
Pharrell Williams. His style is fearless.
What are the morals you run your brand by?
My aim is to always give my customers more than what they paid for. I do the whole jewelry making process myself, so with every piece I sell I also give a part of my energy. I also want to give the customer more than what they expected. Especially when selling online, I want the customer to be astonished when they finally have the piece in their hand: the weight, the material, the finishing, everything needs to radiate high quality.
Do you have a mentor?
I don't have a mentor, but I get inspired by the life stories of successful jewelry and watch makers. Take David Yurman or Harry Winston for example, they started their journeys with nothing but their own two hands, their hard work and their courage to always challenge themselves and to overstep the boundaries of their disciplines. David Yurman went from a sculptor to a jewelry maker to making watches over the course of 38 years which I find so inspiring. There is no end to exploring the dimensions of creativity.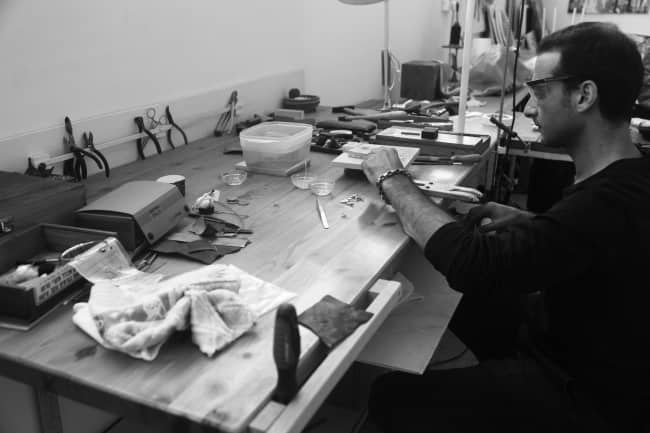 What apps keep you sane?
I recently got really into Instagram. I like the flexibility and simplicity of it - whenever I get inspired, I can just put it out there.
If you could only wear one piece from your collection, what would it be and why?
The sword bracelet. I look at the sword as a piece of art, it is a combination of beauty and functionality; but we don't need it as a weapon anymore. If you take away the sting, all that is left is a perfect form. 
What's the biggest style mistake you've ever made?
The funny thing about style mistakes, is that while you are making them you don't consider them mistakes. Since I started studying design, my whole approach to style changed. I learned to evaluate and appreciate fashion on a profound level. Ever since then I feel that I have found my style and I feel comfortable with the choices I make.
Is there another designer whose work you particularly admire?
Mark Newson, because he doesn't limit himself to any field. He is a product designer but he also does jewelry design, furniture and even airplane design, which happens to be another one of my passions. .
What's the best piece of advice you've ever been given?
Be faithful to yourself. Do what you need to do and do it all the way. Some of my designs are not easy to digest, for example the weapon-inspired jewelry. People react strongly to them, but I see the beauty in these things and this inspires me to put them into the form of jewelry.
What drew you to Wolf & Badger?
Wolf & Badger is a high-quality platform that allows me to present my designs to a very refined audience, to customers that are really into cutting-edge fashion and jewelry design.
Where do you see the brand in 5 years?
I like this question very much because I like to think about what will happen next. Within the next five years I want to expand my business to sell in other major metropolitan areas. I also want to broaden my portfolio so that I can offer my customers a wide range of accessories and leather goods as well as jewelry, and I really want to learn how to make watches.