Born in LA and raised in Sydney and Hong Kong, N12H founder Nerissa Lee later spent years travelling the world, living in NYC, Tokyo and London. With her global exposure to different cities and cultures, Nerissa created a label she describes as "modern clothing designed for travel-loving city girls".  The label inspires people to pair simplicity with striking detail to create looks that are chic and refined. The N12H girl is trend-conscious and polished with a laidback attitude, lives to jet-set and always looking for a little adventure. We spent five minutes with Nerissa to learn more about her take on the world of fashion. 
How did N12H begin?
I launched N12H in 2013, with a small collection sold exclusively to friends and by word of mouth.  It sold so well that I eventually launched a bigger collection and went to my first tradeshow in Paris and started selling wholesale to stores everywhere.  Now N12H can be found in stores in over 15 countries, I'm excited for the brand to grow and proud of what I've achieved since our beginning. After graduating from The Parson's School of Design in New York City, armed with a fashion design degree, I joined a team that was responsible for launching designer collaboration collections at Target stores in the US.  During my time there, I worked with designers such as Proenza Schouler, Erin Fetherston and Zac Posen to launch affordable designer collections of their signature styles at Target stores nationwide.  It was an amazing experience to be able to work with these top tier designers and it was interesting to be part of the process of translating designer details into an affordable range of clothing.  It surely geared me up for launching my own line which is based on affordable luxury, a concept of using designer details to make my clothing unique and luxurious, whilst keeping it accessible. Now N12H is growing every season, with increasing stockists around the world.  N12H has been popular with celebrities and influencers and have been seen on celebrities such as Gigi Hadid, Taylor Swift, Jessica Alba and influencers including Jamie Chung, Lucy Mecklenburgh, Arielle Charnas of somethingnavy, Eugenie Grey of @feralcreature, Pamela Allier of @pamallier and Jeanne Grey of @thegreylayers.  
Have you always been interested in fashion?
I have always been interested in fashion from a young age.  It only occurred to me that I wanted to be part of this creative world when out of curiosity, I took a weekend fashion design course at Central St. Martin's in London.  I fell instantly in love with creating fashion!
What have been the highest and lowest points on your journey so far?

Highest points were definitely when an influential buyer decides to stock our label, it means our clothing will be reaching more customers!   Lowest points on my journey would be when we run into production problems that are sometimes out of our control.  We try our very best to learn from past mistakes and try to find better suppliers constantly but with garments, there's always going to be some production issue unfortunately.
What was the inspiration behind your latest collection?
My label is very much inspired by my travels.  I love travelling and for FW17 we were inspired by a staycation at a luxury hotel suite.  Our range was a little lingerie and loungewear inspired, with sultry styles in soft fabrics, perfect for lounging but still looking totally refined.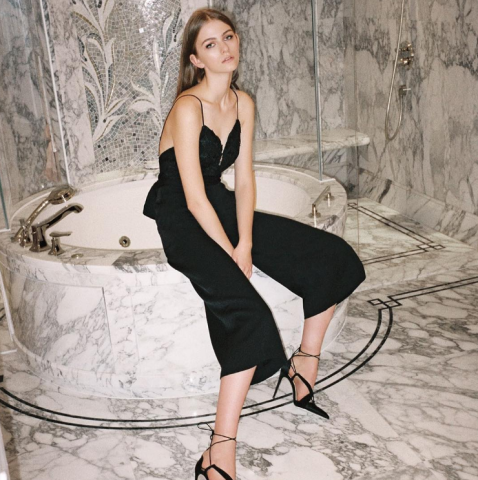 Do you ever struggle to stay inspired?
For me, there's never a shortage of ideas or inspiration because of all the things I see when I'm travelling to different cities.  Different cities and their people and their fashion inspire me It's more of a problem to narrow down the things I want to include into a collection as there's always so many ideas that I would like to work with.
How would you describe your customer base?
Our customer is a confident, stylish woman in her early thirties.  She's a global citizen and appreciates designer fashion.  She definitely wants to stand out whilst staying elegant and classy.
Is there anyone you would love to see wearing your designs?
I would love to see Aimee Song of @songofstyle in my designs as she is my absolute muse, I love her style and her personality!
What are the morals you run your brand by?
I want to create clothes that are honest and with the best quality I can offer.  I focus on perfecting the fit and would love to make every woman feel good in my clothes.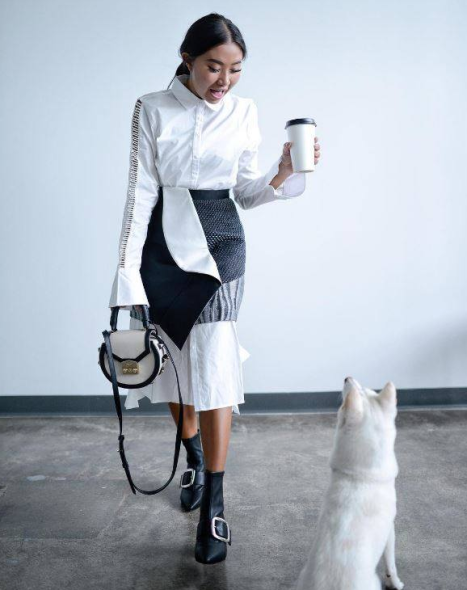 What apps keep you sane?
I definitely rely on social media planning apps to help plan my instagram posts.  They help me visualise what my feed will look like ahead of time.  I used to always procrastinate and look for things to post last minute but now I use these apps, my life has been so much easier!
If you could only wear one piece from your collection, what would it be and why?
I think our jackets are always a winner, as we make jackets that are chic and refined but makes a style statement because of the unique details.  Jackets can complete any outfit, a good jacket goes a long way!
What's the biggest style mistake you've ever made?
Honestly, I don't think I've ever made style mistakes as I'm not one to experiment with crazy styles, I usually stay on-trend, but still classic with a twist.  However, sometimes I look back at older photos and see what I was wearing back then, I would think to myself, "what was I thinking?!" I suppose trends come and go but at that moment, it made sense and that's all that matters!
Is there another designer whose work you particularly admire?
I love the designer brand Monse, it's ultra cool and so perfect for now!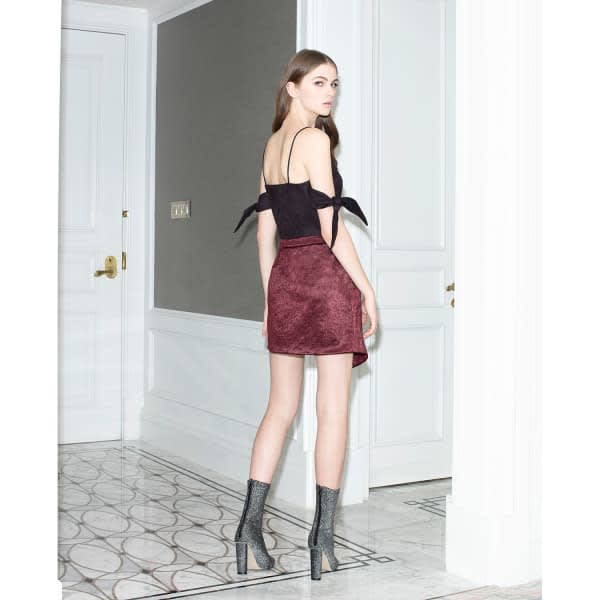 What's the best piece of advice you've ever been given?
I think it's always important to listen to your customers.  Feedback is important and learning from the feedback and improving your game is important too.
What drew you to Wolf & Badger?
I like the idea that Wolf & Badger promotes and collaborates with smaller independent labels like myself and offers a unique selection of products.
Where do you see the brand in 5 years? 
We're hoping to extend our reach and be available in more outlets, continuing to turn out wonderful designs and most importantly, have an increasing group of loyal customers who love what we do!