Newgate is a modern British fashion and lifestyle brand loved by creative people the world over. They are passionate about designing affordable collectable iconic pieces in their famous British studios which end up on millions of walls and wrists globally.

The G6 chronograph dials have unique design assets including multi faceted and coloured chapter rings, inner bezels, sub dials and rings. The color palette featured on most dials includes "Magnetic Blue and "Pluto Pink" all executed with quality and accuracy. The stand out Newgate triptych style chronograph subs will be the instantly recognisable insignia of the fashion luxurious G6, a nod to all discerning brand savvy people. We sat down with founder and head designer, Jim Read to find out more about Newgate.
How did Newgate begin?
Everything happened organically for us really. I started the brand with my wife, Chloe. I had just been kicked out of art school and Chloe left her business degree partway through. After being set up on a blind date we realised we had similar backgrounds and ambitions, so we began coming up with business ideas until something stuck. My dad used to own a record and electrical shop, so I helped a lot there when I was younger. I also opened a clothes store for a short while until Chloe and I had decided on a joint idea for the business. And it's been Newgate ever since!
Our friends and family thought we were crazy, but I sold my Mini Moke car and we used the money to buy the equipment needed to make some clocks and fund an exhibition at Alexandra Palace to showcase our initial designs. It was at this show that we secured our first blue chip stockist; Harrods. We've gone from making everything in the spare bedroom of our flat, to being a destination fashion and interior brand! In 2015 we diversified, naturally, into creating contemporary men's and women's watches. This year saw the launch of our fourth wristwear collection; the G6. 
Have you always been interested in design?
Yes. I do a lot of painting and artwork on the side, which sometimes inspires elements in our collections. I've always been interested in moving-part design and the instrumentation of time, which ultimately led me to designing modern timepieces. 
What have been the highest and lowest points on your journey so far?
We had our fair share of trials back in the early days. When we were still making everything by hand in our flat, we had a big consignment going to America. Chloe and I had been waiting all day for a shipment of components to arrive from Italy so that we could complete the order. They turned up at the very last hour and the US container was waiting to ship. We had to put out an emergency call to our friends and family to come and help us assemble everything overnight. It was a nightmare, but we did it in the end!
Seeing people on the streets wearing our watches on their wrists gives us a high. It was also awesome when we found out Banksy had used some of our clocks in his 'Walled Off' hotel in Bethlehem!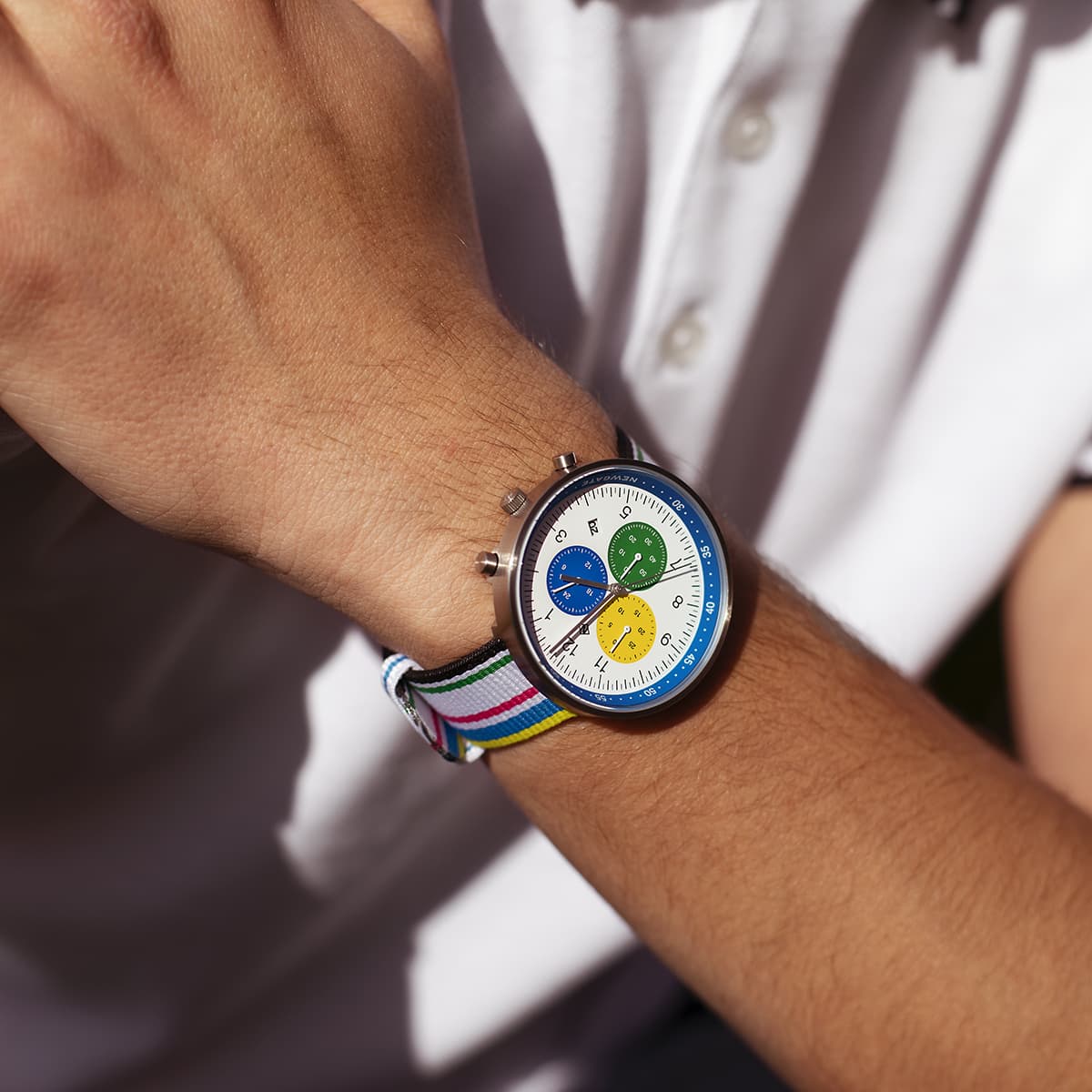 What are the morals you run your brand by?
High quality, great design and affordability.
What was the inspiration behind your latest collection?
We wanted to bring back some color to the industry and shake up the shelves! I used the color palette from my recent collection of paintings for the sub dials on our G6 watches. The name for the range was inspired by my late grandfather, Eddie Read. He was a Morse code expert for MI5 and his call sign was 'G6US'. He had a big influence on me and my fascination with design and the movement of time, so I knew this was the one to honour him! 
How would you describe your customer base?
Brand savvy creatives looking for cool, well-designed timepieces.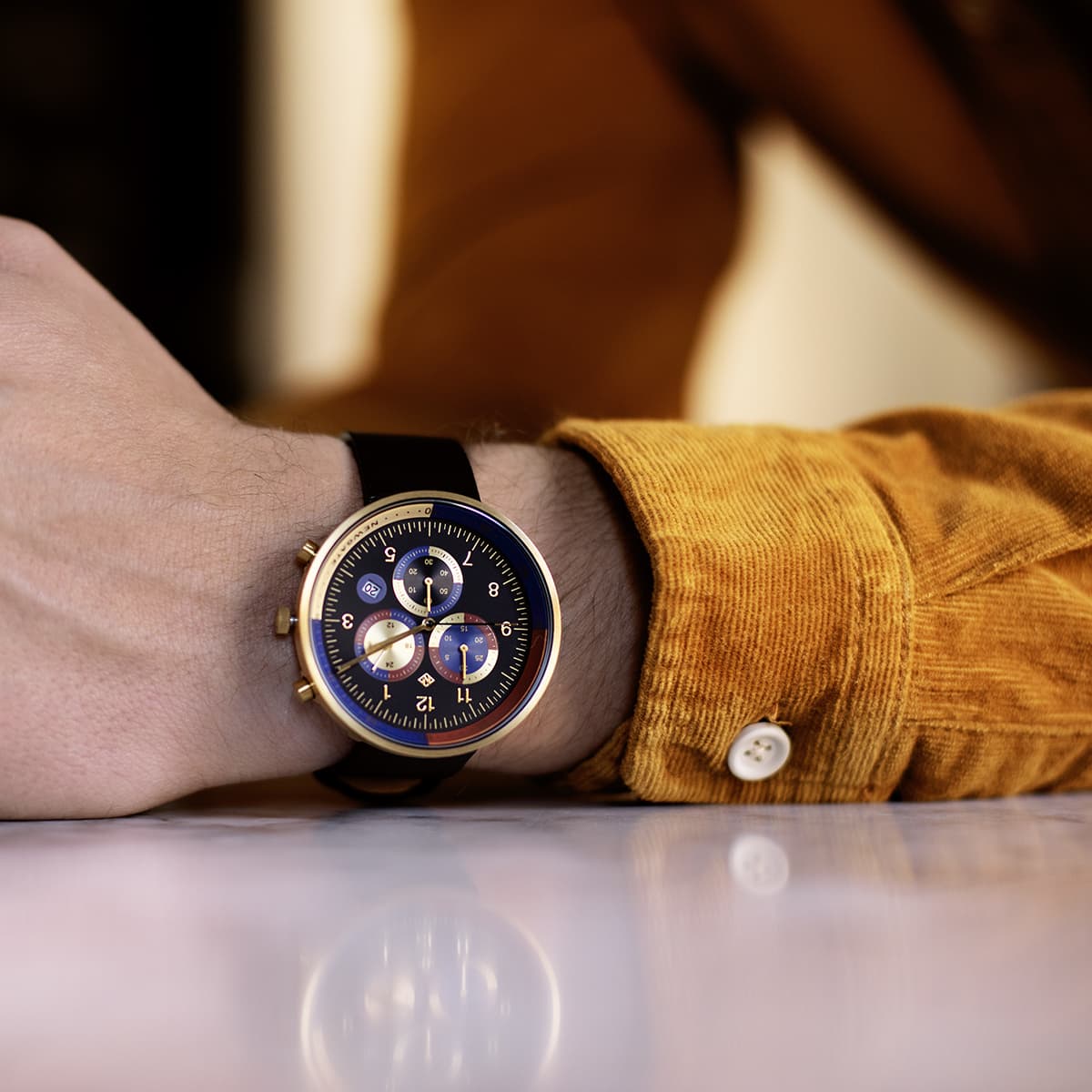 Do you ever struggle to stay inspired?
I always surround myself with great design so I'm always feeling influenced. During the design process, I try to stay away from looking at trends or what other people are doing. I like to keep my mind clear and just create what feels right to me. I think immersing yourself in great craftsmanship and brilliant ideas hones your abilities as a designer. 
Is there anyone you would love to see wearing your designs?
To be honest we just love seeing people out and about wearing our watches. It gives us a real buzz! But I'd have to say the Queen, the Pope and Thom Yorke would be cool! 
Do you have a mentor?
I'd have to say my grandfather and my parents they're the ones who inspired me to start making timepieces!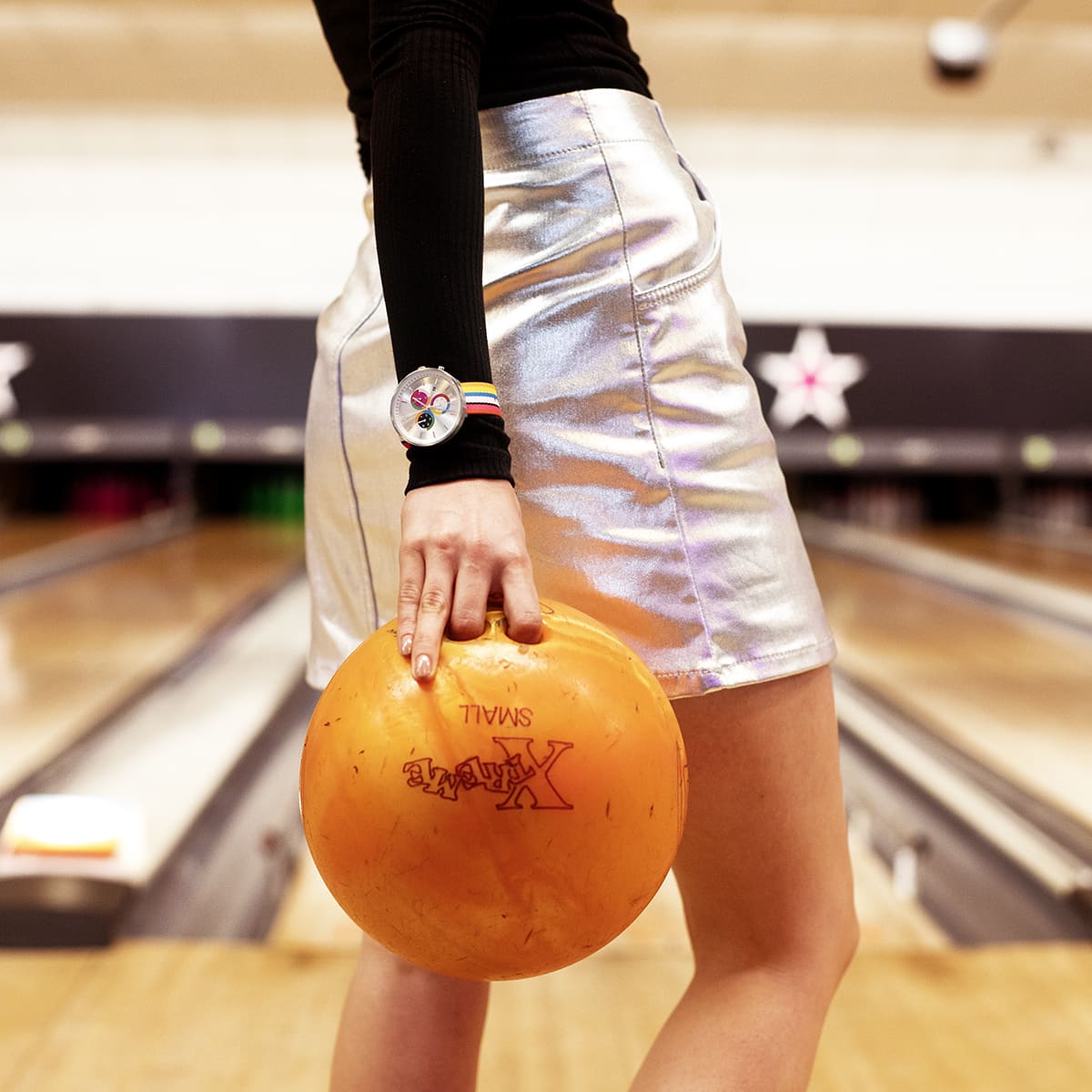 If you could only wear one piece from your collection, what would it be and why?
The G6 Geneva. I love motorsports, so for this particular design I chose tones from motor racing decals and the bare aluminium bodywork. The canvas strap on this one is also my favourite colourway.
Is there another designer whose work you particularly admire? 
Vivienne Westwood. She is so cool, down to earth and has always been a pioneer. 
What's the best piece of advice you've ever been given? 
Have confidence and trust your senses. If it's the right idea, nothing will hold you back or give you cause for doubt. Call it gut instinct or a sixth sense, if you aren't confident about it don't do it.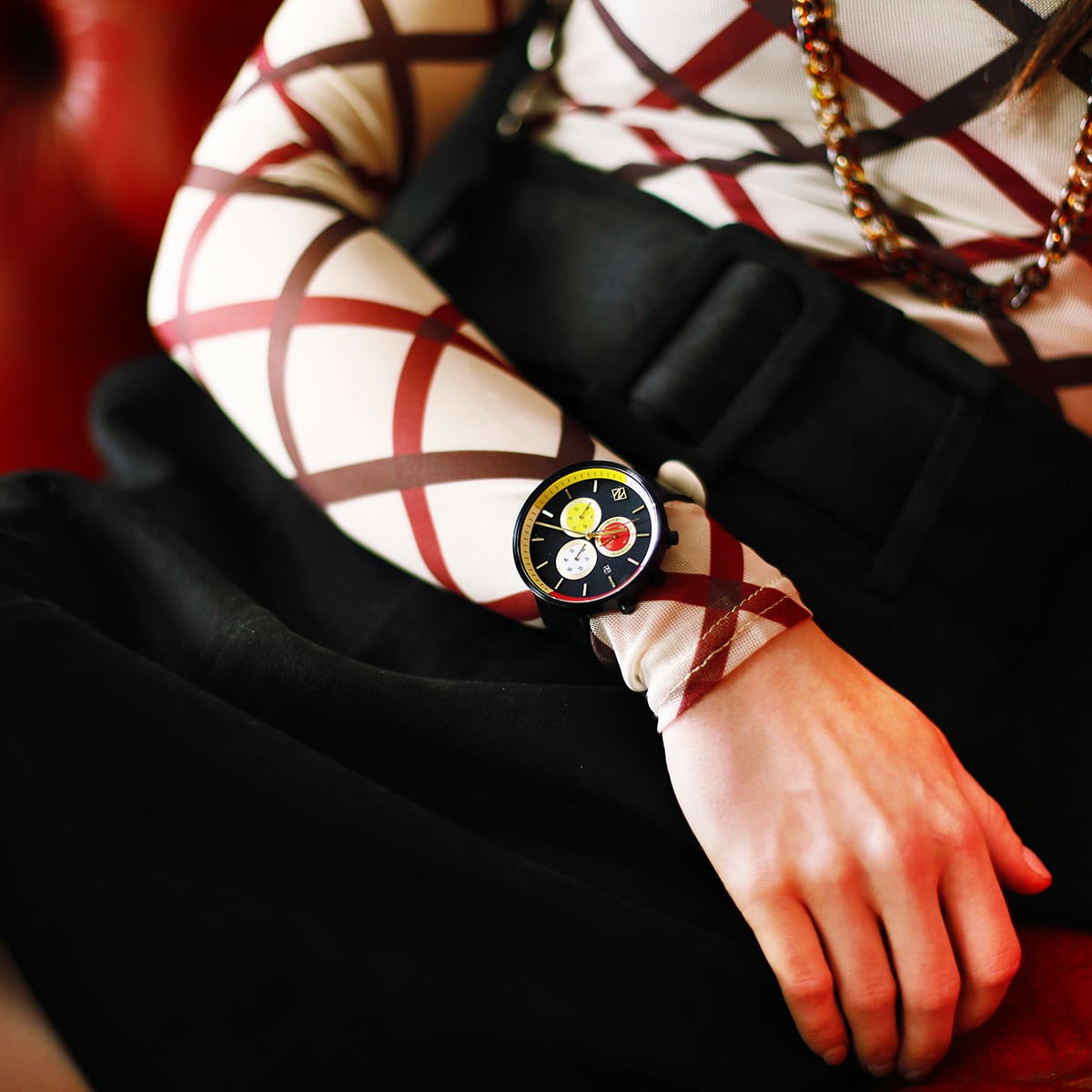 What drew you to Wolf & Badger?
Coal Drops Yard in King's Cross is such a great area for design inspiration. When Wolf & Badger opened their flagship store there last year, we just knew we had to be part of it! Newgate aligns perfectly with other brands in store.
Where do you see the brand in 5 years? 
I hope to always be designing. I love what I do and just want to continue doing it. We're also looking at expanding and diversifying our product range further, so watch this space! (*pun always intended)