Olivia Grace Jewelry is a boutique fine jewelry designer based in Hatton Garden, London's historic diamond district, offering the finest British craftsmanship and timeless pieces that can be passed on from one generation to the next. We spent five minutes with Olivia to get a glimpse inside her world of diamonds.
How did Olivia Grace Jewelry begin?
After getting a business degree, I worked for a diamond merchant for many years, learning everything I possibly could about the industry and the stones themselves. 18 years on, I felt my knowledge was thorough enough for me to strike out on my own as a trader in diamonds and precious stones.
I started making rings for friends who were getting married, which led me to also work with some famous people in the music and entertainment industries. Along the way, I become convinced that the future of the diamond industry in this country was in marrying diamonds and fashion and creating beautiful branded jewelry, hence the creation of my own brand. I knew that the name of a business is everything and loved the refined sound of Olivia Grace - like a beautiful English rose.
Other than spending some time on what I wanted it to be called, applying to the London Diamond Bourse ( London's accredited diamond market and trading body) to be a member in my own right was a challenge, I had to be interviewed in a room by eleven men. Even before the interview my photo was put up around the Bourse for a week in case any one wanted to object!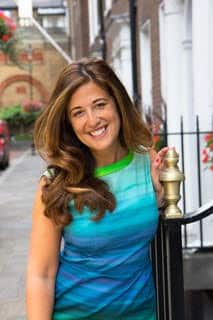 Have you always been interested in fashion/jewelry?
I was interested in beauty and fashion from a very young age, always designing clothes for my dolls. I also loved reading about all the glamorous movie stars and I became obsessed with studying the jewelry worn in films by people like Elizabeth Taylor and Audrey Hepburn.
What have been the highest and lowest points on your journey so far?
We've just worked with a very famous actor and his wife, I styled and dressed her in diamonds at the recent BAFTA awards – that was a fantastic experience. I was also once flown to Chicago to design and make a wedding ring for one of our most famous British rock stars and his wife.
Lowest point was designing a commission for a £1 million diamond collar style necklace for a client who said he was going to buy it, but in the end only 'borrowed' it…
What was the inspiration behind your latest collection?
The inspiration for my collections comes from the colors in nature and my travels. The trillion collection has been inspired by my own spiritual journey of self discovery.
Do you ever struggle to stay inspired?
Never, the opposite. Part of my business development has been learning which ideas to put aside. 
Where is your go-to meeting spot?
The Rosewood Hotel in Holborn is beautifully designed and is where we have our meetings in London. It's almost like a movie set itself, so very inspiring. In Manchester where I'm part-based, we meet at The Lowry Hotel, which again is a perfect setting for my clients.
How would you describe your customer base?
My jewelry is for ladies who love feeling glamorous and are passionate about their jewelry and wearing it.
Is there anyone you would love to see wearing your designs?
I would love to see Princess Kate wearing Olivia Grace.
What are the morals you run your brand by?
Transparency at all times. Follow your passions. Be patient and kind to everyone. 
Do you have a mentor?
Victoria McKay, C.O.O. at the London Diamond Bourse was a huge influence when I was deciding whether I should go for launching my own brand, she gave me the confidence to go ahead.
What apps keep you sane?
Instagram for the beautiful colors and inspirational photos. Pinterest for inspiration.
If you could only wear one piece from your collection, what would it be and why?
The large rose gold Venezia ring. It has the warmth of the sun in the champagne diamonds and a wonderful luxurious feeling when you wear it. A client said that it made her feel like a beautiful princess.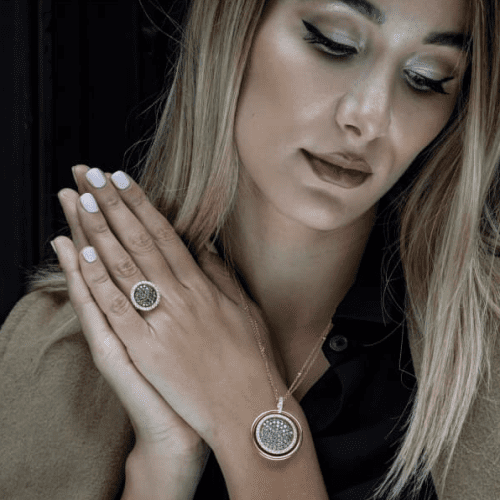 What's the biggest style mistake you've ever made?
It's never a style mistake if it makes you feel special when wearing it! We prototype all designs to ensure no mistakes.
Is there another designer whose work you particularly admire? 
Kat Florence is my inspiration with her bold and beautiful coloured stones and unusual designs.
What's the best piece of advice you've ever been given? 
Follow your truth and your passions. When you feel fear, turn that into a feeling of excitement.
What drew you to Wolf & Badger?
I love Wolf & Badger as they support and encourage new up-and-coming designers. I love the unusual and creative designs. When Henry told me he appreciated the craftsmanship that had gone into my rings, it was one of the highlights of my career.
Where do you see the brand in 5 years?
In 5 years, I'd love to be stocked in Liberty, the V&A, and be stocked in W&B New York, about to break America.