Peculiar Vintage is a contemporary jewelry brand with a rough-lux aesthetic. Their signature style explores the soulful and raw qualities of metal by using traditional jewelry making techniques and design. We caught up with the designer, Stef Warde to get a closer look inside the brand.
How did Peculiar Vintage begin?
Coming from an art background, I looked into jewelry making relatively late, in my 20's. I had to juggle having a baby and being a kitchen top jeweller. I'd known from day one that I wanted to combine my fine art and textiles skills with jewelry, so when I started making pieces for my friends, personal orders started to come in and things moved quite quickly.
The brand ethos and style came shortly after and it was picked up by Red Magazine from the launch as one of their featured jewellers. Young British Designers also quickly spotted us. The aim was to target customers who appreciate handmade soulful jewelry, as it was blood, sweat and tears to create in the beginning.
What had you done previously?
I spent my formative years in Camden Town, London, running the original flagship store of vintage emporium, Rokit Vintage. I studied Fine Art & Textiles and completed a degree in Fashion & Illustration (The Surrey Institute of Art & Design). After leaving Rokit, I went travelling in South America and upon my return I commenced a silversmithing & Design course at Sir John Cass, Metropolitan University London for 2 years. This is where I found an organic way to fuse all my creative skills together and thus Peculiar Vintage was born. I work with silver, gold, palladium, platinum and ethically sourced gemstones and diamonds. Our distinctive style is overtly hand-hewn, soulful and with considered marks and weathering, giving the perfect imperfection to each collection.
Have you always been interested in fashion?
Yes, I studied fashion and managed vintage emporium, Rokit.
What have been the highest and lowest points on your journey so far?
The highest point was being asked to do my first engagement and wedding band. The lowest point was when I realised the potential of the brand and parts were growing quickly that I couldn't keep up with. Nik, my business partner joined to help move the business forward and in a relatively short space of time we are now taking big strides forward.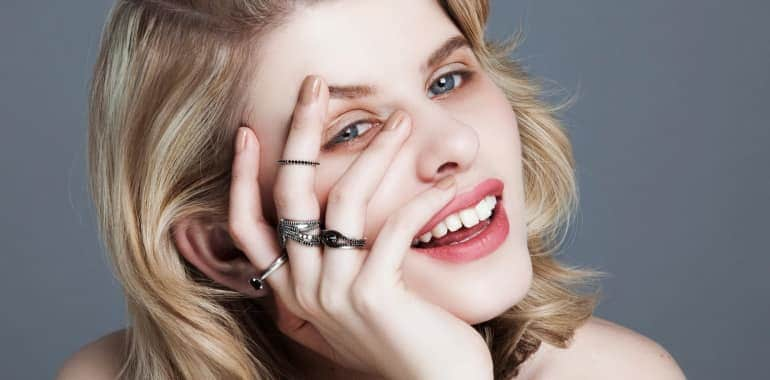 What was the inspiration behind your latest collection?
Direct inspiration from late 60's/70's muse, Anita Pallenberg. She's A former model and actress known primarily for her relationship with Rolling Stones guitarist Keith Richards. She has the perfect blend of bohemian rebellion and glamour. 
Do you ever struggle to stay inspired?
No I don't, I love to be creative, my sketch book is full! 
Where is your go-to meeting spot?
Our lovely shop and showroom!
How would you describe your customer base?
They are independent, spirited, romantic and adventurous.
Is there anyone you would love to see wearing your designs?
Adwoa Aboah, Twigs, Florence Welsh, Zoe Kravitz, Karen Elson, they all perfectly encapsulate the brand.
What are the morals you run your brand by?
With integrity, heart and honesty, we are very transparent and customer focused.
If you could only wear one piece from your collection, what would it be and why?
Sula Lux pave set diamond ring because is really versatile. Black diamonds are my thing and it encompasses the texture vibe I really love. I receive loads of compliments about it! 
What's the biggest style mistake you've ever made?
My goth phase.
Is there another designer whose work you particularly admire?
Polly Wales.
What's the best piece of advice you've ever been given?
My manta – you can only do what you can do
Where do you see the brand in 5 years?
We would love another location in Brighton.