RADISH is a women's lifestyle brand weaving a world where vintage, art, film, music and wonder meet. Our pieces are one of a kind – timeless silhouettes featuring original, bold colourful patterns and magpie-like embellishments. We spent 5 minutes with Lisa Piercy, the founder of the Radish to get a glimpse inside her world.
How did Radish begin?
I studied Illustration at Brighton University and ever since I've worked in fashion in one way or another. Firstly at Premier Hair & Make Up (an agency that represents artists for editorial and session styling), and after within fashion PR agencies. I started freelancing as a stylist and creative director alongside this, working with brands, musicians and designers. After a few years I really wanted to create something of my own, something that would bring together all this experience and from my love of vintage and ideas within over 10 years worth of scrapbooks, Radish was born!
I had the idea that I wanted to start with some original prints and that it would be a capsule collection of dresses. I had a really strong feel for the brand, ideas I had for while and also from my scrapbooks. So I took my time working with a designer friend, getting the branding right and that created a strong foundation for everything to follow. And I made lots of mood boards!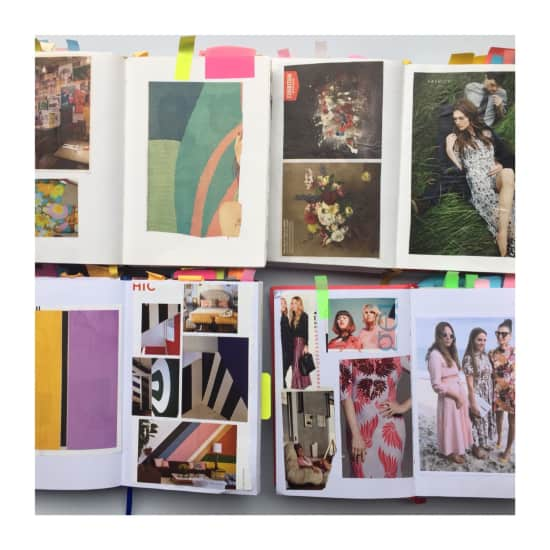 Have you always been interested in fashion?
Yes totally. From going to the Clothes Show live with my mum when I was ten, to my first work experience at the fashion magazine, Scene, when I was 15. The interest has always been there.
What have been the highest and lowest points on your journey so far?
Highlight – Having a pinch me moment while shooting my first look book. I dreamt it all up, from the dress designs, to the shoot concept, and being able to shoot with a dream team at RHS Wisley where I used to go as a little girl was surreal and wonderful.
Low point -  Having to start again with some of the original designs about 6 months into development when I was trying to set up my production. But I learnt a lot!
What was the inspiration behind your latest collection?
Some of my favourite vintage finds and dream dresses. 60's California – the wavy graphics and art. My trips to LA.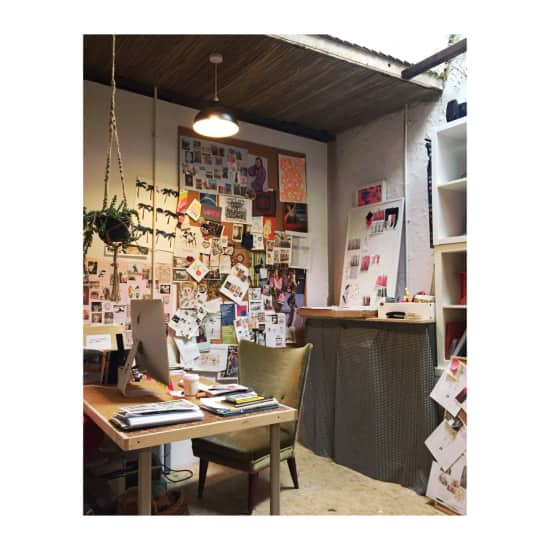 Do you ever struggle to stay inspired?
No, but I have to make sure I have the space to be inspired. When you are running your own business – and being creative - you have to make sure you allow time for this too. For me this is travel, vintage markets, getting lost in the V& A, a good gig, a film in the afternoon…
Where is your go-to meeting spot?
Anywhere with a good coffee! Café Otto, Dalston, a booth at the ACE hotel in Shoreditch and Flour Pot, Hove
How would you describe your customer base?
Women with a strong sense of personal style and spark!
Is there anyone you would love to see wearing your designs?
To name a few…  Chloe Sevigny, Ellie Rowsell from Wolf Alice, Zoe Kravitz, Haim, Goldie Hawn…
What are the morals you run your brand by?
Good vibes (!) and that each piece is well made to be cherished.
Do you have a mentor?
I have a lot of amazing women around me also running their own businesses and we support each other. And I also follow a few ladies on Instagram who inspire me, with their humour while creating and running their empires, including Jen Gotch (Ban.do). Jenna Lyons would be the dream!
If you could only wear one piece from your collection, what would it be and why?
I can't wait to get my hands on 'Mimi' dress from the 2nd collection. It would take me most places very happily! Flared sleeve, floaty and in my lucky clover print.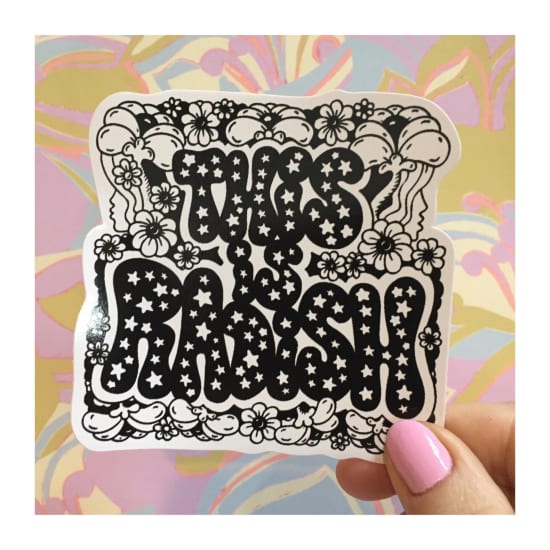 What's the biggest style mistake you've ever made?
I can't think of anything! Photos may prove otherwise…
Is there another designer whose work you particularly admire?
I'm drawn to the female designers that have managed to create their own worlds and with their personality shining through. American accessories designer like Clare V, M.i.h Jeans, Isabel Marant…
What's the best piece of advice you've ever been given?
An oldie but a goodie - trust your instincts. It covers a lot.
What drew you to Wolf & Badger?
I have followed W&B since their launch and love how they support independent brands and give them an essential platform. The stores are also beautiful curated spaces. It felt like a great way to introduce people to Radish, and have somewhere in London people can go, to try the pieces on.
Where do you see the brand in 5 years?
I would like Radish to have grown into it's own magical world. Sprinkled with some exciting collaborations and hopefully a stand alone store somewhere! Surrounded by a super team. And in my dream – I'm designing our own fragrance too.