Shapes in the Sand swimwear is a tribute to nature. Each collection draws inspiration from an ecosystem that makes up our beautiful planet. Designed, printed and made in Sydney, Australia, only best practice is used in relation to animals, people and environmental welfare. Materials are plant based and recycled (including EVO & ECONYL) and the label is plastic-free and zero-waste. Shapes designed a water-soluble hygiene-liner and uses recycled material for swing tags and packaging. Designs aim to compliment the wonderful diversity of women's bodies – we're all perfect just the way we are! We sat down with founder Alexandra Dash to find out more about her brand.
How did Shapes in the Sand begin?
Shapes in the Sand was founded in my last year studying Fashion Design & Production in Sydney, Australia in 2013. I have always had an interest in swimwear and textile design. Knowing the impact the fashion industry has on the environment, I wanted to draw attention to newly discovered fabrications that were made from regenerated materials for my final work and support looking after it. It was during this time that the beginning of the label began taking shape and here I am!

My career has been an ongoing journey of listening to others, learning from others and creating collections with people and the planet in mind. The whole operation of the business is run by myself. From the designing right through to the distribution of collections. I have been working with my swimwear maker since 2014 who are family run stretch wear specialists located in Sydney. Having a label designer, printed and made locally is an important part of my profession. 
Since day one and throughout my career, I've been working with new technology eco fabrications. The introduction of a plant-based swimwear fabrication in 2019 brought a fresh new way to create conscious swimwear. This was an industry first that is made from a totally renewable resource, castor bean oil. I am always looking for a fabrication that is better in terms of durability, ecologically sustainable and performance based.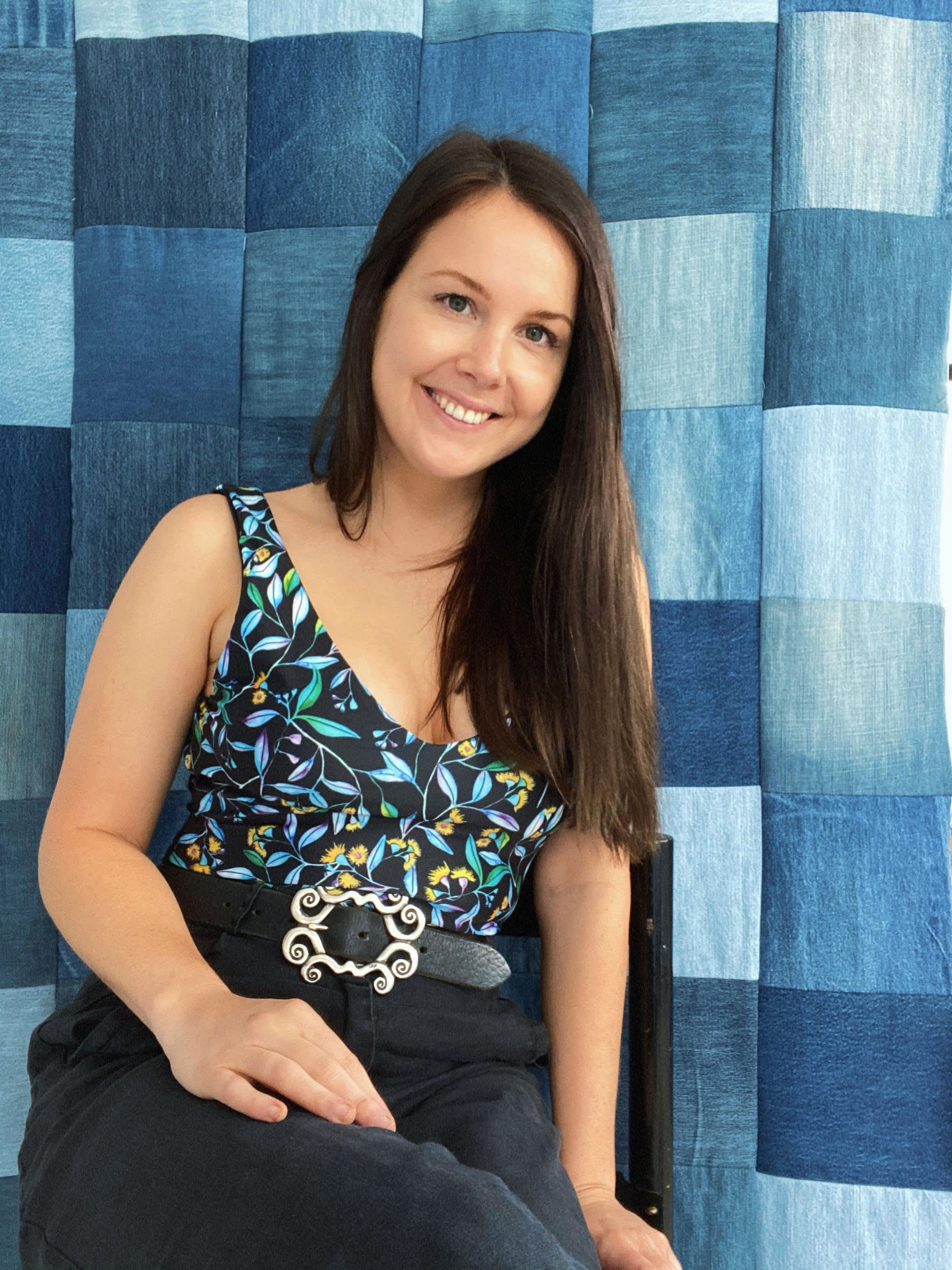 What has been your most rewarding moment of your career?
My environmental conservation efforts have been one of my most rewarding parts of my career so far. In 2017 Shapes in the Sand partnered with WIRES Wildlife Rescue to help fund a build for a koala rehabilitation enclosure for sick and injured koalas within the NSW region. This enclosure was completed in 2019 in the Hawkesbury region of NSW. It's already assisted many koalas, especially during the most recent bushfires. Caring for our native wildlife and habitat has been and will always be an important part of my career. 
Have you always been interested in fashion?
I have always loved creating my own style. Fashion can be a key component of style and I've always really loved being able to create different looks from garments. I have always had an appreciation for second hand/ vintage garments and textile print designs. For me fashion is a form of expression. 
What have been the highest and lowest points on your journey so far?
There have of course been many highlights as well as challenges throughout my journey. I am the decision maker for all aspects of my business. A significant low point was a few years ago when I made the decision to take on a PR agency over spring-summer. The coverage I received was not what I sought it to be and the cost was a drawback. I did learn from this though and realised my own PR efforts were remarkably better moving forward. A high point in my journey so far has been just recently moving into a new studio space to allow Shapes in the Sand to further grow!
What are the morals you run your brand by?
Sustainably Shaping Swimwear are the keywords that represent Shapes in the Sand. Under these words there are different values that the label operates by. Shapes in the Sand promises honesty and transparency within our supply chain. Collections are made from certified innovative eco fabrications to support a circular economy, reusing where we can. We have a plastic free approach. This includes the design of a water soluble hygiene liner, recycled materials for packaging and all garment labels being derived from recycled content. Shapes in the Sand is proudly Australian made. We're committed to keeping our business locally made in an honest and responsible manner. We believe in diversity with a natural approach to life and we are driven by our homage to nature and environmental conservation efforts. 
What was the inspiration behind your latest collection?
Blossom represents a favourite Australian native flora, the Gumnut Blossom. We relaunched our signature Blossom Dancer print story this season and we also welcomed a new colourway. The Burnt Blossom is a symbol of the diversity of Australia's bush landscape and climate. The bushfires were a source of inspiration for the collection and partnering with Aussie Ark and their Koala Ark project is our way of supporting a future for koalas. Our donations from Blossom will help in the build and operation of the world's first and largest wild koala sanctuary.

How would you describe your customer base?
Our customers are nature girls. They have an appreciation for our planet and the choices that they make reflect on their conscious values. Our nature girls strive to learn and have a better understanding of how we can be kinder to the planet. They are women of all ages who prefer unique, well made pieces and prefer not to follow trends. Our Nature Girls love to surf, dive, snorkel, travel and love adventure, just to name a few! The natural world is their playground. 
Do you ever struggle to stay inspired?
The inspiration is really important as it reflects our natural world drawing attention to environmental issues. Honestly I don't struggle to stay inspired because nature is the source of inspiration and there is so much of our natural world to be inspired by! Sometimes I am overwhelmed with what is happening to our planet. This is something that gives me the drive to keep going.

Is there anyone you would love to see wearing your designs?
I would love to see Emma Watson wear Shapes in the Sand piece. She is the ultimate nature girl. We should all be taking a page from her book when it comes to leadership and environmental advocacy. 
Do you have a mentor?
I don't have a mentor as such though mum and dad have always been encouraging throughout the development of my career. 
If you could only wear one piece from your collection, what would it be and why?
I would have to say the Blossom Dancer Convertible Bow-tip Bikini top. It is the most versatile top in the collection. With a removable bow it can be styled with or without to create your own look. It's two in one.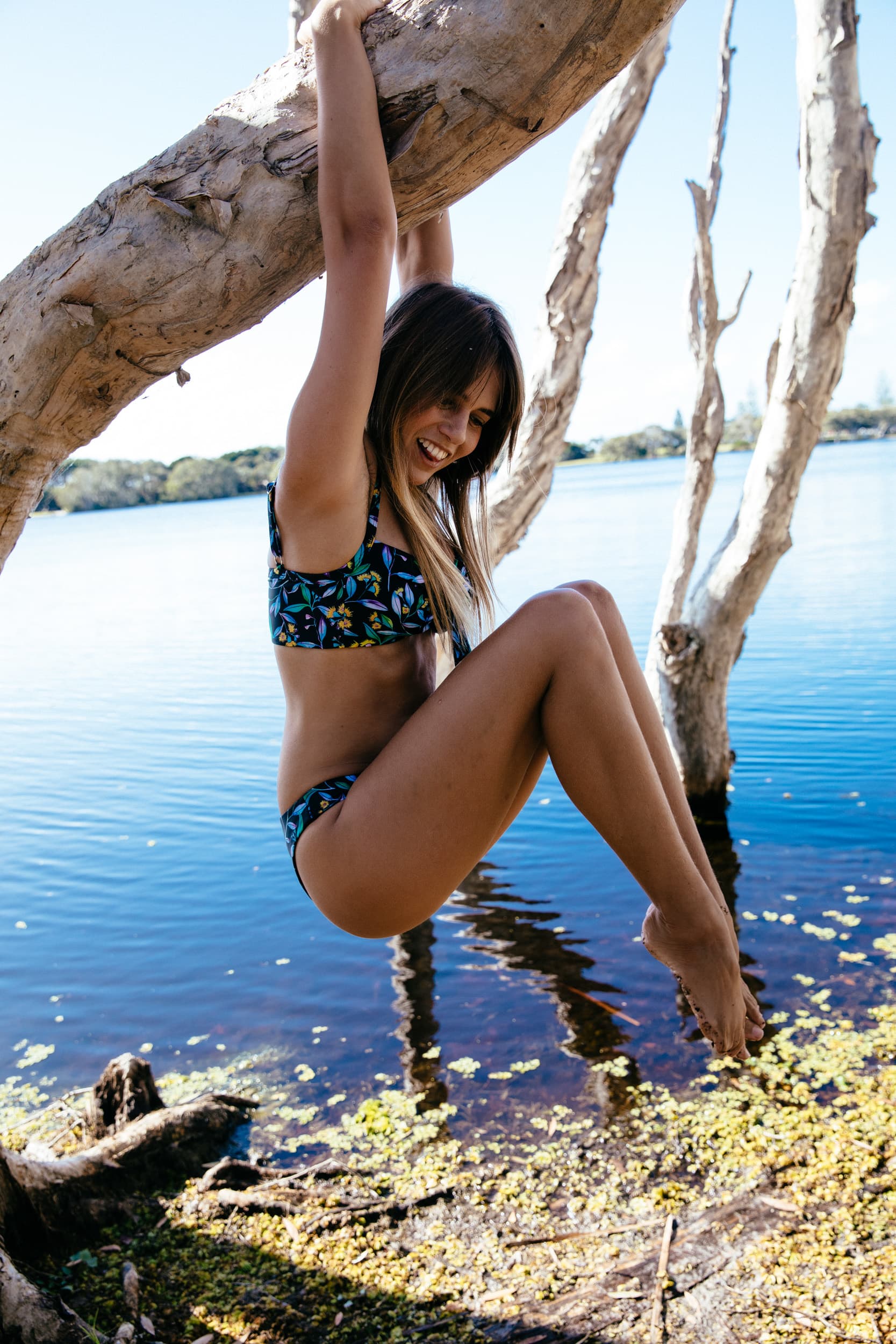 Is there another designer whose work you particularly admire? 
Nobody Denim is a brand that I admire the work of.  Though they aren't a swimwear label, they not only have an amazing work ethic, their garments are well made. 
What's the best piece of advice you've ever been given? 
Never change your originality for the sake of others because no one can play your role better than you. 
What drew you to Wolf & Badger?
I appreciate that Wolf & Badger support only ethical brands. Ethical labels deserve to be in the limelight. 
Where do you see the brand in 5 years? 
I would like to see Shapes in the Sand internationally recognised as an Australian conscious swimwear label. I have always had a dream of having a Shapes in the Sand wildlife sanctuary. I am very excited about the future.