The Changing Factor set out to be a trendsetter within the fashion industry by offering unique, cutting edge design and exquisite quality. They aim to empower and elevate women from around the globe by offering one-of-a-kind designs and by giving 10% of profits to women's charities around the world. We spent five minutes getting to know the founder, Magda Daniloaia, as the brand has recently joined our US flagship store in SoHo, New York.
How did The Changing Factor begin?
The Changing Factor was created from the desire to bring something new to the industry, to truly be a 'changing factor' by putting a lot of thought into the creative process. I wanted to achieve unique, cutting-edge pieces and to make a difference with the brand, through our support of women which is something that is really important to us. We give 10% of the profits from our website to charities that focus on women and girls.
I started my training as an architect but then quickly realised it was not my passion. After some reflection, I decided to get into fashion which I always loved for how it is a reflection of society, time and for how it can empower us. I then studied Accessories Design at London College of Fashion where I really enjoyed the tridimensional aspect of designing accessories, it is something I am very passionate about and I believe one can see that in my work. During my studies and after graduation, I worked for several brands in London including Roksanda and Bill Amberg where I was the Head Accessories Designer. I enjoyed the experience but I always dreamed of having my own business, so when the company I was working for at the time decided to focus on other parts of the business rather than accessories design, I knew it was the right time to go for it!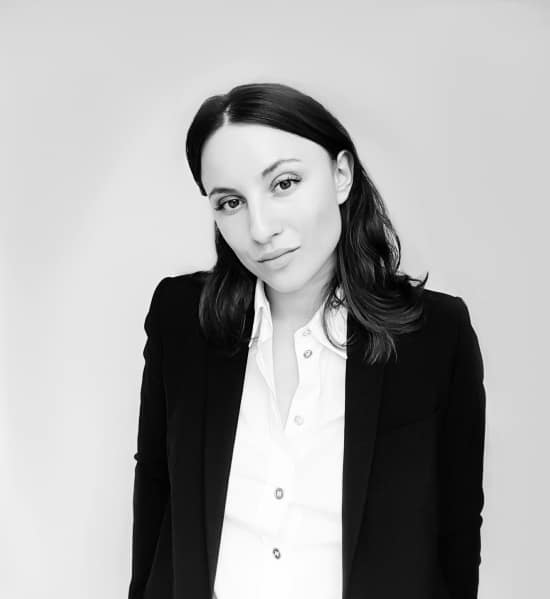 Have you always been interested in fashion?
I've had times where I thought I wouldn't do anything in fashion at all, but the reality is that I have always been extremely interested in it. When I was a child, I used to make hundreds of little clothes for my dolls and would sketch silhouettes all the time. I knew that when I grew up I would follow fashion avidly and would love experimenting with my looks concocting crazy outfits! I think somehow I was always going to work in fashion, although I did not always know it. 
What have been the highest and lowest points on your journey so far?
One of the lowest points was trying to act as a Production Manager when I was creating my collection - I realised it's one of the hardest things to do and requires a lot of effort and attention. There have been some high points, including recently having a feature in Cosmopolitan Italy and finding out we will have the opportunity to show at Pulse London this May for basically no fee through UAL. That was a lovely surprise!
What was the inspiration behind your latest collection?
I have always been inspired by Alexander McQueen in my design philosophy in the sense that I too want to empower women through my designs. I am also inspired by all the bold, fierce and beautiful, strong women in the world and by architecture and the concept of revolution. I feel very strongly about going against the norm because that is what drives innovation.
Do you ever struggle to stay inspired? 
I have a lot of sources of inspiration in general, I love modern art, architecture and design, the geometry of natural forms and I am very inspired by concepts that have a revolutionary spirit, such as the punk movement or DADA. I think finding inspiration is quite easy, but creating something new and unexpected is something that needs experimentation and it doesn't always come to you straight away. That is why I think there is a danger when designers and brands don't allow enough time for the creative process, for ideas to germinate.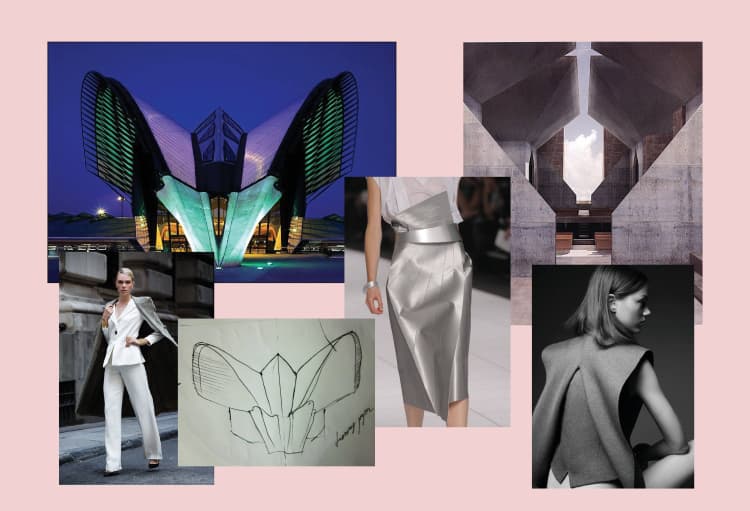 Where is your go-to meeting spot?
I work a lot from a business club in Mayfair, 12 Hay Hill because I love the location and it is a beautiful place. It's great for meetings too.
How would you describe your customer base?
My customers are women who are bold, stylish, very driven and who enjoy the aspects of real design. They see the value of expressing their personalities through the way they look and they have an innovative, out of the box, fearless attitude. 
Is there anyone you would love to see wearing your designs?
I would love to see Rihanna or Lady Gaga sporting my designs. They are such talented, hard working women and are so revolutionary at the same time. I adore their sense of fashion and how they love to experiment with it! 
What are the morals you run your brand by?
I am a firm believer of giving back in general and also of supporting women and girls so we have partnered with W4 - a charity that invests in womens' and girls' potential and that is a big part of our brand philosophy. I also believe in fairness in all aspects and I am very mindful about the environment when I make business decisions.
Do you have a mentor?
I do not currently have a mentor, although I am very interested in proposals. I am currently part of the largest business incubator in the world - Entrepreneurial Spark which is run by NatWest bank and has been a really exciting program that has added a lot of value to the business.
What apps keep you sane?
I love Google Drive haha - I just adore that I can have all my files at my fingertips, on my phone and laptop or any other device - that truly helps a lot with my sanity! Also I enjoy using Calm and Noisli. 
If you could only wear one piece from your collection, what would it be and why?
I would probably choose the Alien Clutch because it is one of the most versatile bags I have ever worn. You can use it during night time as an actual clutch or you can go dancing using the strap too and you can also sport it in the daytime as a cross-body bag - I think it's great!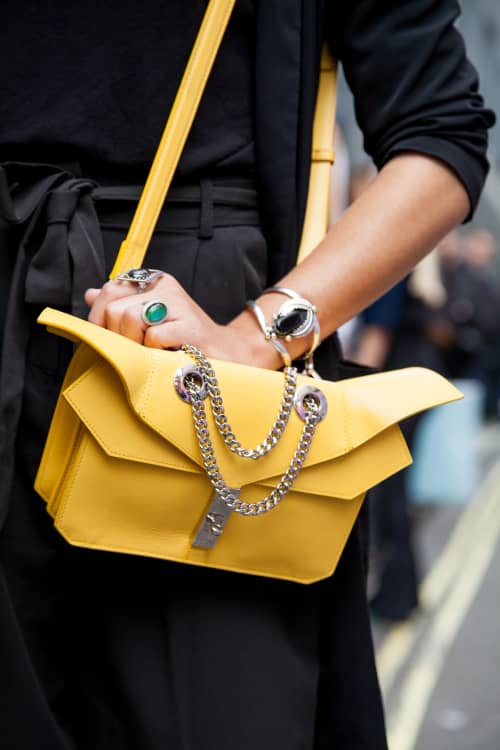 What's the biggest style mistake you've ever made? 
I am sure I have made some 'mistakes' but I do not like to categorise them like that because I think it is all about experimenting with clothing and express your personality and I don't care much for rules!
Is there another designer whose work you particularly admire?
I really like Alexander Wang, Vetements and also Charlie May!
What's the best piece of advice you've ever been given?
You cannot control everything. I used to be a bit of a control freak but since I absorbed that piece of advice I am much happier and have learnt to just let things flow too!
What drew you to Wolf & Badger?
Wolf & Badger is one of my favourite shops, I shop on the platform myself quite a lot - I think it is lovely to have a platform with such great new designers! It's so refreshing.
Where do you see the brand in 5 years? 
We are already growing internationally, being represented in six countries in Europe and also USA and Australia and I hope in five years we will be represented on all continents, in as many countries as possible. Now we are really focusing on getting to Asia and it is very exciting!