House of Gharats is a London based design house, fusing cultures and blurring the lines between art, craft and fashion, producing a clever approach to everyday dressing and living. It is a purpose driven brand that aims to demonstrate their positive social and environmental impact. It's endeavour is to redefine cultural relationships, and create new style synergies. Intermingling amidst London's international hybrid city of cultures and its influential past results in designs that are profoundly modern, distinctively stylish, yet inherently classic. The House of Gharats collaborates with artisans & craftspeople, engages with unconventional materials, sculptural tailoring, bold colors, fanciful details and novel prints to challenge conventional ideas of style. It is passionate about engaging with the makers and process, thus seeking to capture the essence of tradition, materials, stories and function. "The influence of our native country, can be felt through our collections, it is grounded in tradition and timeless eccentricities, yet fearlessly modern." Neishaa Gharat, Founder-Designer.
How did House of Gharats begin?
House Of Gharats was born out of the love for artful dressing and living. I studied Visual Arts. Pioneered & co-founded one of the largest branding & design company in Mumbai, India. My move to London inspired me to follow my heart and create objects of beauty through my love for traditional crafts. The spirit of House of Gharats is an undeniable appreciation for tradition and history, but there is also so much creative progression and importantly a love for beauty.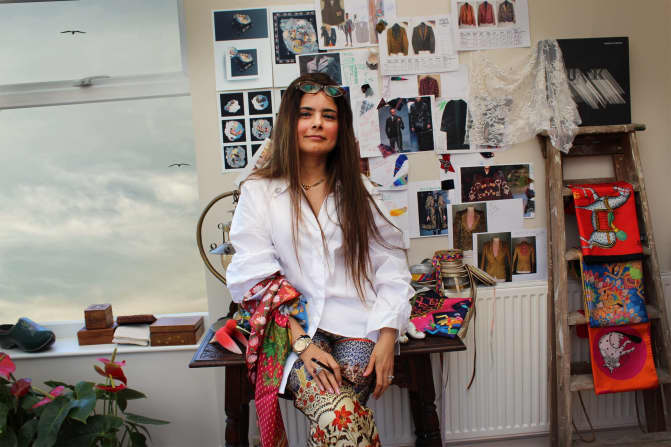 Have you always been interested in fashion?
For me style never goes out of fashion.
What have been the highest and lowest points on your journey so far?
One of my high points was when my design was styled on the super model Grace Bol and it was shown in an art & fashion feature in a magazine. My favourite Italian fashion editor chose to style the Fabric Of India collection bespoke 2 piece woven suit with a Philip Treacy fascinator and clutch. One of my low points has been when I have wanted to call it quits, but then was able to see the forest from the trees.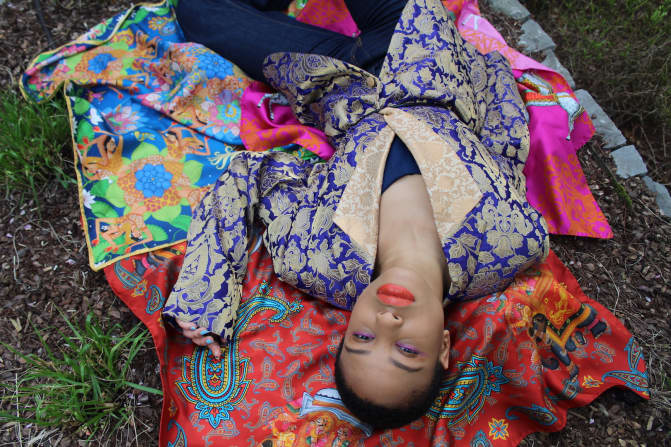 What was the inspiration behind your latest collection?
The influence of our native country, can be felt through our collections. It is grounded in tradition and timeless eccentricities, yet fearlessly modern. Art and Textiles is where our story begins, that for me has been amazing; the bringing together of crafts and cultural contexts, all unified through the language of design.
Do you ever struggle to stay inspired?
With so much beauty in the sky & on the streets, NEVER.
Where is your go-to meeting spot?
The Members room at the Victoria and Albert Museum, Ham Yard Hotel and The Hoxton for their eclectic vibe.
How would you describe your customer base?
Both women and men who celebrate individuality and style are patrons of House of Gharats designs. They are stylish, artistic, cool, and confident. They are intelligent, independent & driven. They are thoughtful. They have depth of character. They question the status quo.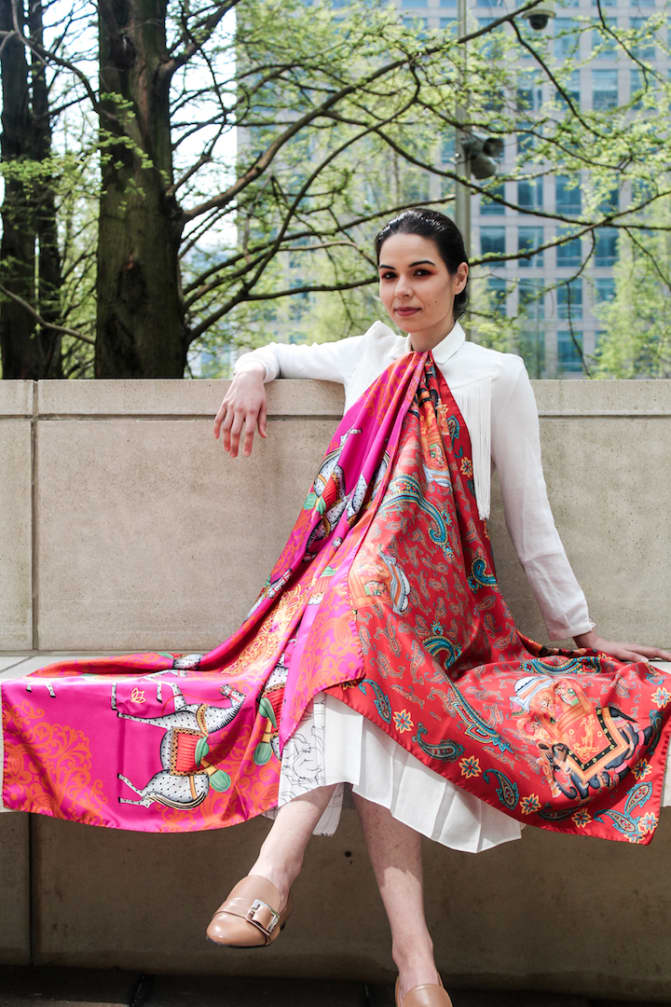 Is there anyone you would love to see wearing your designs?
My favourites I would love to see wearing my designs would be our Queen Elizabeth, Iris Apfel, Caroline Issa. Garance Dore, Christine Lagarde, Nina Simone if she was still alive...
What are the morals you run your brand by?
We are driven by the values of art and craft in contemporary design and as a result, our designs are timeless objects that can be passed down through generations. Beautifully crafted pieces are an outcome of engaging with the makers and the process.
Do you have a mentor?
Yes.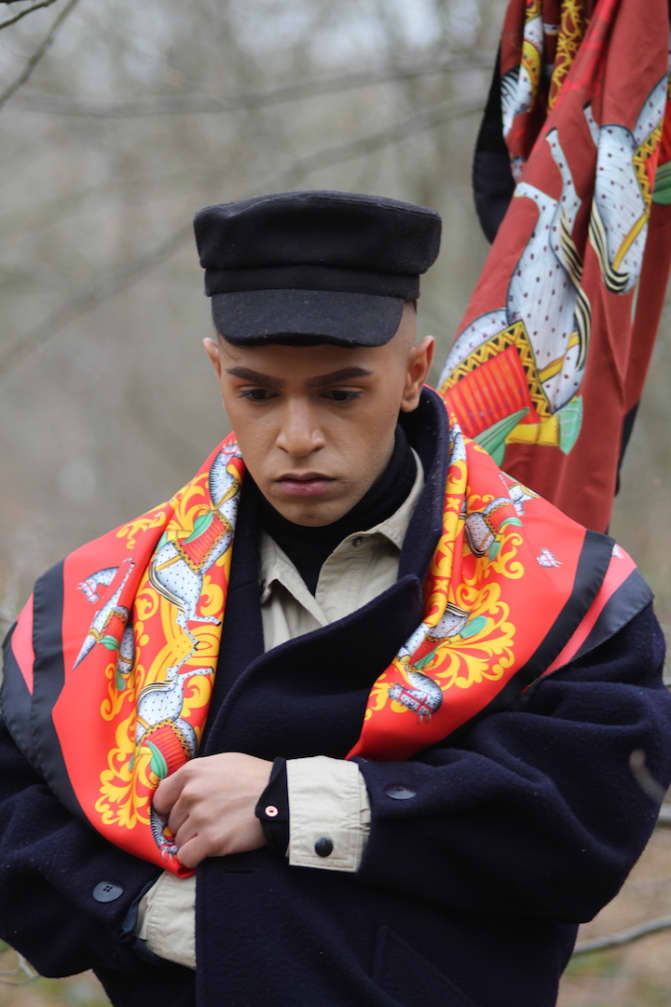 What apps keep you sane?
For me it is a pen and the humble notebook that beats it all.
If you could only wear one piece from your collection, what would it be and why?
A really difficult one, because I want them all. But the orange and pink pop color Kalighat Cat Silk Scarf holds a special place in my heart because it is the essence of House Of Gharats, where the past and the present play off one another in perfect harmony, styled with a two piece suit from the Fabric Of India collection for which the textile was custom woven in Benares and the suit was tailored in Italy. Thus unifying the world through our designs.
What's the biggest style mistake you've ever made?
Trying to be someone else.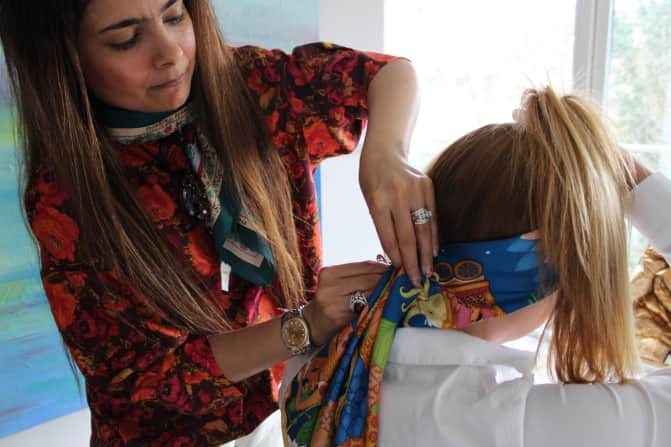 Is there another designer whose work you particularly admire?
The new future, Richard Quinn and Richard Malone.
What's the best piece of advice you've ever been given?
Many along the way, but the one that is on my bathroom mirror is, what defines us is how we rise after falling.
What drew you to Wolf & Badger?
Wolf & Badger is a voice for Independent designers, who have a story to tell through their work.
Where do you see the brand in 5 years?
House Of Gharats, experiential spaces in key cities around the world, creating an interface for users, makers and designers.