Based in New York City, NOT is an independent designer brand created for the curious wearer. With a focus on an art studio practice, designer Jenny Lai conceptualizes and prototypes all designs in house and produces in small quantities sustainably in New York City's Garment District. She shares a guide for her personal process of brainstorming a collection in 10 steps!
1. Brainstorming with words:
I usually start exploring ideas through writing. It helps me to start teasing out what I'm curious about. I make a lot of lists, filling my sketchbook with words, asking questions. Often, it helps me to make these thoughts even more physical, so I'll write them on pieces of paper and post them up on these three standing sheets of particle board in my studio. At this point, the most important thing is that I don't have any answers already, only questions.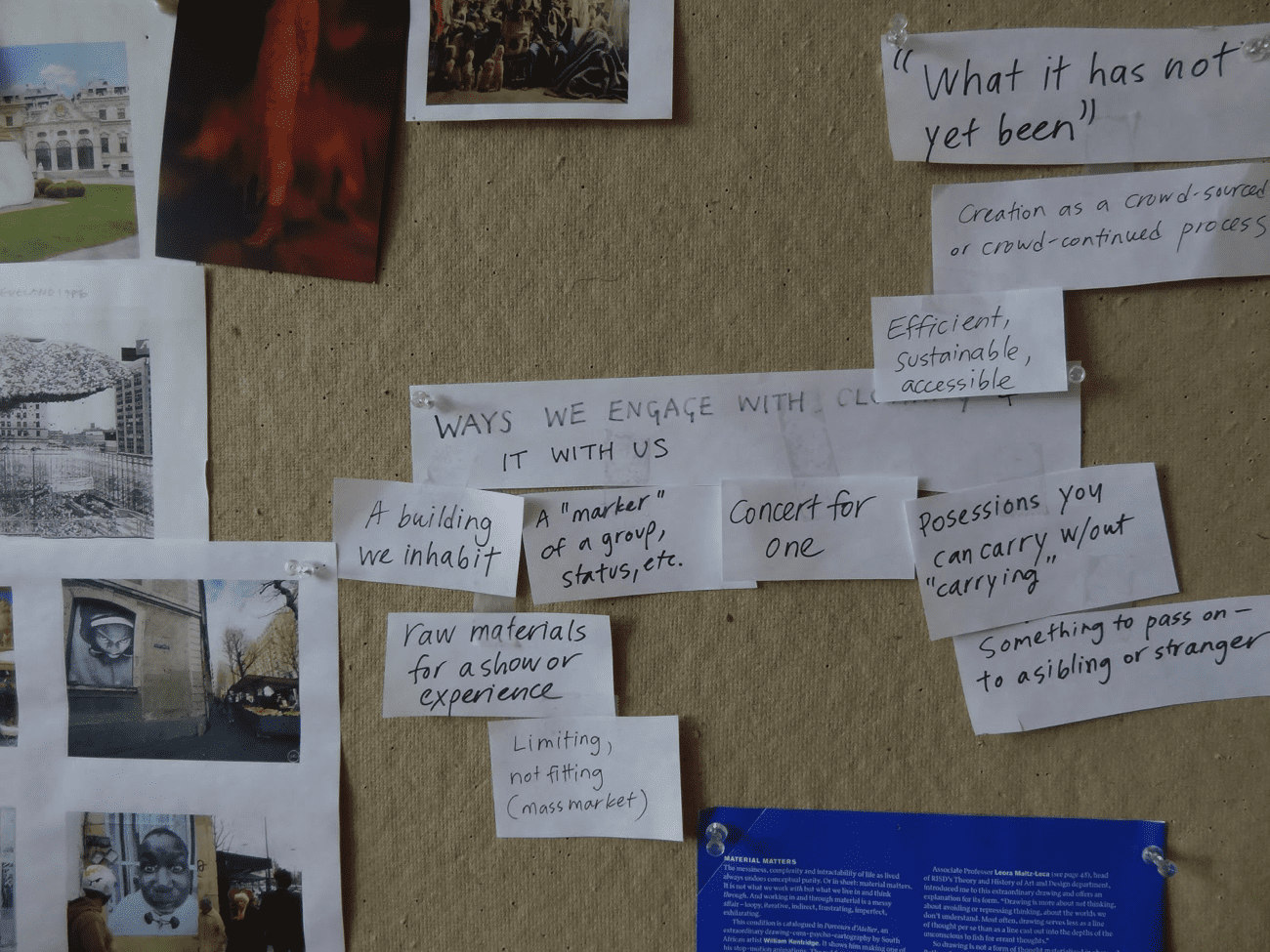 2. Ongoing visits to my moodboard
Throughout the year, I'm always putting up bits of potentially unrelated visual inspirations up on my moodboards. If I visit a great puppet show, discover a painter I really like, read a provocative interview, I put it up. I think of these boards as incubation. It doesn't matter so much to me that they speak specifically to a collection I'm working on, it's more about constantly revisiting and revising and letting these inspirations alchemize however they may. It's the same way I think about travelling! I always travel for art and design inspiration, however I never come back thinking it needs to directly translate to what I design.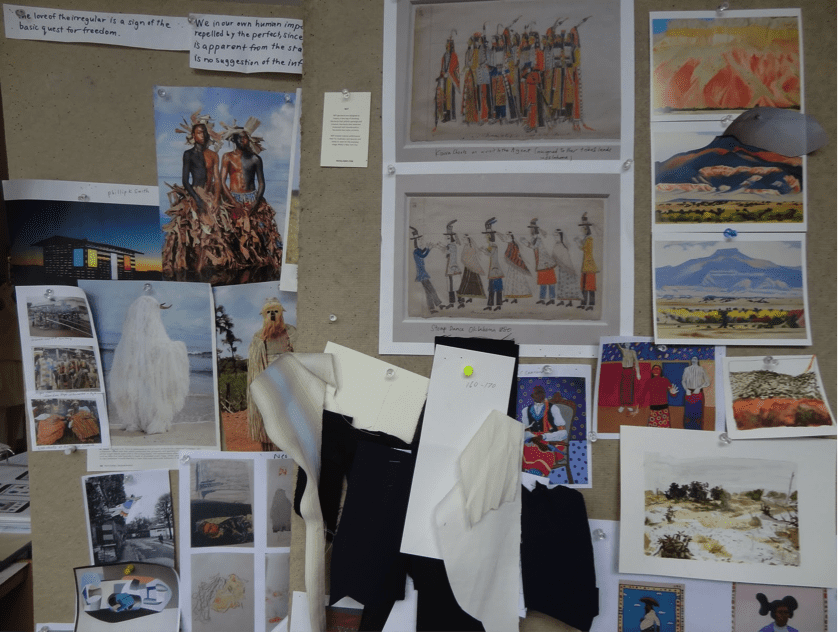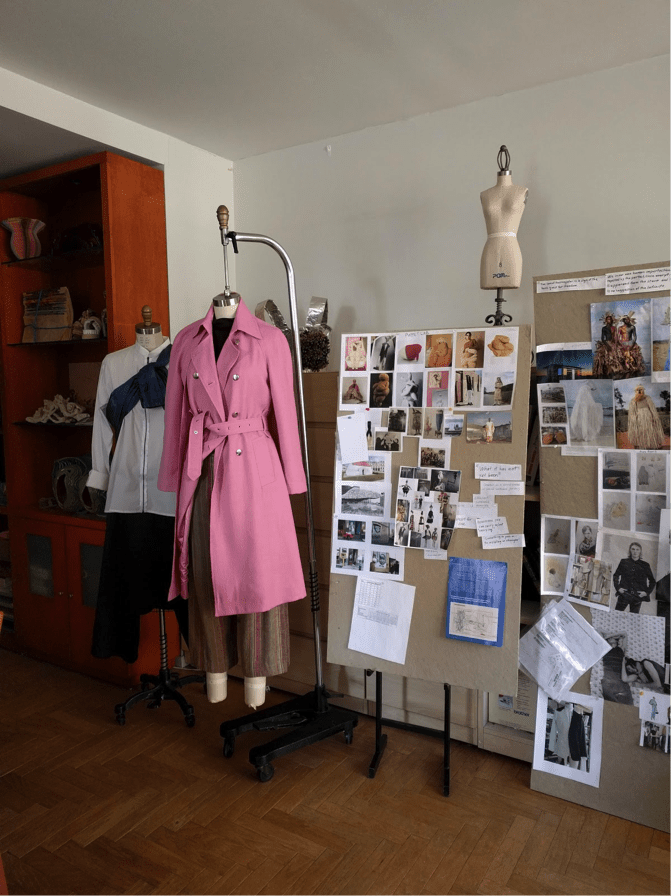 3. Hands-on visualization to find new perspectives:
As a person who grew up constantly creating and moving with my hands while studying classical music and fine arts, I put a lot of faith in the physicality of making. Often, at the very preliminary stage of my concepts, I'll turn to painting or making collages and sculptures. I might tape photographs together of recent landscapes I photographed or build a newspaper sculpture. It's hard to describe this process because it's very unfocused - I think of it as relying on the act of creating to let something unexpected happen. It's a way to force myself to consider new perspectives.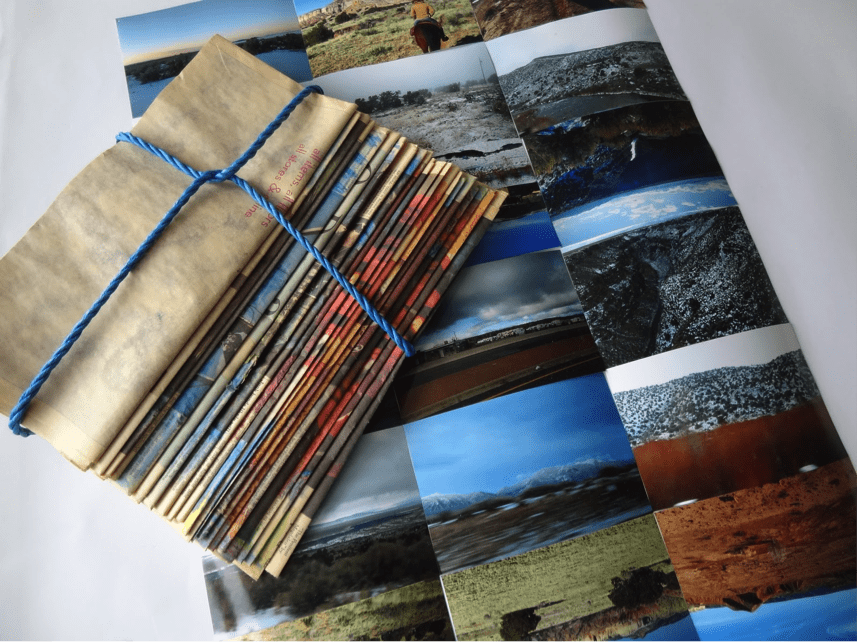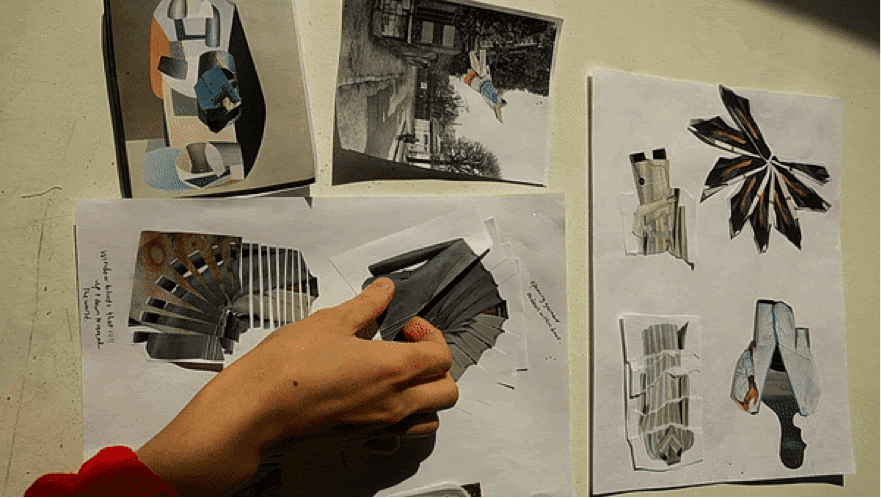 4. Rough sketches:
At this point, I usually begin sketching some ideas. These are usually fragments of a garment, with a focus on one detail or one function. I'm very interested in the physicality of dressing and rethinking how a garment moves with the body, so I may simply be exploring the opening for the head or how a sleeve flips inside out, for example. From this seed, I start sketching quite roughly.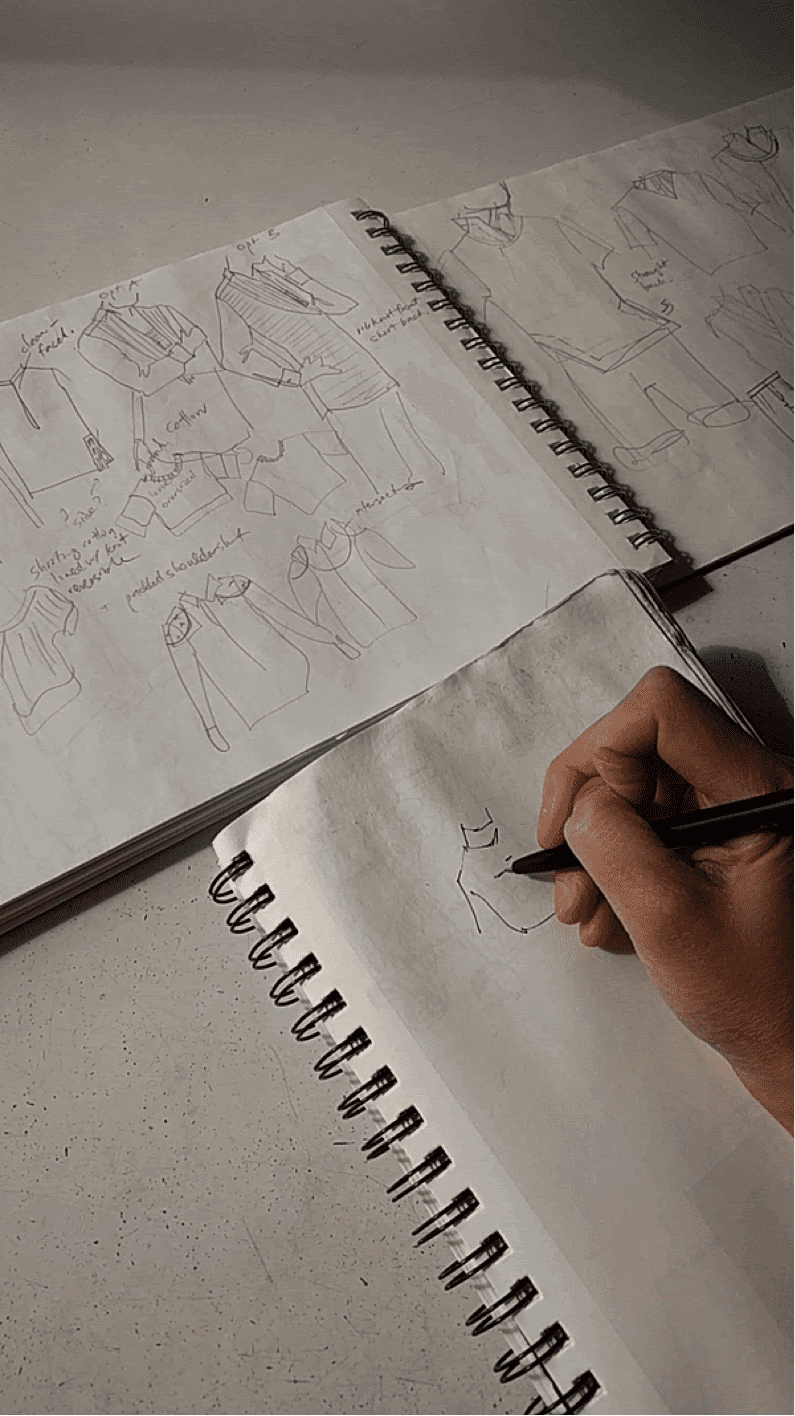 5. Building Prototypes: 
This part of the process is crucial! It's probably the part of the process where I will most often get super excited as well as super stuck. I begin building patterns and sewing muslins, which all happen in-house at my Upper West Side design studio. I spend a lot of time trying things on in front of the mirror, putting pieces on every limb, throwing it upside down, flipping it around, pinning it to myself. Some prototypes fail and end up getting thrown out even after hours of development. And when I feel really stuck, that brings to me to my next step…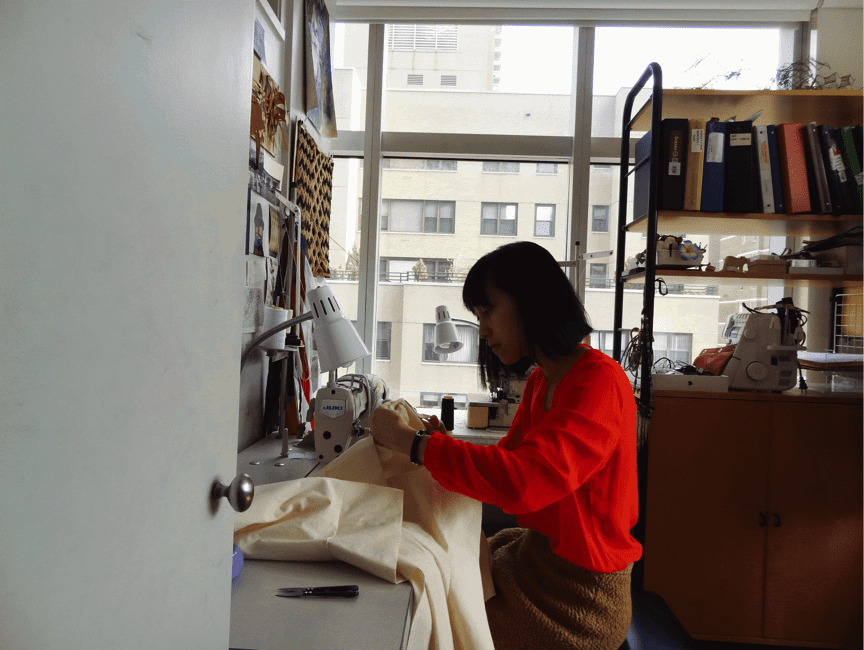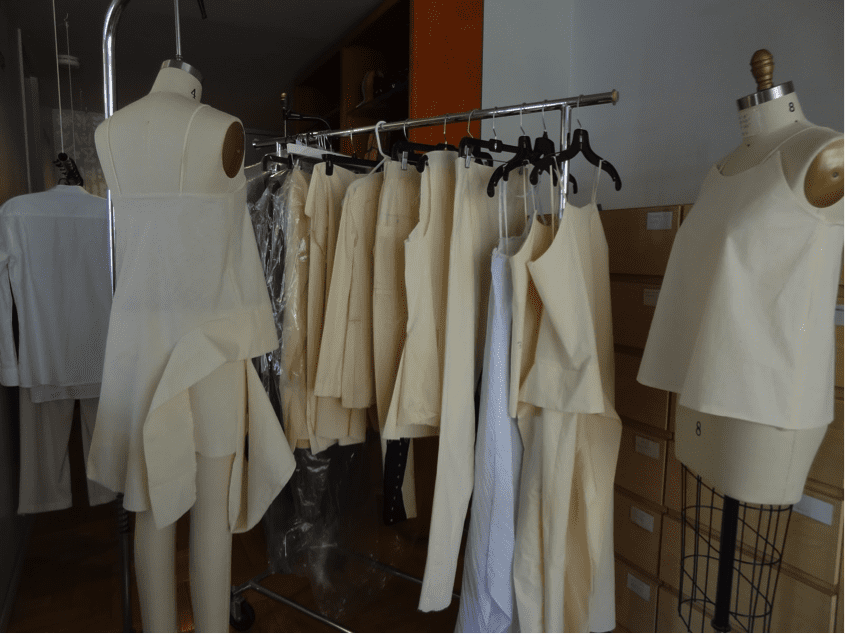 6. Taking breaks!

When I'm feeling stuck, I've found the best thing I can do is take a break. Take a walk, get something sweet to eat, take a nap, have a solo dance party, or change course completely. I think of this as the perfect complement to step 3, in this case, having faith that not creating will give me some new ideas. It can feel frustrating or useless sometimes to take a break, but I often find that it's when your mind is at rest (for me, that's zoning out on subway commutes) that something new will pop up.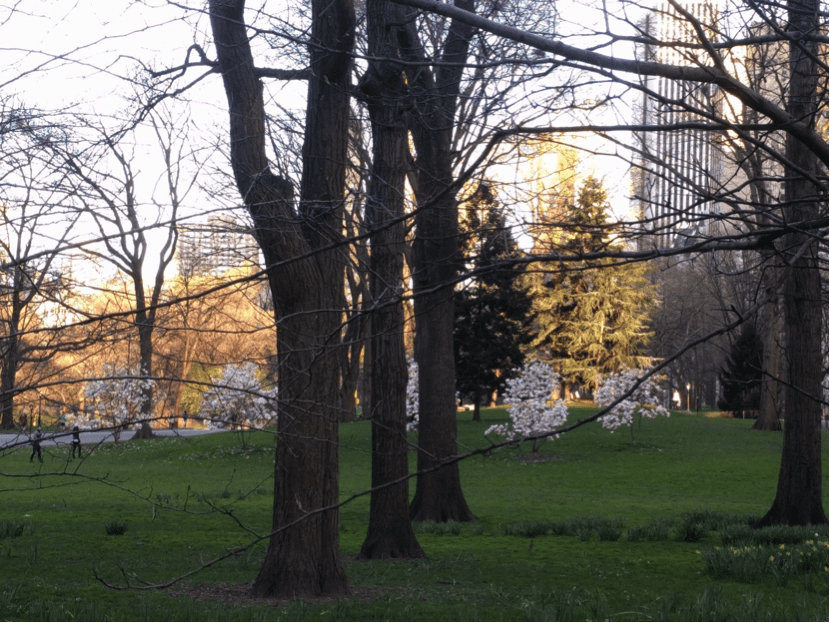 7. Fittings:
When I have enough prototypes ready, I'll do fittings on fit models as well as myself. I print out these fitting photos and sketch directly on them for changes. The fittings allow me to get a feeling for proportions and silhouettes, and also often bring new ideas for variants on a style.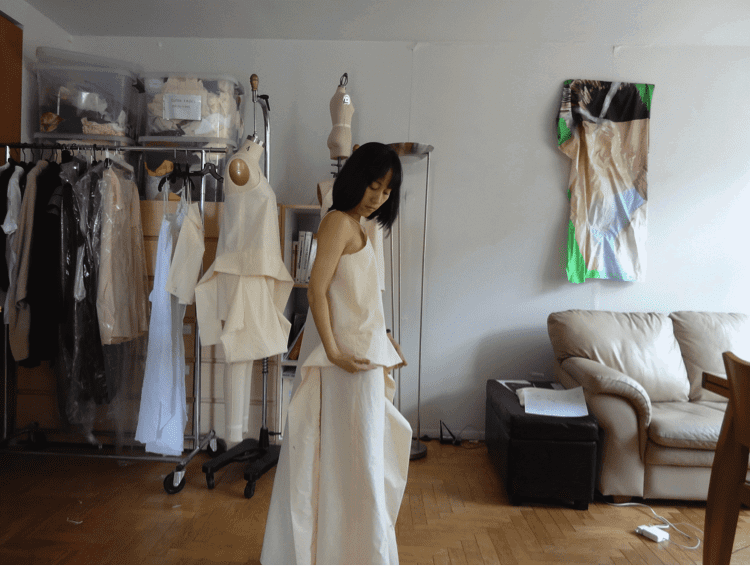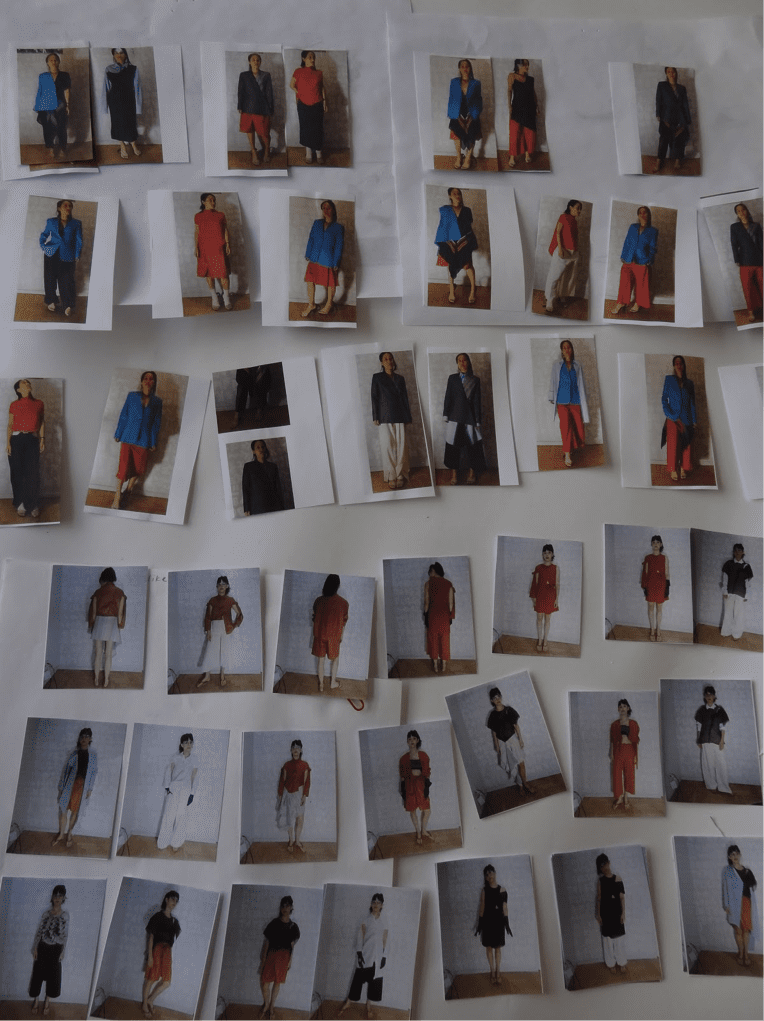 8. Fabric research: 
Having designed collections for the brand for 9 years, at this point I usually have a pretty clear idea of what type of materials I want to use. In the last few years, I've transitioned from sourcing new fabrics to sourcing the majority of my fabrics from deadstock, and some styles are designed with the idea of having limited runs in interchangeable fabrics within a fabric family. I do have very specific fabrics in mind though and I'm pretty obsessive about finding exactly what I want. Sometimes for inspiration, or to give clients an idea of what's possible, I will go through my binder of fabric swatches where I've collected all kinds of colors, surface qualities, textures, and weaves.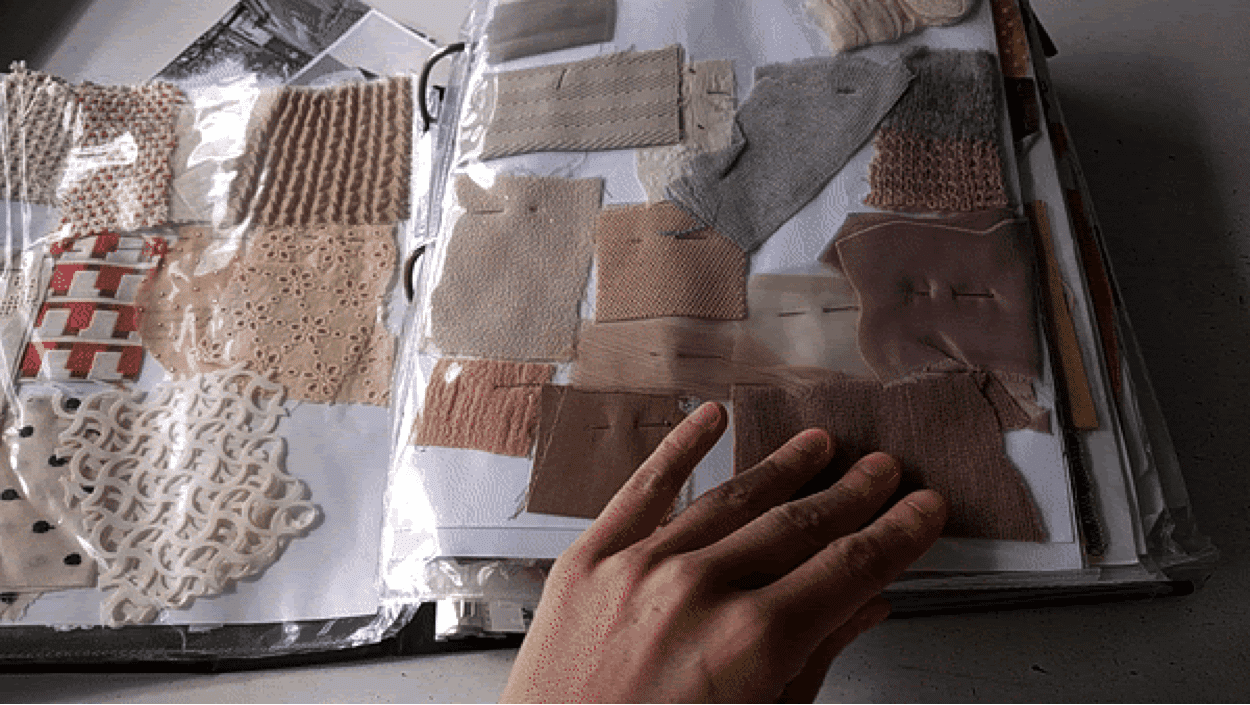 9. Material tests:
This step is super important and actually happens at multiple points in this whole process. As someone who is involved in the entire process of developing to production of designs, I don't take anything for granted. Any two pieces of fabric, any seam, any binding can come together in an infinite array of ways - so this part of the process is actually instrumental to both the design and production process. There are decisions to be made about every seam, hem, stitch. The way that any two fabrics of different weights and qualities interact with each other or react to certain finishes, stresses, or washes all differ, and that's what these tests are all about!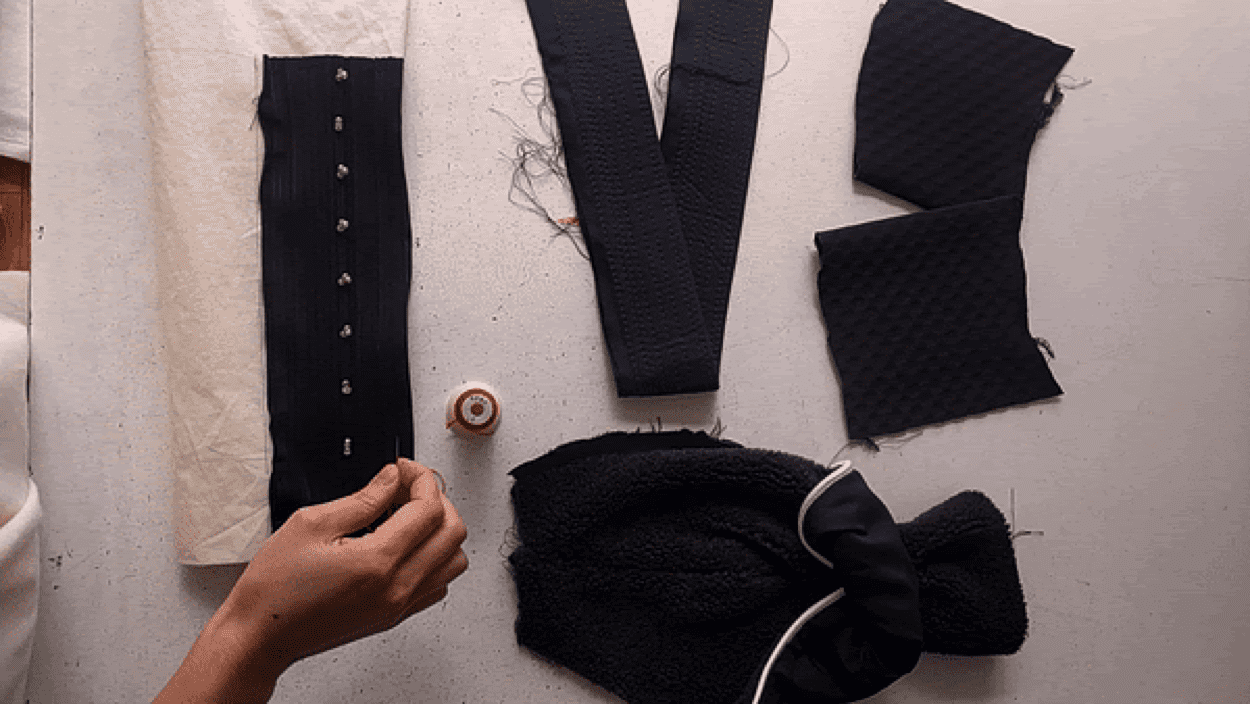 10. Collaboration
Collaboration is a very important part of my brand. Depending on the collection, I might be collaborating with a print designer to create original prints, with photographers, models, and dancers to conceptualize campaigns, or with animation directors to create films. Collaborations are another wonderful way to step outside of your world, your perspective, and let something unexpected happen. Currently during quarantine, I'm creating a fun exquisite-corpse-esque project with a long-time collaborator, photographer Andy Boyle where I'm making self-directed, self-shot photoshoots which then become his raw materials for motion and AR collages.