British designer, artist and member of our Wolf & Badger community, Jemima Sara, has collaborated with celebrity favourite shoe designer Terry de Havilland on a limited-edition sneaker, designed to promote positivity and self-love this summer. The duo have worked to create a white, flat canvas sneaker complete with 'self-love' inspired colourful sketches as a gentle reminder of the importance of self-love following the rise of mental health issues in the Gen Z and Millennial sectors at a time of global pandemic. We caught up with Jemima to find out more about the collaboration.
Tell us about how the collaboration with Terry De Havilland came about.
I was very lucky with this Terry De Havilland collaboration as they reached out to me via email. After I did some research and had an initial conversation with them, I knew we would create exciting and unique things together. It's been such a dream working with Terry De Havilland and making the shoes come to life.
Why do you feel the story behind the sneaker design to be particularly important at this moment in time?
After a year of 'lockdowns', we've been stuck inside, we've been stuck with ourselves and now we are going back out 'into the world'. It's an anxious time for many people and I think now, more than ever, is a good time to remind everyone how important it is to love ourselves. Self-love is letting yourself grow into a healthier version of yourself. I mentioned to Terry De Havilland and I'll say it again: I find the word 'self-love' has been used over and over again and it's always being used in relation to appearance. I would say that it's not just about loving your appearance, but loving every aspect of yourself from odd habits to your laugh.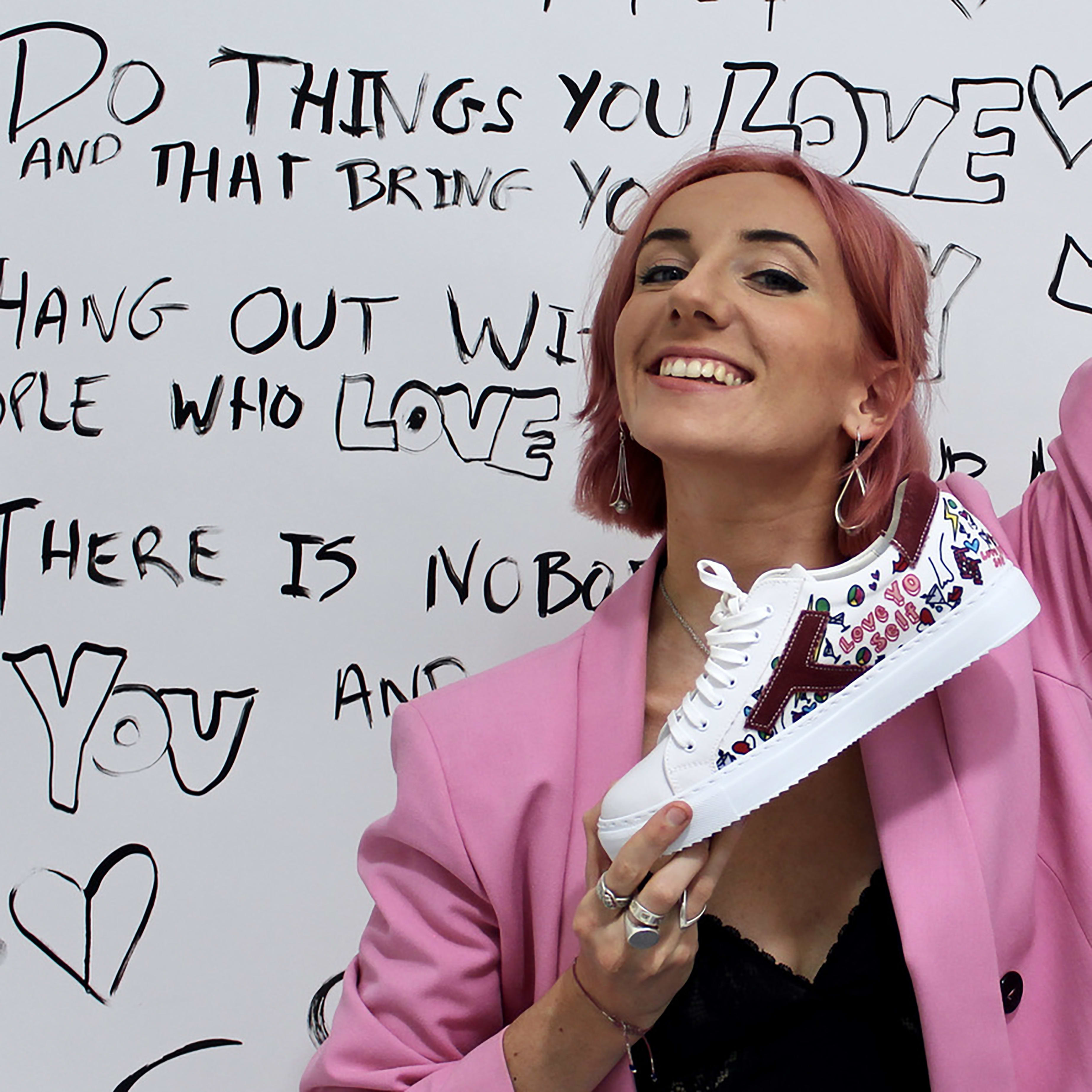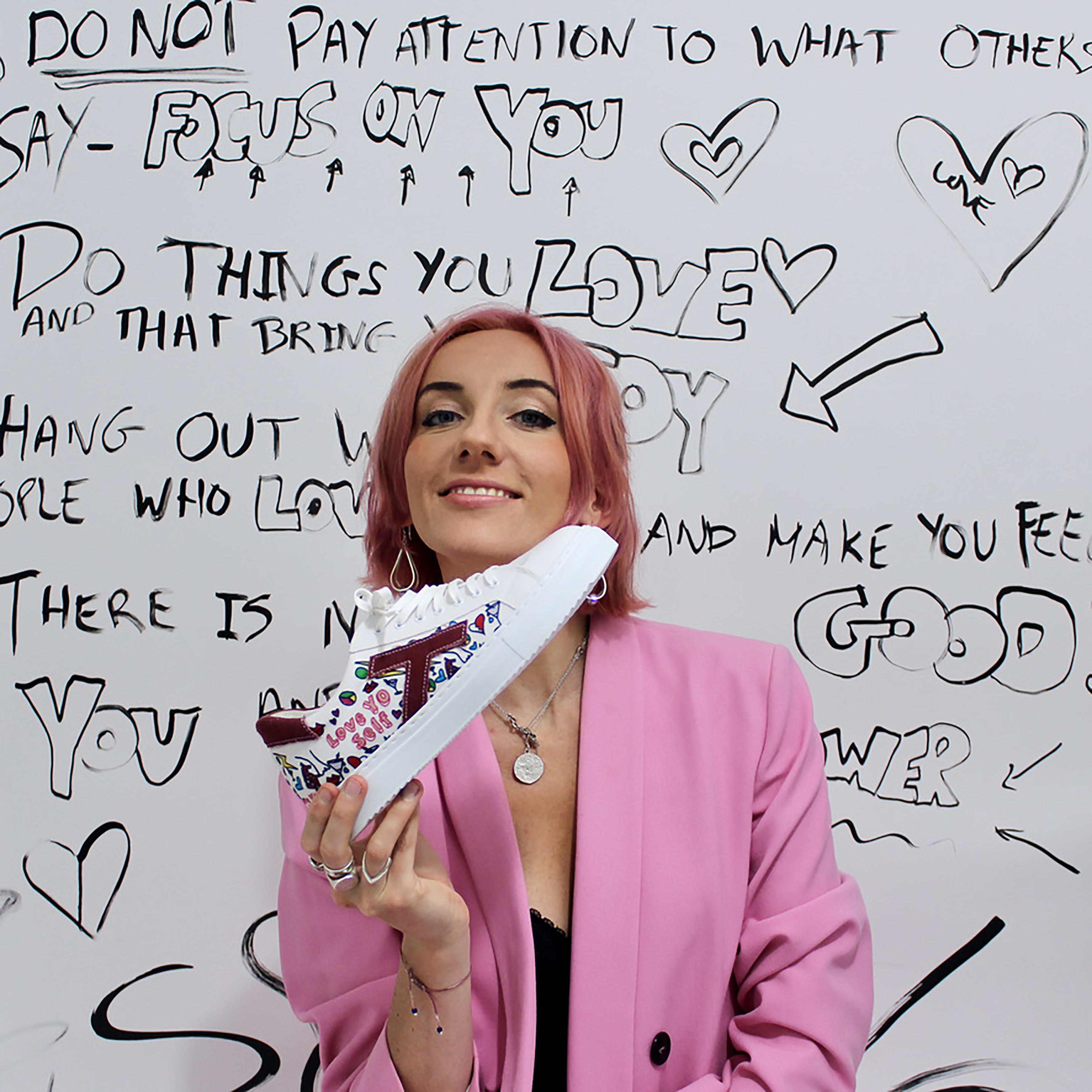 If I could tell my younger self one thing, it's that being 'perfect' is an overrated lie. Instead, love and have pride in your imperfections. You deserve to be loved, express yourself, and have fun. 
For me, self-love is about acceptance. Acceptance of your individual imperfections. The things that make us who we are. These individual imperfections are always something we as humans find hard to accept especially in our day and age where social media and the internet plays such a massive role in our lives. Something that helps me with self-love is not to see yourself as a whole but to look at the things you enjoy about yourself and your strengths. It might be your eyes, your dance routine, or your goofy laugh, and then to look at that 'thing', whatever it may be, and see it as a unique and beautiful entity.
What's your favourite part of the manifesto that is included with each purchase and why?
I created the self love manifesto as a personal reminder during lockdown. The print was to put in my living room during lockdown but my partner mentioned how others might love it too. At the time I was working on the shoe design so the two designs came together perfectly.
My favourite part of the self love manifesto? I'm not too sure. Wrote all of it with equal importance. 
Here's a little reminder:
1. LOVE YOUR SELF
2. Do not pay attention to what others say, focus on you
3, Do things you love and that bring you joy
4. Hang out with people who love you and make you feel good
5. There is nobody like you and that is your power
What have you learnt about yourself over the past 18 months during lockdown?
So much! I think we have learnt a lot about ourselves during lockdown. One incredible thing I've noticed is how creative, strong and capable we can be when confined and unable to meet and explore. Obviously we've been lucky to have the technology to keep connected but I think as a whole we've become much more resourceful. I've watched countless individuals turn their lockdown hobbies into successful businesses. It's hugely exciting and I'm here for all this collective strength and vision. 
Personally, I've learnt that I take on too much and when I do get a break I find it unusual, so tend to take more on in a very unhealthy circle. Many people I speak to agree that they have a similar experience too. During lockdown I found myself working a part time job, running JEMIMASARA, doing a Masters in fine art and my partner and I decided to move down to the south coast from London. It was not an easy time and I learnt a lot about myself. I learnt that overworking is definitely not self-love. Taking time for myself is self-love. Taking time to rest and rediscover new things about myself so I can grow into better and healthier versions of myself is self-love. 
In fact one of my favourite quotes is "Doing nothing often leads to the very best of something" from Winnie-the-Pooh. Most of the time 'doing nothing' can lead us to greatness as we are actually allowing ourselves to have a moment to rest, explore and think creatively in our short, busy lives.
Tell us about what your own personal summer of self-love entails.
It's definitely taking time off for myself. I have to constantly remind myself that self-love means growing into a healthier versions of myself: take time for yoga, or drawing or seeing friends and even sleeping a full 12 hours. Self-love is different for everyone - it's more about looking into your self-worth and telling yourself you are worthy of great things, especially self-love. I wouldn't say it's just for summer, but everyday of the year.
A little tip to finish on from me is to write down 10 things you like about yourself and once you have done that write another 10. Really try to challenge yourself to dig deep though. You will find truly beautiful and positive things when you do this.