In the summer of 2019, as part of the Bauhaus centenary celebrations, designers Wallace Sewell were commissioned to recreate an original design by Bauhaus weaver Gunta Stölzl. Emma Sewell and Harriet Wallace-Jones were excited at the prospect of bringing this important historical project back to life however, it was not going to be as easy as it first seemed. 
Gunta Stölzl was fundamental to the Bauhaus weaving department and when the Bauhaus moved to Dessau in 1926, Stölzl, who was a master of the weaving workshop, designed a blanket for the 'Prellerhaus' student dormitories, the so called 'Prellerdecke'. ('Preller' after painter Friedrich Preller and 'decke' meaning bedcover). The original is a bold interaction of horizontal and vertical, positive and negative. More than 100 pieces were woven by hand in the weaving workshop, but the last original blanket was sadly lost after an exhibition in the USA. 
Without a blanket to copy, Wallace Sewell had to recreate the design with help from Gunta Stölzl's daughter, Monika Stadler, using archive drawings and photographs from the time.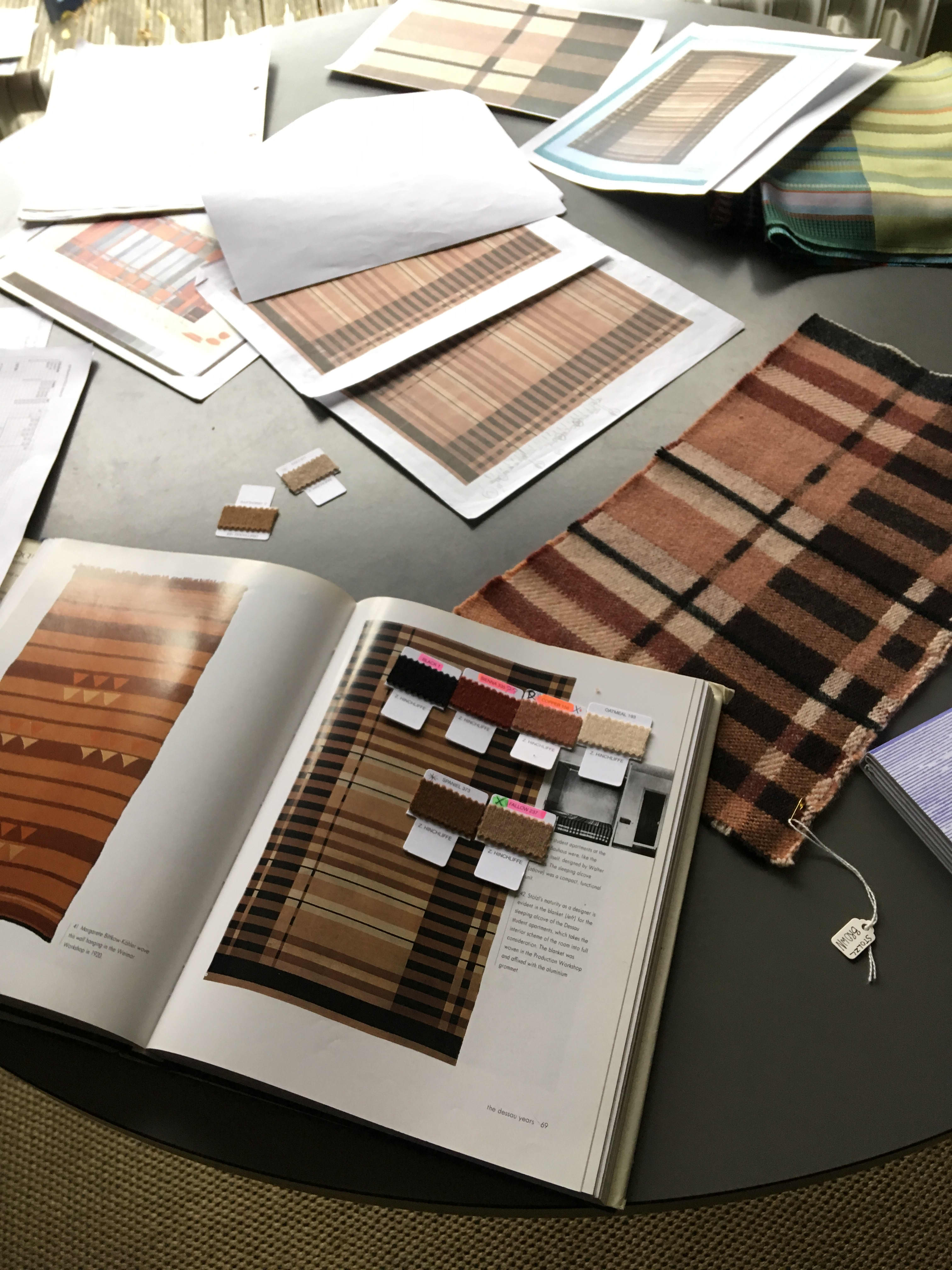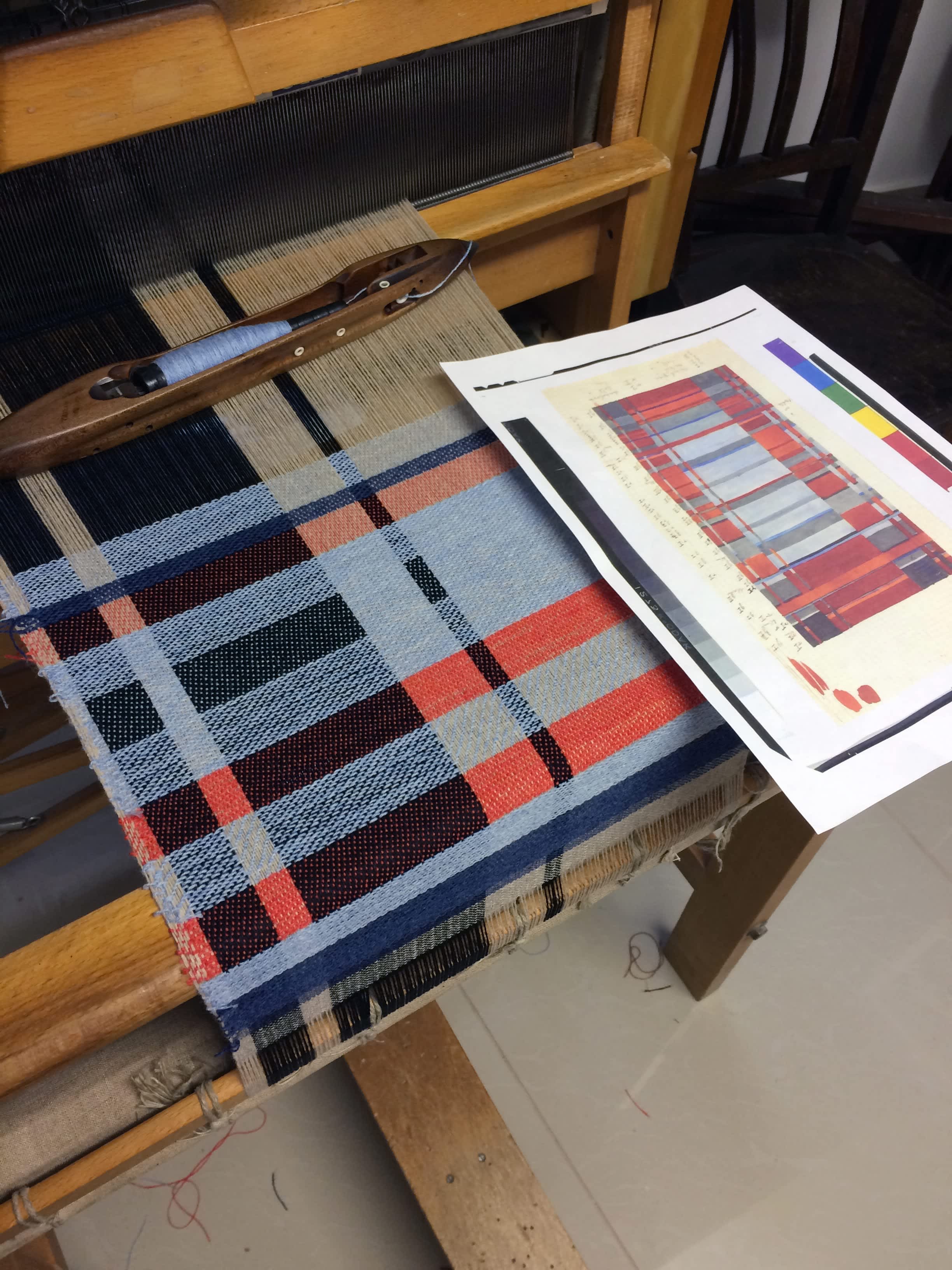 They started the process of recreation by looking back to a version woven for an exhibition in 1996, assuming that this had been copied from the original. However once work began, it became apparent that this example was not intended to be an exact replica of the original; it was more complex. Gunta's style of designing, which was pared down and rigorous, convinced Wallace Sewell that the original design must have been uncomplicated, so that students would have been able to produce multiples by hand in the Bauhaus weaving workshop. So instead, they decided to continue the detective work by analysing an existing photograph of the original blanket. Sketches and color swatches were followed by more detailed design development undertaken by hand on small looms in the Wallace Sewell studio, before weaving full-scale pieces at a mill in Lancashire. After weaving the fabric was 'scoured' (washed), 'milled' (controlled felting) and then 'cropped' (shaved) at a finishers in Yorkshire, before travelling back to the mill in Lancashire, where the fabric was processed by hand into finished blankets.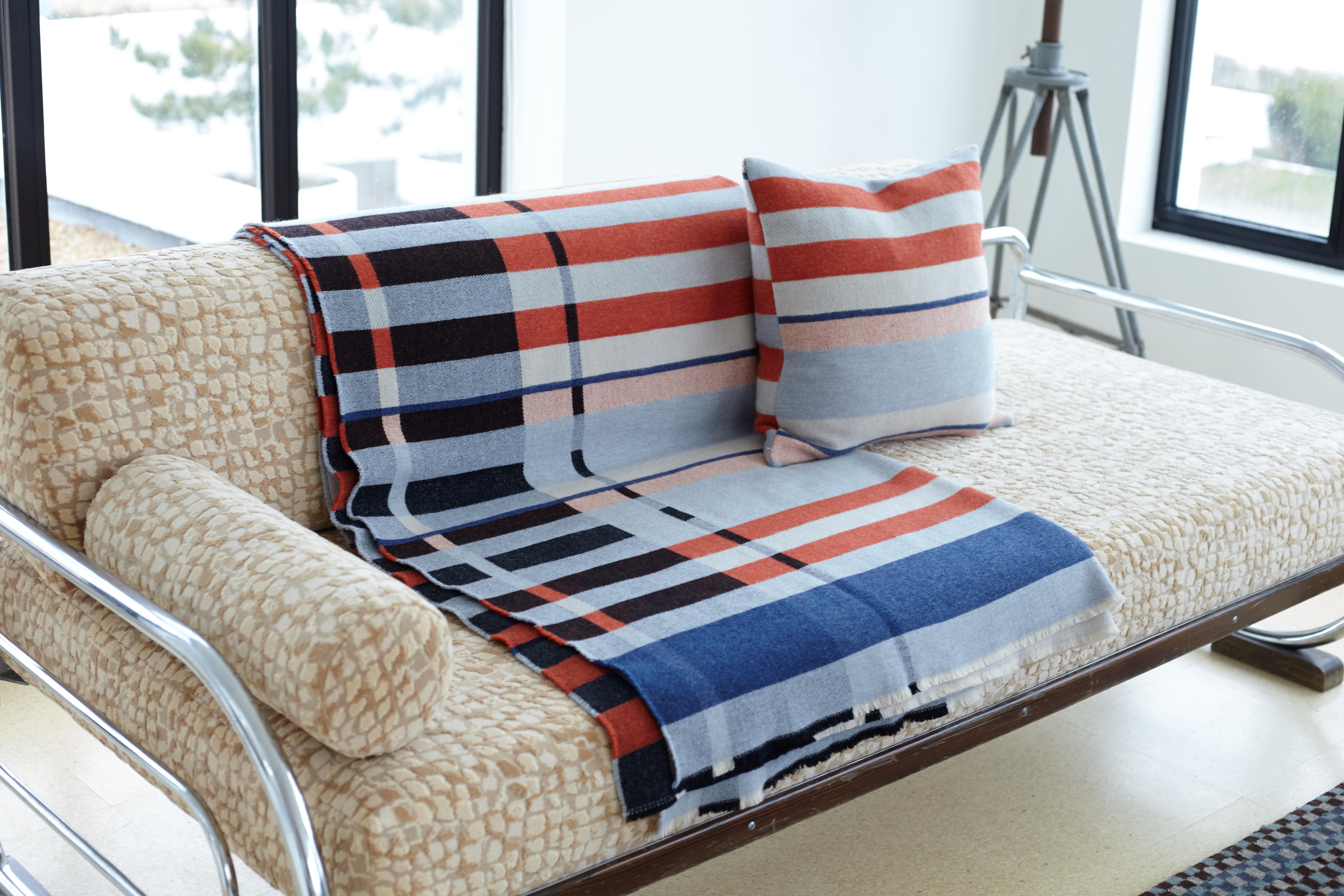 The Wallace Sewell Prellerhaus blanket harks back to the original as closely as possible, picking up on the rhythm and simplicity of Gunta's design, but certain aspects have been updated. The original was more than likely woven in rayon, as the Bauhaus championed innovation, including synthetic fibres which were extremely popular in the 1920s and 30s. This was confirmed when Wallace Sewell met with Monika Stadler and looked through rare archival hand-woven samples, drawings, swatches and photographs, to better understand her design processes. Wallace Sewell decided to update the design to weave in wool, as a more desirable and sustainable fibre for today as well as creating two new colourways - Seal and Orchard - for the re-launch. The tonal balance and design that is quintessentially Bauhaus has been honoured whilst updating to a more contemporary palette.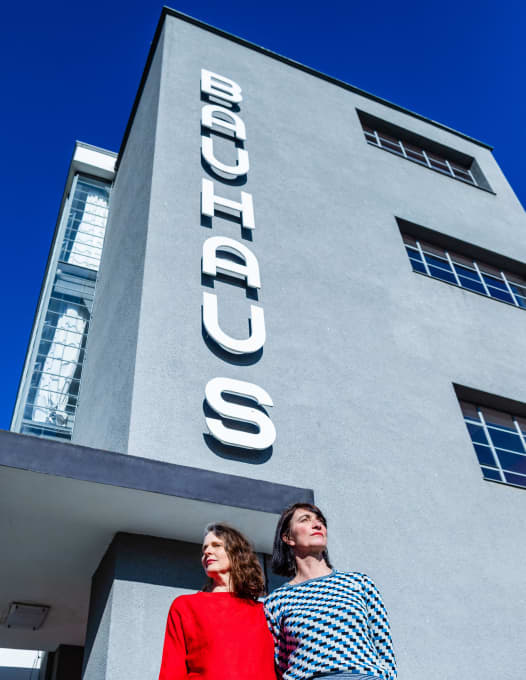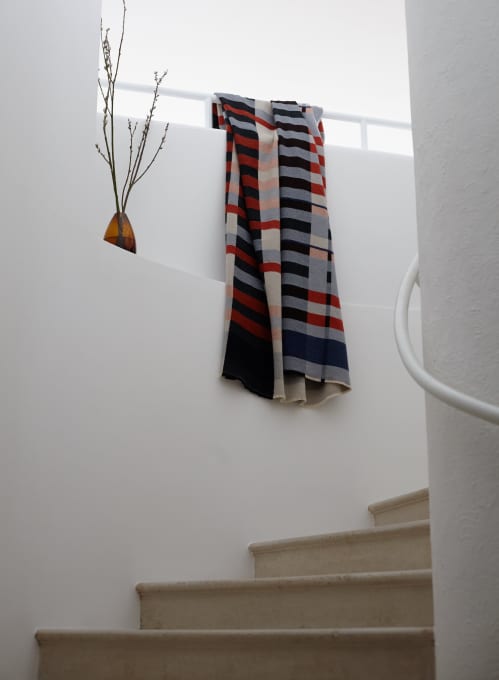 As we head into the next 100 years after Bauhaus, Wallace Sewell have created two more fresh colourways to round off this fascinating collection, exploring distinct color groupings for a single bold design, in much the same way as Josef Albers did in his 'Variant' series paintings.  
'Nougat' creates a mid-tone design, in a warm and cosy yet upbeat palette, with the pink and ochre hues influenced by Paul Klee's painting 'Scenecio'. 'Indigo' creates a darker toned design, using shades of denim, influenced by Paul Klee's 'Good Place for Fish, 1922' painting. These latest additions will be launched in the Summer of 2021. 
When the Bauhaus Dessau buildings reopened in September 2019, it was accompanied by a recreation of the Gunta Stölzl's Prellerhaus blanket, designed by Wallace Sewell, back where it should be, in the dorms once more.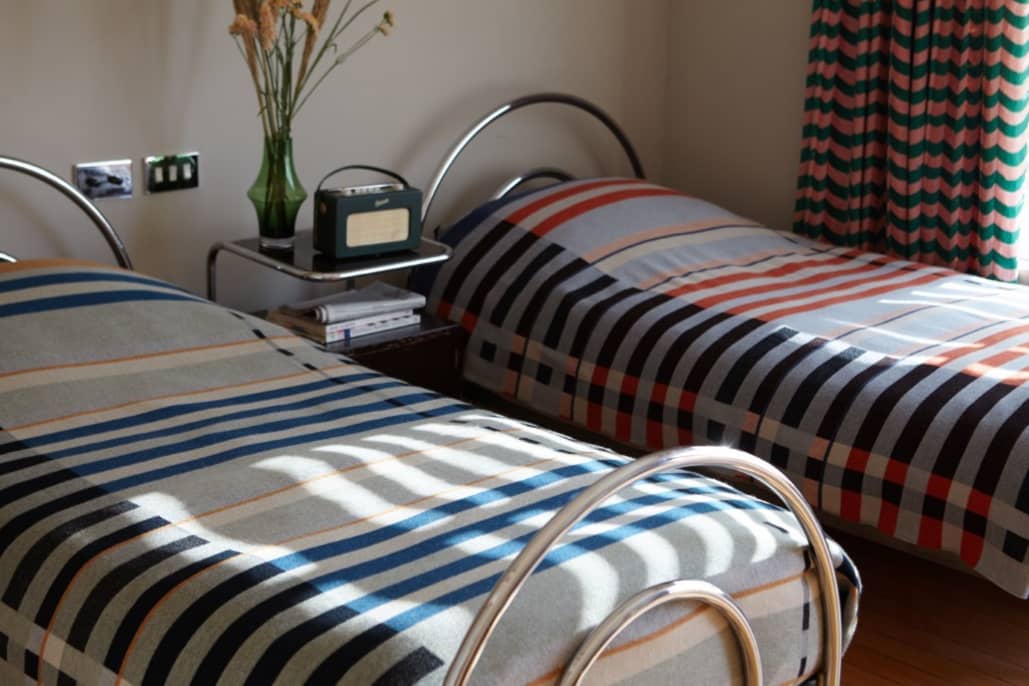 "This blanket captures the essence of my mother's design. It will add warmth to the studios in the Bauhaus and make the historic photograph of the Prellerhaus dormitory come alive again," said Stadler.
"Harriet Wallace-Jones and Emma Sewell are both artists who combine an outstanding understanding of color with a deep technical knowledge of all aspects of weaving. Their clear artistic vision gives them the freedom to experiment with colors and materials without ever becoming arbitrary. It is precisely this quality - a desire to experiment, based on a strong creative foundation - that links their work to the legacy of the Bauhaus," explained Jörg Klambt, founder Designshop Bauhaus Dessau and initiator of the project.