Over The Ear Butterfly Ear Cuff
Over The Ear Butterfly Ear Cuff
Sustainability Guarantees
Carved Tourmaline butterfly set in Sterling (.925) and Argentium (.935) silver. The earcuff is designed to be worn over the ear (at the top), creating the illusion of a butterfly flying away. This is for the right ear, and you can mix it with other jewels already in your wardrobe or simply add it to your jewelry collection as a collectible treasure. One-of-a-kind and collectible.
There aren't any reviews for this collection yet.
Here are our recent customer service reviews:
27 May 2020
Service rating : I thought the service was very good and my delivery came really quickly

27 May 2020
Service rating : both items arrived quickly and were as described

27 May 2020
Service rating : I love my green purse it's perfect, the color, size and quality. I can't wait to go out and carry my purse.

Made with tourmaline, sterling silver (.925) and argentium silver (.935)

Please keep your silver jewelry separate and in original packaging to avoid tarnishing. If tarnishing does occur, there are polishing cloths available in the marketplace to clean silver jewelry. Never use harsh chemicals to clean your jewelry.

The designer manufactures her work from her own studio. She used one-of-a-kind gemstones from family owned gem dealers, artisanal miners and independent lapidaries and gem carvers, in this way supporting the mine-to-market model and more transparency in the jewelry industry. She recycles most of her silver to create her work.

Handcrafted by the designer herself in her studio in NYC and NYC's Diamond District.
46mm x 27mm x 13.30mm
---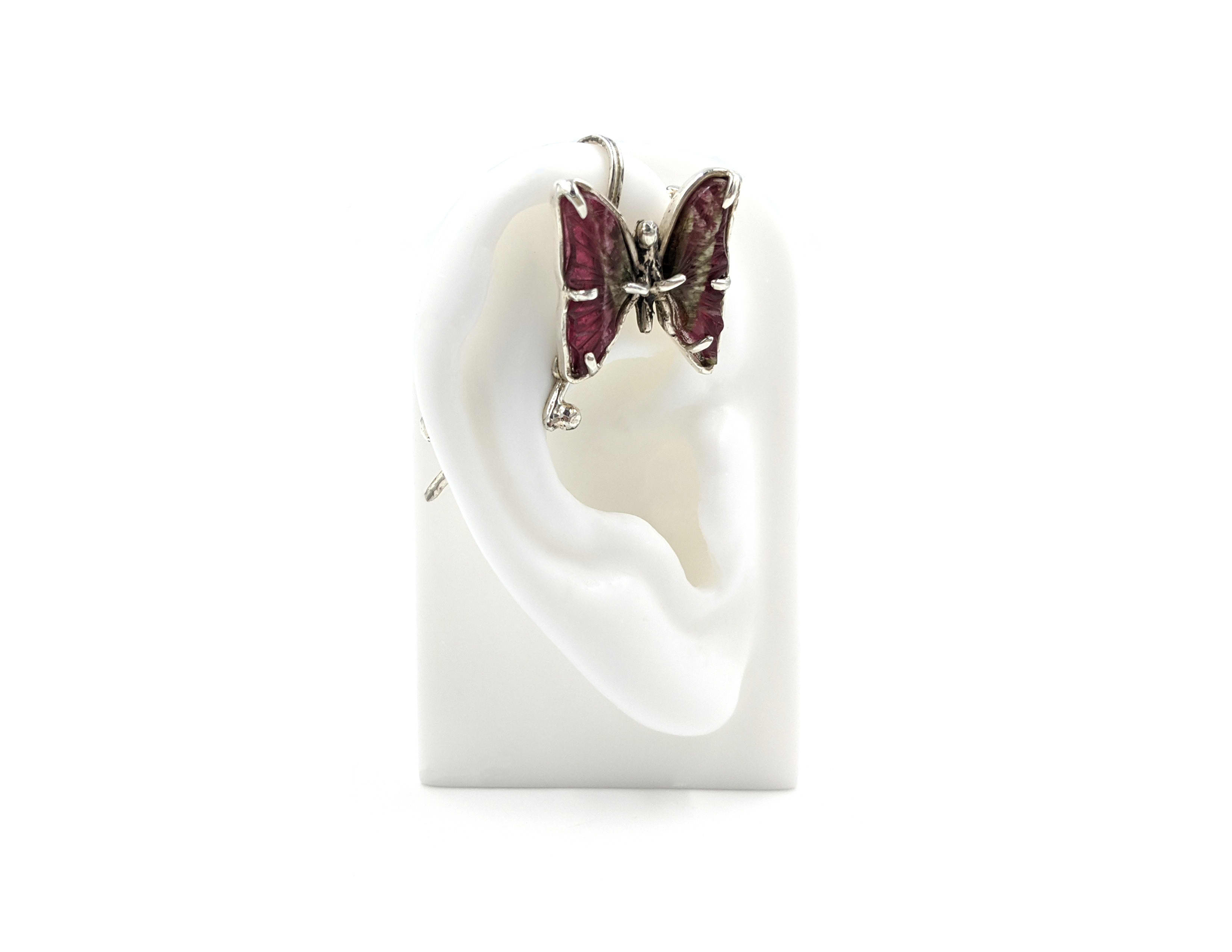 COVID-19: we're open and shipping as usual
There may be delays in some cases
Items shipped directly from designer
Tracked

 

delivery

 

to home or work

All customs fees, duties and taxes are included

See Delivery page for full details, conditions apply
Free

 

returns

 

within 14 days, collection arranged by us.
See Returns page for full details, conditions apply
Price match guarantee
If you find an item cheaper elsewhere we will match the price
See

 

FAQs

 

or

 

Contact Us

 

for full details

, conditions apply
Wolf & Badger acts as agent to the brand only - you, the customer, are purchasing any item directly from the brand
Angely Martinez has partnered with Wolf & Badger to launch FLOR ÉPOCH, her new collection, exclusively on wolfandbadger.com. Shop the collection below.

Inspired by the Victorian and Belle Époque periods, FLOR ÉPOCH showcases flowers, insects and the female figure in the form of carved gemstones and cameos, traditionally a technique most commonly used in the ancient world. With this collection, the artist seeks to bridge the past and the present into her designs aesthetic by giving new life to these gems.

Born in Dominican Republic, Angely is an award winning jewelry designer based in New York City. Creating works that are big, bold and out-of-this-world, her work is influenced by the beauties of nature and the world of fantasy with a touch of romanticism and the avant-garde. These are themes that she has been obsessed with since childhood.

She draws inspiration from the Baroque period, Rococo, theater, dance performances, and films. Her favorite artists/ designers are Frida Kahlo, Alexander McQueen, Fragonard, and Rembrandt.
need help?:
+1 646 934 6601
[email protected]